Portable Ramps for Loading Docks | America's Industry-Leader
Copperloy® designs the perfect portable ramp for loading dock tasks. Maximize space, enhance productivity, and assure safety with our loading dock products. Copperloy masters the ultimate design with innovative portable yard ramps and dock to ground ramps. Benefits include:
Versatility – An array of customizable options include standard widths up to 118 inches and capacities up to 30,000 lbs. Accommodate nearly any loading application with versatile, portable Copperloy ramps.
Low-Maintenance – With minimal cleaning and repair, Copperloy ramps install quickly and easily.

Safe Handling

– Safety features include chains, brackets, a safety lip, and more to prevent ramps from sliding. Additionally, all Copperloy ramps feature 7-inch curbs to prevent incidental runoffs.

Durability

– Made in the USA and built to last, Copperloy ramps withstand the tests of time.
Yard Ramps v. Dock-to-Ground Ramps | Portable Ramps for Loading Docks
With consideration to warehouse loading and unloading tasks, the two best Copperloy options include mobile yard ramps and dock-to-ground ramps.
YARD RAMPS | MOBILE LOADING DOCK RAMPS
Convert vacant space into a freight-handling center with mobile yard ramps. Expand current dock capacity and create a loading facility without the hassle of new construction. Portable yard ramps provide ground level access to buildings and trucks. Quickly move from job-to-job and handle freight with a forklift or lift truck virtually anywhere. Also available are rental and certified used yard ramps!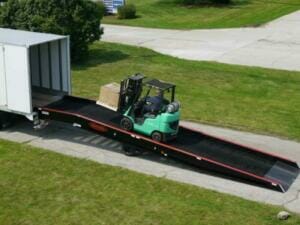 Key Features | Mobile Loading Dock Ramp | Yard Ramps
Ramp Design
A step above competitors, Copperloy single-cylinder hydraulic allows for 2-1/2 times faster lift times than typical two cylinder systems. The yard ramp design features an 8-foot level off, allowing forklifts easy access to trucks and loading docks. A low end plate allows the front wheels of forklifts to reach high-traction, serrated steel grating while rear wheels remain in contact with the ground.
Ramp Mobility
18-inch pneumatic, solid-filled tires are standard on all mobile yard ramps. With lubricated-for-life bearings and no need for air to fill, pneumatic tires are maintenance free. Maneuver 180 degrees to reposition, reducing load/unload timing with Copperloy's positioning sleeve. An optional towbar allows mobile ramps to be towed short distances within the facility.
Specifications
Our mobile yard ramp is available in a steel or aluminum base. A wide range of new and used mobile ramp designs handle capacities up to 30,000 lbs. Custom specifications, such as aluminum ramps with steel grating, are available upon request.
OVERVIEW | MOBILE YARD RAMP | PORTABLE LOADING DOCK RAMP
Copperloy has mastered the ultimate ramp design. Discover ease-of-use and efficiency with the Copperloy yard ramp.
DOCK-TO-GROUND RAMPS
Dock-to-ground ramps are the ideal solution for handling materials with vehicles that need to travel from grade level to dock height. In comparison to mobile yard ramps, dock-to-ground ramps are traditionally used in fixed loading situations. In turn, these ramps are ideal for long-term reliable loading and unloading tasks. Since the ramp goes directly from dock height to ground level, there isn't a need for hydraulic pump or tires. Ramps can be custom built to match existing loading dock specifications.
Key Features | Dock-to-Ground | Warehouse Dock Ramps
Ramp Design
High-strength steel grating allows snow, water, and other debris to fall through, leaving a high-traction running surface. Dock-to-ground ramps provide a versatile alternative to permanent concrete installations.
Specifications
Weight capacities range from 16,000 to 30,000 pounds. Available widths extend up to 118 inches. Copperloy engineers custom sizes and specifications upon request.
OVERVIEW | DOCK-TO-GROUND | WAREHOUSE DOCK RAMPS
The Copperloy yard ramp is proudly made in the USA. Explore the features of dock-to-ground loading dock ramps.