Copperloy Dock Plate
The Copperloy loading dock plate serves the same purpose as loading dock boards.  However, they are a more economical solution for less demanding applications.  Use docks plates in a variety of applications and industries.  Check out specs below to see if a dock plate is the right solution for you.
Bridge the Gap with Copperloy
Loading dock plates are used to make the connection from one area to another in material handling operation.  The plate is a flat piece of metal that includes a slight bend for an easy transition.  Unlike dock boards, dock plates do not have curbs.  As a result, this makes them more ideal for irregular or sharp turns.  Additionally, the absence of curbs make them ideal for loading with dollies and pallet jacks.
When it comes to lighter weight applications, Copperloy recommends dock plates.  Proudly made in the USA, dock plates are available in both steel or aluminum bases.  The aluminum dock plate includes lifting straps for easy transportation while the steel dock plate comes with a one piece lift chain.
Loading Dock Plates | Custom Options Available
Copperloy plates are built to handle capacities between 1,000-14,000 lbs. Pallet jacks, dollies, and carts work best with plates due to the capacity level.
In addition to standard dock plates, all of our plates sale are available for special order configurations. Our in-house engineering team customizes dock plates to any specification, size, or requirement.  Fill out the form along the side or give us a call to discuss your unique specifications!
Specifications of Aluminum Dock Plates
Aluminum dock plates, also known as the most portable plate, have more flex.  Additionally,  they are the lightest and most affordable of the dock plates.  This aluminum base can handle capacities up to 12,500 pounds.
They are not made for use with a forklift.  However, they are ideal for handcarts and lighter material handling, equipment, and freight. Though lightweight and easy to transport, the aluminum plates come with lift straps for added convenience.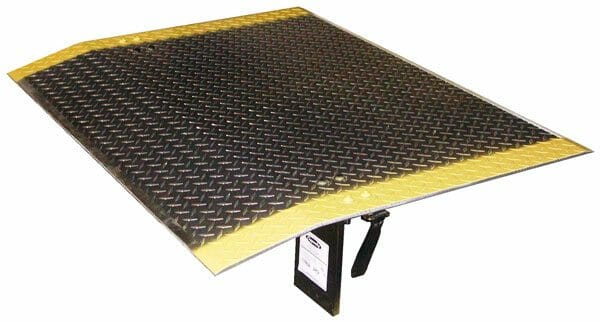 Specifications of Steel Dock Plates
Copperloy steel dock plates support higher capacities.  Consequently, giving up some of their portability as they weigh more than the aluminum base.  Steel dock plates handle capacities up to 17,000 pounds.  Some product specs can even accommodate forklifts.  For convenience, steel plates feature a one piece lift chain.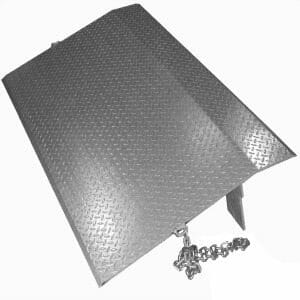 Dock Boards: The Answer for Forklift Dock Plates
Are you searching for a forklift dock plate? Instead, explore Copperloy Dock Boards.  Dock boards are the big brother of dock plates.  However, they handle higher capacities and larger equipment.  In comparison, forklifts and fork trucks can be used with loading dock boards.  Plus, these boards feature curbs to prevent runoff.  Much like dock plates, dock boards are available in steel and aluminum.
REQUEST A QUOTE
Interested in a product and want more info? Let us know below and we will reach out with more details. Consumer and dealer pricing available.
You may also be interested in these dock solutions
Dock Board Categories