Mobile Loading Dock Ramps by Copperloy
Mobile loading dock ramps convert vacant space into a freight-handling center. It's a versatile piece of loading dock equipment that will expand your present dock capacity and create loading facilities where no dock exists, without new construction. Mobile loading dock ramps provide ground-level access to trucks, railcars, or buildings. Their mobility makes it easy to move from job to job and handle freight with a forklift or lift truck virtually anywhere.
Our wide range of new and used mobile loading dock ramps come with maximum capacities of up to 30,000 lbs. The standard Copperloy mobile loading dock ramp is steel. Aluminum ramps with steel grating are available, please contact the factory for more information.
Watch the yard ramp video below to learn more.
Copperloy Dock Ramp & Yard Ramp Video:
All Copperloy ramps offer industry-leading strength, outweighing many competitors' capacities. All Copperloy products are made in the USA.
Features of Mobile Loading Dock Ramps
8-FOOT LEVEL OFF
The Copperloy mobile yard ramp has an 8-foot level off feature. This is necessary for forklifts to have easy access onto trucks, loading docks, and platforms. It allows the fork truck to safely enter the trailer at a level approach and without having to stop. This feature makes for a very stable yard ramp and is especially useful on mobile ramps.
15-INCH LIP
The 15-inch lip is designed to firmly rest on the truck carrier body, dock floor or platform. Our mobile ramps come equipped with eight-foot-long safety chains. Chains join the ramp to keep it from pulling away.
HYDRAULIC PUMP
The single-acting hydraulic hand pump design requires half the effort needed to raise ramp compared to other mobile ramps. The pump is relocated so that it is protected away from dirt, debris, damage and makes maintenance easier to perform. The handle is stored out of the way when not in use.
SMOOTH SIDE PLATES
Smooth side plates and safety curbs are standard. They are constructed of high strength steel and enclose all working components, while also protecting them from possible damage from other equipment.
LOW END PLATE
We designed an end plate that is shorter than the wheelbase of most forklift trucks. This way, front-drive wheels can reach high-traction grating, while rear wheels are still on the ground. The plate comes standard with beveling from the underside and helps to provide an easy and smooth ground-level entry. It also eliminates jolts and bumps as the forklifts travel on and off the yard ramp, with or without a load.
DECK GRATING ON OUR YARD RAMPS
High-strength steel is standard on all Copperloy yard ramps. Grating bars are constructed for durability in the roughest of applications. The 1-3/4 inch bar depth allows snow, rain, and other debris to fall through. The serrated grating helps to ensure an all-weather, high-traction running surface.
SAFETY CURBS
7-inch high curbs are standard on all Copperloy ramps to help prevent accidental runoff with a patented box frame.
18-INCH SOLID/PNEUMATIC TIRES
The solid/pneumatic tires are standard on all Copperloy mobile yard ramps and are ideal for all applications. The tires do not require air to fill, are maintenance-free, and have lubricated-for-life bearings.
THE YARD RAMP POSITIONING SLEEVE
The position sleeve allows the yard ramp to maneuver 180 degrees which reduces loading/unloading time and increases productivity. The fork slides into the positioning sleeve and the ramp can easily be positioned into place. The positioning sleeve is included with all steel mobile yard ramps. The sleeve is not intended for long-distance towing.
TOWBAR
A tow bar is an option on both steel and aluminum mobile yard ramps that attaches to the lower end of the loading ramp. It allows the ramp to be towed a short distance (within your facility). A towable yard ramp can be maneuvered easily with a forklift. The max towing speed is 5-mph and is not intended for over-the-road towing.
Types of Mobile Loading Dock Ramps
Create a Portable Dock Anywhere with Mobile Yard Ramps
Companies can create a dock anywhere with a mobile yard ramp by easily converting open yard space into a portable loading dock. Yard ramps provide a safe, efficient method to load/unload freight with forklifts and access the back of the truck. A yard ramp is a cost-effective way to expand freight handling capacity beyond the physical loading docks in a facility.
Mobile Loading Dock Ramps
The mobile yard ramp acts as a mobile loading dock ramp and is an ideal solution for shipments that need to go from ground level to the truck and a fast method to unload a truck to the ground. Copperloy offers both aluminum ramps and steel ramps depending on your weight and application requirements. Rentals are available and ideal for short-term projects.
Steel Mobile Loading Dock Ramps
Copperloy steel mobile loading dock ramps are available in different base materials. However, steel is the standard base for yard ramps. As a leader in custom steel fabrication, Copperloy has mastered the craft of high-strength steel specifications and integrated features such as a serrated steel grating for added traction. Manufactured in the USA, steel ramps are built for durability and made to last.
Dock-to-Ground Ramps
Our dock-to-ground yard ramps provide a stationary, semi-permanent solution and are typically fixed to the dock for fast, efficient loading/unloading solution handling weights up to 30,000 lbs. Copperloy dock-to-ground ramps can be custom built to the specifications of your dock for a safe, versatile way to expand the capability of your loading dock.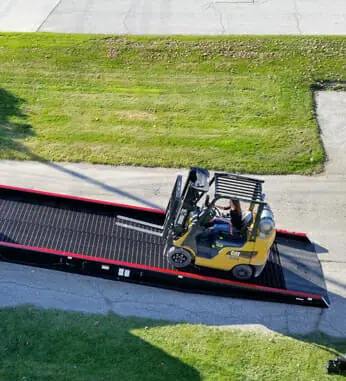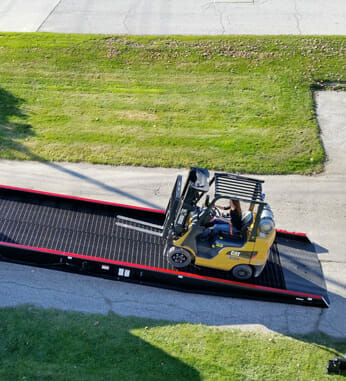 Ground-to-Truck Yard Ramps
Ground-to-truck ramps allow for easy ground-level access to semi-trucks. Copperloy mobile loading dock ramps allow for maximum safety and productivity when unloading and loading. Designed for industrial use, ramps are available in aluminum or steel based on your material handling requirements.
Heavy-Duty Portable Loading Docks with Dock Platforms
For facilities with limited space or no permanent dock exists, portable loading docks can provide a cost-effective solution for parallel loading when used with dock-to-ground or yard ramps. Copperloy's portable loading platform features durable steel construction that can handle capacities up to 60,000 pounds. Their unique design allows lift trucks to easily make right-angle turns. Multiple portable loading docks can be connected when larger portable loading docks are required.
Applications of High-Capacity Yard Ramps
Typical uses of our heavy-duty, high-capacity steel yard ramps include:
Industrial equipment applications
Construction equipment, machinery, and supplies
Flatbed truck unloading/loading
Military applications such as loading military vehicles and equipment
Tractors, skid steers, bobcats, and other heavy equipment
Heavy equipment rentals
Warehouse equipment
Car and vehicle ramps
Portable Dock Ramp Safety
Although Copperloy portable yard ramps are designed with safety features, operating a forklift on a ramp should be done with the utmost caution. Prior to using the ramp, it is important to thoroughly review the owner's manual. Only trained personnel should operate the ramp.
It is extremely important to ensure that the ramp is properly secured before loading and unloading tasks. View the owner's manual for a full overview of instructions and precautions. We also recommend reviewing the OSHA ramp guidelines.
Mobile Loading Dock Equipment | Additional Videos
View our loading dock equipment videos here and visit us on YouTube for more of our videos!
Why Choose Copperloy?
For over 50 years, Copperloy has been the leader in manufacturing quality, durable loading dock equipment for material handling.
What makes Copperloy loading dock products superior?
A state-of-the-art manufacturing facility inclusive of CNC and robotic technology.
In-house Engineering staff reviews each job for proper application and structural integrity.
The technical Sales department works with Engineering and the customer throughout the manufacturing process to ensure the product meets the demands of the application.
Proudly Made in the USA
Challenge us with your difficult application! With our in-house engineering department and complete manufacturing facility, we oversee your project from start to finish. From raw material to finished product, your order is produced within our facility. This unique situation enables us to control every step of the manufacturing process, resulting in a quality product built to last.
Mobile Loading Dock Ramps, Dock Boards, Hydraulic Lift Tables Leader
Setting the pace in material handling equipment, Copperloy has been providing quality portable ramps and loading dock equipment for over 50 years. All products are manufactured to meet applicable industry and safety standards. Whether you need dock plates, portable yard and truck ramps, portable loading docks, hydraulic lift tables, or other loading dock equipment, we offer the right equipment for your application.
Portable Truck and Yard Ramps, Loading Dock Boards and Dock Plates
Finding the loading dock equipment you need is easy with our large selection of portable ramps, dock boards, dock plates, and more. Just select the product category you're most interested in and view our many safe and durable pieces of equipment. From dock lifts and portable ramps to accessories like wheel chocks, we have it all.
In addition to our standard Copperloy products of portable ramps, dock boards, and more, we are equipped to also design and manufacture custom products for portable loading docks. These include custom lift, portable yard and truck ramps, dock boards, dock plates, and loading dock equipment to meet your unique needs.
Learn more about the industries we serve and find out if we can help you with your application. Contact us for additional information about our services and your equipment interests today!