America's Best Aluminum Yard Ramps
Copperloy is a leading manufacturer of industrial loading equipment and logistics solutions. If you are looking for high-strength ramps for your facility, you can rely on our aluminum yard ramps. We offer a wide variety of models and load capacities for our ramps, so you can find the best equipment to maximize safety and productivity.
Copperloy has been in a top manufacturer of yard ramps for more than 60 years. We equip our engineering team with advanced machinery, so we can consistently offer our customers the best solutions available. As a result, Copperloy maintains its position as a leader in the design and production of a aluminum yard ramp.
Here at Copperloy, safety is a top priority and a central feature of our loading dock ramps. Loading and unloading freight with forklifts introduces many risks and safety hazards. So, we design our portable aluminum yard ramps to OSHA's strict safety requirements. This also helps loading operations maintain OSHA compliance.
Meeting OSHA standards starts with acquiring durable loading ramps from a reputable manufacturer like Copperloy. We design our ramps to all OSHA standards, so you can improve the safety of forklift operators.
If you are not certain of which size and capacity you need, contact Copperloy today for recommendations based on your operation's unique needs.
Why Choose Copperloy Aluminum Yard Ramps?
Choosing a loading ramp from Copperloy means you receive equipment that meets the highest quality, strength, and efficiency standards in the United States. Our ramps also have minimal maintenance requirements and safer design while maximizing your warehouse space.
In fact, Copperloy aluminum yard ramps have a unique, one-cylinder design. So, our ramps require significantly less pressure to raise relative to other ramps. This design also offers many other benefits:
Easier operation – The hydraulic pump's outward location offers more convenient access and simplifies operation. Also, Copperloy yard ramps have a unique design that allows one person to position the ramp anywhere in your facility quickly and easily.
Faster raise times – Our ramps raise two and a half times faster than aluminum yard ramps featuring two-cylinder design.
Less wear and tear – Rotation is focused on our ramp's positioning sleeve rather than the connection, reducing overall wear and tear.
Greater stability – Thanks to the centrally-located cylinder, Copperloy ramps are less likely to tip.
Other Copperloy Equipment for Sale
Steel Yard Ramps with Steel Grating
Key Features | Aluminum Yard Ramps
8-FOOT LEVEL OFF
Accessibility to your ramps is an important part of maintaining optimal levels of safety and efficiency for forklifts. So, we design all our yard ramps with an 8-foot level off to make loading safer and easier for forklift operators.
15-INCH LIP
This feature rests on the dock platform, floor, or truck carrier body. We also include 8-foot anchor chains to prevent ramps from pulling away from docks or trucks.
HYDRAULIC PUMP
Copperloy aluminum yard ramps are designed with a single-acting hydraulic hand pump that requires half the usual effort to raise relative to ramps from competing manufacturers. We place this pump on the outside of the ramp, so it is easier to operate while being shielded from potential damage. This hand pump can also be stored away when not in use.
SMOOTH SIDE PLATES
Smooth side plates are a Copperloy standard. We construct these plates for high-strength materials and enclose all the working components while also defending them from potential damage.
LOW END PLATE
Our aluminum yard ramps have a low end plate that sits lower than a forklift's wheelbase. As a result, the front wheels of a forklift can reach the deck grating without the back wheels leaving the ground. This also makes it easier to travel up and down the ramp and unload trailers from ground level.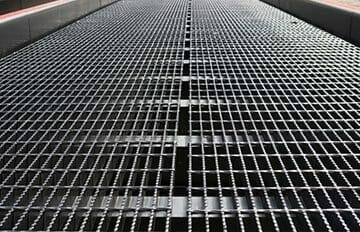 ALUMINUM YARD RAMPS DECK GRATING
This rust-resistant aluminum grating consists of electro-forged, serrated aluminum, so it offers unparalleled durability. This grating also has 1/4″ to 3/4″ bars and a 1″ spacing between. As a result, rain, snow, and other debris can pass through the grating, maintaining high traction even in extreme weather conditions.
SAFETY CURBS
Another unique feature of Copperloy aluminum loading dock ramps is the 6-inch safety curb. This curb prevents accidental runoff for forklifts, increasing safety while loading and unloading. The safety curb also features box-frame construction and hollow-section design, So, it actively decreases stress for heavier loads and cargo breakout.
18-INCH SOLID/PNEUMATIC TIRES
Solid tires are a central feature of all Copperloy yard ramps because they need much less maintenance than air-filled tires. In fact, our ramp tires do not require refilling and feature lubricated bearings. So, they are essentially maintenance-free.
ALUMINUM YARD RAMPS POSITIONING SLEEVE
With this positioning sleeve, forklift operators have 180 degrees of ramp maneuverability, so you can minimize downtime and increase productivity. The fork slides into the sleeve and allows the forklift to efficiently move the ramp to another location in your facility. This feature is not designed for long-distance towing.
TOW BAR
The tow bar is another feature that offers more maneuverability. It also allows operators to tow ramps short distances within your facility at a max speed of 5-mph. The towbar is also not designed for long-distance, over-the-road towing.
CUSTOM OPTIONS
In addition to the above features, Copperloy can develop custom yard ramp solutions for specific application requirements. We offer unmatched experience in yard ramp design, so we can complete even the most challenging custom projects.