Hydraulic Edge of Dock Levelers
Easily convert Copperloy's edge of dock levelers into hydraulic edge of dock levelers with the addition of our hydraulic power unit. Enhance loading dock productivity, efficiency, while also reducing stress and risk of injury for employees.
Made of high-quality, durable materials, our hydraulic levelers require minimal maintenance while also offering quick and easy operation. There are 12 different models to choose from, including:
Capacities of 20,000 and 30,000 lbs.
Widths ranging from 66″ up to 84″
Projections of 12" and 14"
Have a unique loading dock? Copperloy's expert in-house engineering team can custom design and manufacture any hydraulic edge of dock leveler to meet your specific needs and circumstances.
Watch the dock equipment video below to learn more.
FEATURES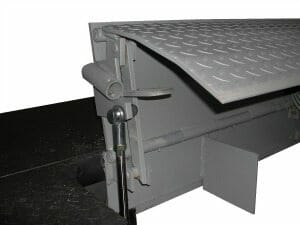 Features:
The hydraulic pump, motor and cylinder are housed on a single bracket for easy wall mount installation.
In the event of a power failure, the cylinder arm can be disconnected from the ramp plate bracket allowing for mechanical operation of the leveler unit.
Lift assist extension springs remain on our hydraulic edge of dock levelers.
All Copperloy EODs are supplied with an activation handle, which doubles as a safety maintenance strut.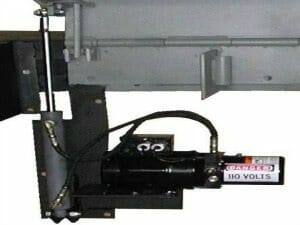 Available Voltage:
115 volt, single phase (standard)
208/220 volt, single phase (available)
208/230, three phase (available)
460 volt, three phase (available)
Additional Videos
View our dock equipment videos here and visit us on YouTube for more of our videos!