Dock to Ground Ramps | The Best Loading Dock Ramps
Dock to Ground Ramp
America's Top Loading Dock Ramps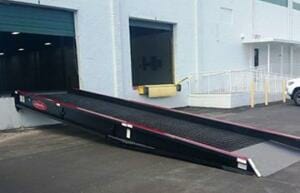 A Copperloy dock to ground ramp is a perfect solution for moving freight and supplies on and off of your dock. Copperloy loading dock ramps allow your forklifts and other vehicles to move freely between the interior and exterior of your facility.
Our dock to ground ramp will be delivered to your facility ready to use. Since our dock ramps aren't a permanent structure like a concrete ramp, they are much quicker to install and easy to move if needed.
Copperloy dock to ground ramps are engineered and built by our team in Ohio and are available in several capacities, widths, and lengths. Call us to see what ramp is right for your application.
Versatility

: With standard widths up to 120 inches and capacities up to 30,000 pounds, Copperloy's dock to ground ramps can accommodate just about any unique loading application. Unlike concrete ramps, our mobile loading dock ramps can be relocated when needed. For additional widths and capacities, please contact the factory.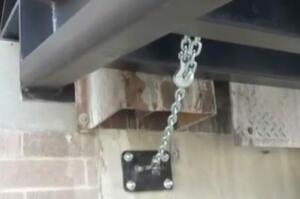 Low Maintenance

: Our dock to ground ramps require minimal cleaning and repair. In addition, they're designed to be installed quickly and stored easily. It's the perfect piece of equipment for loading docks.

Safe Handling

: Safety chains and brackets are included to prevent the loading dock ramp from sliding off the dock ledge when being used. We also provide 7-inch safety curbs that prevent accidental runoff during the loading process.

Durability

: Our ramps are built to last! All of our dock-to-ground ramps are designed to withstand frequent usage at heavy capacities.
Looking for a more mobile option? Check out our selection of portable yard ramps. The Copperloy yard ramp is the highest rated in the industry so contact us today to learn more.