Searching for Loading Dock Ramps Near Me? Choose Copperloy!
Loading Dock Ramps Near Me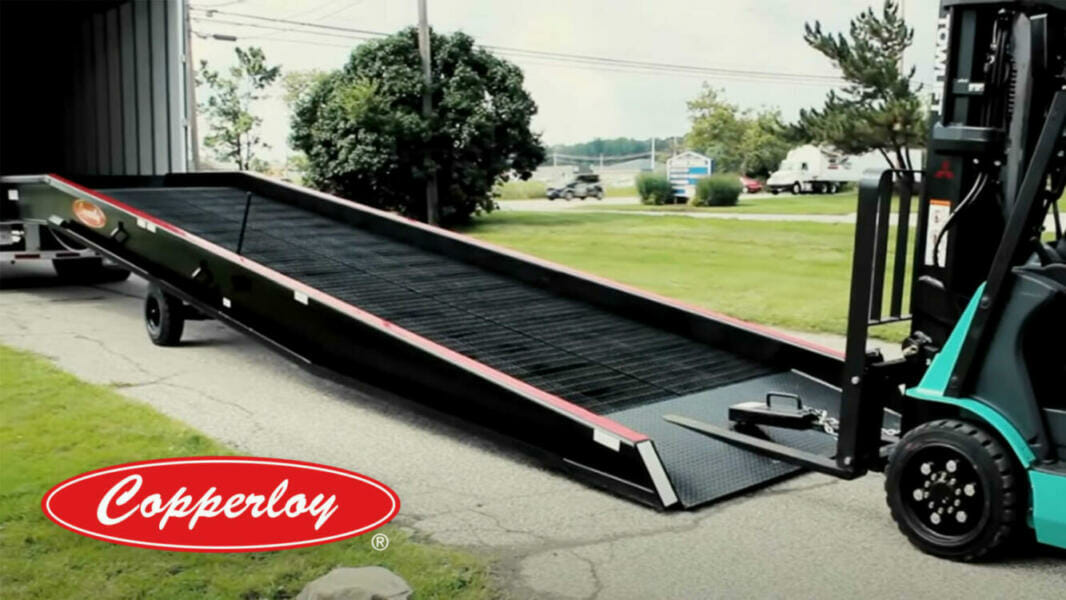 Copperloy has all the solutions when one is searching for loading dock ramps near me. When your business relies on the fastest, safest way to load and unload freight all the while speeding up your production, you can rely on Copperloy ramps to deliver and exceed all these expectations.
We offer the largest selection of in-stock certified new and used loading dock ramps. Including, used yard ramp rentals for all your short-term project needs. All of our loading dock ramps are proudly made in the United States at Copperloy's manufacturing facility in Twinsburg, Ohio.
YARD RAMPS
Copperloy is a leader in custom steel fabrication, and we have mastered manufacturing the strongest yard ramps in the industry. Made from A572-50 high-strength steel with a 50,000-pound minimum yield, these ramps can handle all your heavy-duty loads. Including, capacities that range from 16,000 to 60,000 pounds, and widths of either 70 or 84 inches.
Furthermore, our ramp's hydraulic hand pump allows you to quickly make height adjustments of 38 to 65 inches. Visit our yard ramps page to learn more about the standard advantages and features of Copperloy's yard ramps.
MOBILE LOADING DOCK RAMPS
The design of our mobile loading dock ramps can handle a strenuous workday and so much more. When the job calls for ground-level access to trucks, railcars, or buildings where no dock exists, Copperloy's mobile ramps can convert vacant space into a freight-handling center. Visit our mobile loading dock ramp page to learn more about the standard advantages and features of Copperloy's mobile ramps.
DOCK TO GROUND RAMPS
Copperloy dock to ground ramps is the perfect solution for fixed loading positions for long-term, reliable loading, and unloading. These ramps can be used in both material handling situations and as a vehicle ramp or truck ramp traveling from grade level to dock height. Additionally, these ramps can be custom built to match your existing loading dock specifications or requirements. Visit our dock to ground ramps page to learn more about the standard advantages and features of Copperloy's ramps.
USED YARD RAMPS
Choosing a used Copperloy yard ramp delivers the same impeccable quality at a fraction of the price for a brand new one. Stay within your budget while improving your facility's safety and efficiency. Copperloy offers the largest selection of sizes, weight capacities, and other specifications to meet the unique needs of your facility. Visit our used yard ramps page to learn more about the standard advantages and features of Copperloy's ramps.
FACTORY CERTIFIED YARD RAMP RENTALS
When you need an affordable, short-term solution to expand loading dock capacity, we have you covered with our factory-certified yard ramps. We offer an entire lineup of high-quality, durable ramps for loading docks and material handling facilities of all kinds. Visit our yard ramp rental page to learn more about factory-certified yard ramp rentals.
PORTABLE DOCK PLATFORMS
When you need parallel loading on carriers and docks with limited space we deliver solutions. Copperloy's portable dock platforms are used in combination with dock-to-ground or portable loading dockyard ramps. Our steel platforms allow forklifts to easily make right-angle turns. Visit our portable dock platform page to learn more about the standard advantages and features of Copperloy's platforms.
GROUND TO TRUCK RAMPS
Transform any open area into a portable loading dock with forklift ground-level access to semi-truck beds safely and efficiently with Copperloy's ground to truck ramps. Designed with industrial use in mind, these ramps are available in aluminum or steel bases. We also offer custom specifications upon request! Visit our ground to truck ramp page to learn more about the standard advantages and features of Copperloy's ramps.
FORKLIFT RAMPS
Copperloy's heavy-duty forklift ramps have helped countless warehouses and facilities bring their productivity, efficiency, and safety standards to new heights. Dependability is a standard feature of Copperloy products. We will assist you in determining the best fit based on the weight of the equipment you use, the loads you carry, and the specifications of your unique facility. Visit our forklift ramp page to learn more about how we can take your freight handling operations to a higher and safer level.
Portable, Mobile, Permanent Freight Loading Solutions
Setting the pace in material handling equipment, Copperloy has been providing quality portable ramps and loading dock equipment for over 60 years. All products are manufactured to meet applicable industry and safety standards.
We welcome all challenging and complex application requirements. Our Technical Sales department, in-house Engineering team, and complete manufacturing facility are equipped to design and manufacture custom fabricated products. In fact, from raw materials to finished products the entire process is monitored to meet the demands of each application.
Whether you need dock plates, portable yard and truck ramps, portable loading docks, hydraulic lift tables, or other loading dock equipment, we offer the right equipment for your application.
Learn more about the industries we serve and find out if we can help you with your application. Contact us for additional information about our services and your equipment interests today!
CONTACT COPPERLOY TODAY!
Loading Dock Equipment is one of the most important parts of your warehouse operation. The tools of the trade are a pivotal source for productivity and efficiency. Warehouse equipment needs to not only be functional as well as safe. If your current equipment does not meet these requirements, the productivity of your facility and the safety of your employees could suffer greatly.
Call Copperloy to learn more about the range of used loading dock equipment available, sizes, specifications, and weight capacities. With our inventory of used loading dock equipment, we're sure there's a specific model that will be a perfect fit for your facility and any specific need or challenge.
WATCH THE USED YARD RAMPS VIDEO BELOW TO LEARN MORE
Additional Videos
View our mobile yard ramp videos here and visit us on YouTube for more of our videos!
Used Yard Ramps FAQ
What is the most common yard ramp?
All applications are different and need to be treated as such. The most important component is knowing the total weight that will be on the ramp. Once the weight is determined, the capacity of the ramp can also be determined.
What is the width of a Copperloy mobile yard ramp?
The standard widths of our mobile yard ramps are 70″, 84″ and 96″ (custom widths can be fabricated to meet your needs).
How long are Copperloy mobile yard ramps?
Our standard mobile yard ramp is 36′ long and includes an eight-foot level off section on top of the ramp. Depending on the application, we can add length to the ramp.
How long is the level off section on the mobile yard ramp?
On the mobile yard ramp, the standard level off section is eight feet long. We can extend the level off section in certain applications.
Why does Copperloy have an eight-foot level off on the mobile yard ramp?
Our mobile ramps have an eight-foot level to provide the forklift greater access to trailers. An eight-foot level off section helps level your forks for pallets at the opening of the truck.
What is the difference between a positioning sleeve and towbar?
The Positioning sleeve comes standard on our steel mobile ramps. It is used to get the ramp into the position of the trailer. The towbar is used for towing the ramp around your facility short distances (3-5mph max speed). The ramp is not designed for road travel.
What kind of tires are on the mobile yard ramp?
The standard tires are 18″ solid/pneumatic tires. The tires do not require air to fill, are maintenance-free, and have lubricated for life bearings.
Find more answers to common yard ramp questions on our yard ramp resources page or wikipedia.