COPPERLOY HEAVY DUTY LOADING RAMPS AND COMMERCIAL LOADING RAMPS
Heavy duty loading ramps and commercial loading ramps from Copperloy significantly improve productivity, increase safety, and maximize space. We have put sixty years of experience in the industry to work and manufactured America's best loading dock ramp. Our one-cylinder loading dock ramp design applies significantly less pressure than other ramps on the market. When customers choose Copperloy ramps, they benefit from 
Easier operation – The hydraulic pump's external location provides convenient access to simplify operation.
Quicker raise times – A Copperloy ramp positions to the desired height up to 2 and 1/2 times faster than a conventional ramp.
Limited Wear and Tear – The wear and tear of a Copperloy loading ramp is minimal due to rotation taking place on a redesigned positioning sleeve. Traditionally, rotation occurs where the ramp connects.
Excellent stability – A centrally-located cylinder increases stability and reduces the likelihood of tipping.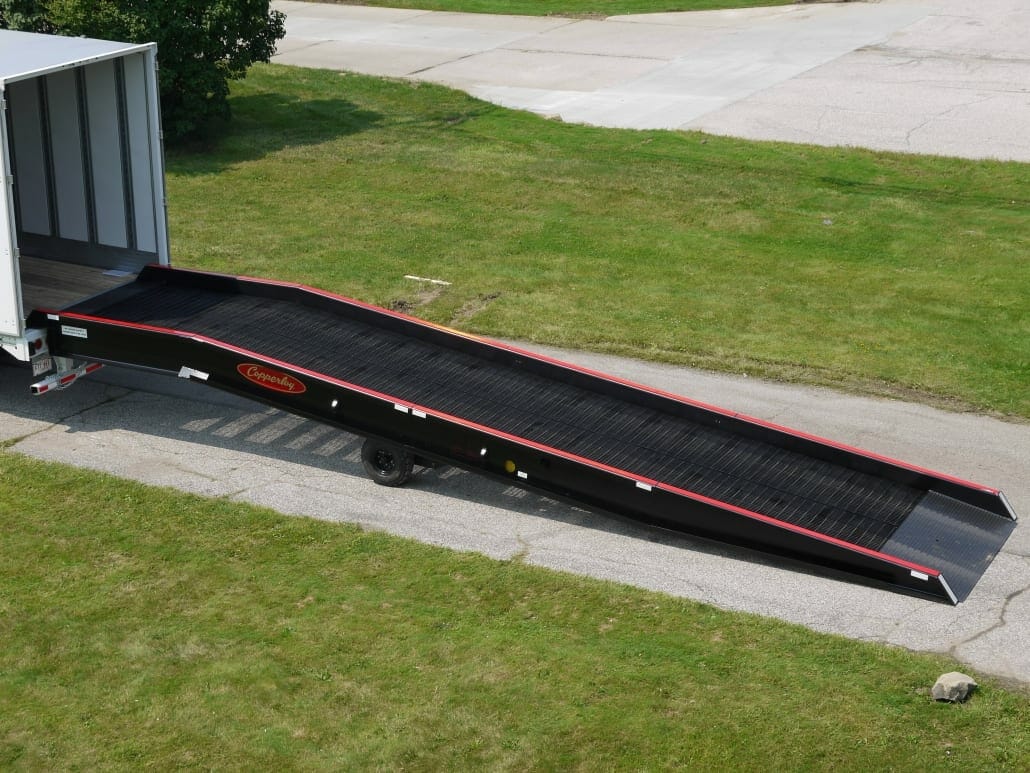 Features of the Loading Dock Ramp
8-Foot Level Off
When designing commercial loading ramps, forklift access is always a top concern. Our ramps feature an 8-foot level off to make forklift access a safe and easy process.
15-Inch Lip
This feature rests on the dock platform, floor, or truck carrier body. Our loading dock ramps also come with 8-foot safety chains to ensure the ramp does not pull away from the dock.
Hydraulic Pump
Our dock ramp's single-acting hydraulic pump only needs half the usual effort to raise the ramp relative to other loading dock ramps. The pump's new location is more convenient for operation and maintenance while protecting it from dirt, debris, and other forms of damage. The handle can also be stored away if not in use.
Low End Plate
Each Copperloy loading dock ramp has a lower end plate than a forklift's wheelbase. Therefore, the front wheels of the forklift can always reach the grating without the back wheels leaving the ground. This prevents any bumps during forklift travel onto trucks and docks and provides simpler ground-level entry.
Loading Dock Ramp Deck Grating
Our loading dock ramps consist of high-strength steel. Our deck grating can withstand even the toughest environments. The one and three-quarter inch spacing between bars allows rain, snow, and other debris to pass through. Furthermore, the serrated grating ensures traction in all weather conditions.
Safety Curb
This 7-inch safety curb is a feature on all Copperloy ramps to minimize the occurrence of runoff.
18-Inch Solid/Pneumatic Tires
Solid/pneumatic tires are other staple features of Copperloy ramps. These tires do not need refilling, have lubricated bearings and are virtually maintenance-free.
The Loading Dock Ramp Positioning Sleeve
The ramp's positioning sleeve provides 180 degrees for the ramp maneuverability, saving time and increasing efficiency. The fork slides into the sleeve and allows for easy repositioning. All of Copperloy's all-steel loading dock ramps implement the positioning sleeve. However, this sleeve is not designed for long-distance towing.
Towbar
For our steel and aluminum loading dock ramps, we include a towbar, which attaches to the lower end of the ramp. Operators can tow the ramp short distances at a max towing speed of 5-mph. This towbar is not designed for over-the-road towing.
Create a Dock Anywhere with Our Loading Dock Ramps
Freight-loading facilities can easily create a dock anywhere in their facility with our commercial loading ramps. Whether on a dock or a truck, Copperloy loading dock ramps offer an efficient and safe way to load and unload with forklifts. With Copperloy, expanding your dock capacity has never been easier or more cost-efficient.
How to Use Copperloy Heavy Duty Loading Ramps
Copperloy's exclusive heavy duty loading ramps can drastically improve efficiency, safety and profitability in a facility. These ramps are not only notable for their effectiveness in streamlining operations, but also for their ease of use. 
To use Copperloy's heavy duty loading ramps, simply use the attached hydraulic pump to raise the loading ramp in a ½" increment for each pump motion until you have brought the ramp to its necessary position.
Next, use chains to attach a forklift to the ramp's positioning sleeve and bring the ramp to the necessary angle. Then allow the hydraulic pump valve to release and let the 15-inch lip rest on the carrier body. Finally, link the attached safety chains to your ramp and begin loading.
Custom Steel Fabrication and Design
Need heavy duty ramps that fit the stresses and layout of your unique facility? If so, then take advantage of Copperloy's premier custom steel fabrication and design services. Count on the team to fabricate beryllium copper, extruded aluminum, stainless steel, specialty steels and a wide range of other materials.
Significantly, Copperloy streamlines the customization process by housing all burning, painting, machining and fabricating operations in one space. To list, just some of the team's past custom projects have included heavy duty ramps, lift tables and rebar pallets.
About Copperloy
For more than half a century, businesses and organizations of all kinds have chosen Copperloy for top-quality freight handling equipment. Whether your next space transformation requires heavy duty ramps, dock boards, dock plates or edge of dock levelers, Copperloy can provide your ideal solution.
Our team prioritizes customer satisfaction and the quality and safety of products, above all. For this reason, our team maintains the latest in both computer numerical control (CNC) and robotic manufacturing technologies.
Are you ready to begin your next facility upgrade? If so, then reach out to our dedicated team of manufacturers today and take the next steps.
REQUEST A QUOTE
Interested in yard ramps and want more info? Let us know below and we will reach out with more details. Dealer pricing available.
You may also be interested in these types of yard ramps