Dock Railboards
Copperloy railboards are designed to connect your dock with a railcar. Our unique railboard design features a rugged under-brace that fits your loading requirements for safe and positive positioning. Each rail board is specifically engineered and designed to meet the dimensions and specifications for each dock site. Several design applications are available including rectangular, flared, refrigerator car, car to car, and plug door cars. Our non-slip high-strength plate decking ensures additional safety while using our rail dock boards.
Portable Truck and Yard Ramps, Loading Dock Boards and Railboards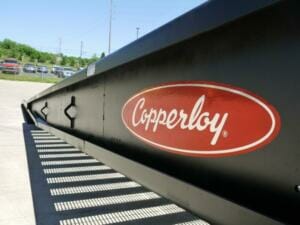 Finding the loading dock equipment you need is easy with our large selection of portable ramps, dock boards, dock plates and more. Just select the product category you're most interested in and view our many safe and durable pieces of equipment. From dock lifts and portable ramps to accessories like rail dock boards, we have it all.
In addition to our standard Copperloy products of portable ramps, dock boards, and more, we are equipped to also design and manufacture custom products for portable loading docks. These include custom lift, portable yard and truck ramps, dock boards, dock plates, and loading dock equipment to meet your unique needs.
Learn more about the industries we serve and find out if we can help you with your application. Contact us for additional information about our services and your equipment interests today!
Railboards
Standard capacities up to 40,000 lbs. (larger capacities also available)
Rugged all-welded steel construction.

Heavy understructure for safety and durability.

Drop through lift loops or lift chains standard.
Railboards available in rectangular or flared.
Heavy understructure spans the gap and locks the ramp into place with 8″ automatic ring adjustments (14″ max adjustment).
Lift Loops
Come standard on all rail dock boards.
Spaced on 24″ centers.
Located 24″ from the approach end of railboards to accommodate different fork size
Lift Chains Optional
Available in 1 or 2 piece.
Center hooks disconnect during use.
Secured to the curb.
Available on all railboards
Why Choose Railboards From Copperloy?
For over 50 years, Copperloy has been the leader in manufacturing quality, durable loading dock equipment for material handling.
What makes Copperloy loading dock products superior?
A state-of-the-art manufacturing facility inclusive of CNC and robotic technology.
In-house Engineering staff reviews each job for proper application and structural integrity.
The technical Sales department works with Engineering and the customer throughout the manufacturing process to ensure the product meets the demands of the application.
Proudly Made in the USA
Challenge us with your difficult application! With our in-house engineering department and complete manufacturing facility, we oversee your project from start to finish. From raw material to finished product, your order is produced within our facility. This unique situation enables us to control every step of the manufacturing process, resulting in a quality product built to last.