Make Loading Trucks Quicker and Easier with a Copperloy Semi Truck Ramp
The Forklift Operator's Dream Come True
A Copperloy semi truck ramp, also known as a tractor trailer ramp, is the best way to improve workflow, safety, and productivity at your loading dock! Copperloy is an American-owned and operated manufacturer and a leading provider of loading dock equipment solutions. We design ramps for superior quality and performance, so warehouses and loading docks can stay on task and meet their quotas.
If you are looking for a semi truck ramp for your facility, we offer many new, used, and rental models. Contact us today or fill out the form on the right to find the perfect fit for your operation!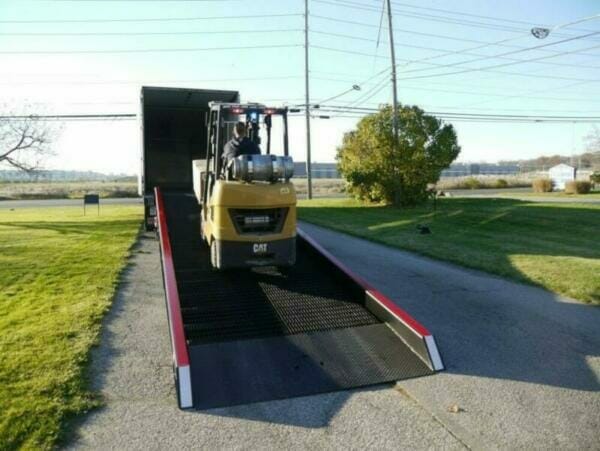 What is a Semi Truck Ramp?
A semi truck ramp acts as a mobile loading dock that links directly to the bed of nearly any truck trailer. It provides a direct path for forklifts to go from ground to truck within seconds. Many also refer to these ramps as "portable loading docks" because they can create a standalone freight-handling center almost anywhere. The most common use for a semi truck ramp is to expand the capacity of an existing loading dock without having to move to another facility.
Copperloy yard ramps and semi truck ramps are designed to maximize productivity by allowing you to use your available space more efficiently. Your forklift operators will also have easier access to truck trailers and shipping containers, so you can get more jobs done in less time. more quickly. More importantly, they are far safer than standard industry ramps, protecting both operators and cargo from potential accidents.
Why Choose Copperloy Heavy Duty Truck Ramps?
Copperloy heavy duty truck ramps offer many advantages. With a unique single-acting hydraulic design and several other features, unloading trucks has never been easier. Here are some reasons why you should get a Copperloy semi truck ramp:
Fast Raise Times & Easy Operation – Our single-acting hydraulic system allows you to raise your ramp 2.5X faster than the industry standard. The hand pump is also located on the exterior, so you can set it up in less time with less effort.
Durable Construction – We use only the finest metal materials for our steel and aluminum ramps to ensure your equipment lasts as long as possible. Wear and tear are no match for our high-strength ramp design.
Balance & Stability – With a centrally located hydraulic cylinder, Copperloy semi truck ramps actively prevent wobbling and tipping. This ensures forklifts can travel up and down the ramp more smoothly with minimal risk of an accident occurring.
Superior Mobility – Our ramps offer several mobility features including a positioning sleeve, tow bar, and pneumatic tires. Moving your ramp between tasks is quick and easy, and the solid tires ensure the ramp can handle even the roughest terrain.
Another benefit of choosing Copperloy is receiving the highest quality regardless of your budget. Whether you buy new, used, or even rent a semi truck ramp, you always get factory-certified equipment that will give your dock the boost it needs.
Semi Truck Ramp Features & Specifications
MOBILITY & PERFORMANCE FEATURES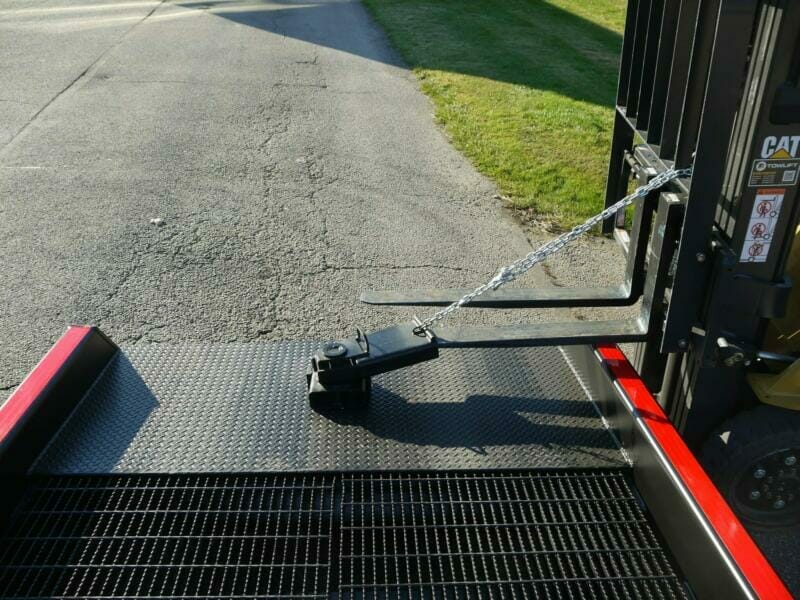 SINGLE-ACTING HYDRAULICS & EASY ACCESS HAND PUMP
Standard industry semi truck ramps use double-acting hydraulic systems, making them take too long to set up and are difficult to move. Copperloy tractor trailer ramps use single-acting hydraulics, resulting in raise times that are 2.5X faster and higher mobility.
We also design our ramps with the hydraulic hand pump on the exterior, so setting up your ramp is quick and easy. Once you raise your ramp, you can store the handle away to protect it from wear and tear.
POSITIONING SLEEVE
This feature allows forklifts to maneuver the ramp a full 180 degrees. This makes turning and repositioning the ramp much less difficult and time-consuming, so you are not losing daylight to unnecessary downtime.
TOWBAR
The towbar allows you to tow the ramp up to 5-mph throughout your facility. Included with both steel and aluminum semi truck ramps.
18-INCH PNEUMATIC TIRES
Air-filled tires are prone to deflating and popping, requiring frequent maintenance. Copperloy ramps use pneumatic tires that do require refilling, so they are essentially maintenance-free. Although these tires are solid, their cushioned design allows for just enough give to handle tough terrain.
*These features are not designed for high-speed, over-the-road towing. If you need to move your ramp long distances, you will need specialized transport.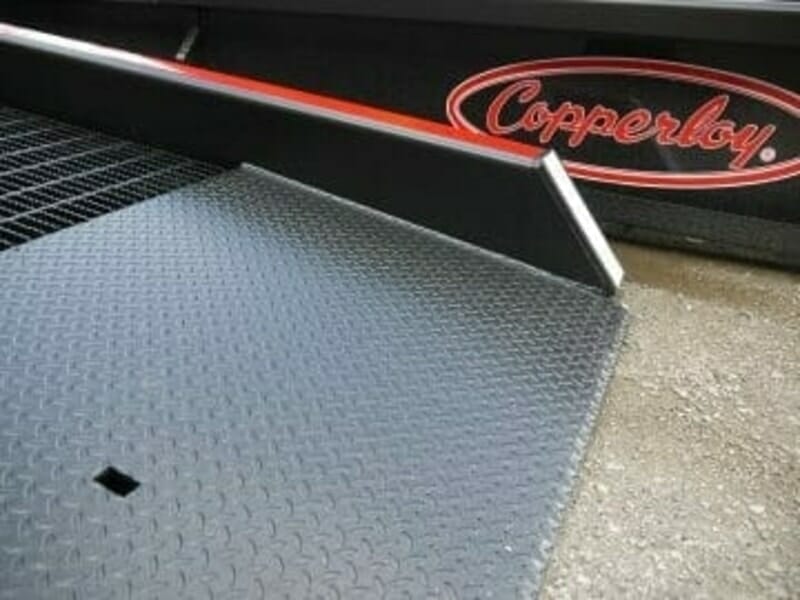 8-FOOT LEVEL OFF
This feature ensures that forklifts are traveling on a level surface as they enter and exit the truck trailer. It also allows forklifts to work without having to stop as often, so loading tasks take much less time.
15-INCH LIP & SAFETY CHAINS
The lip of the ramp lowers and rests onto the truck carrier body while the included safety chains link the trailer and ramp together. This prevents the ramp from pulling away and makes loading safer.
LOW END PLATE
This plate sits lower than a forklift's wheelbase. This ensures all wheels are firmly planted on the ground whenever a forklift accesses the ramp. The low end plate creates smooth ground-level entry, eliminating the bumps you would encounter on other ramps.
HIGH-TRACTION DECK GRATING
Every Copperloy semi truck ramp is constructed with a serrated steel grating. The grating bars are incredibly durable, and with 1-3/4 inch spaces between each bar, snow, rain, and debris can easily pass through, maintaining a high-traction surface even during inclement weather.
SAFETY CURBS
Our ramps include 7-inch curbs with a patented box frame design to prevent runoff while forklifts travel up and down the ramp.
CENTRALLY LOCATED CYLINDER
Our unique single-acting hydraulic design also makes the ramp more stable. With the cylinder in the center, our ramps naturally compensate for shifts in weight distribution and prevent tipping or wobbling. This minimizes the chance of an accident occurring, and like all our safety features, helps you maintain compliance with OSHA laws and regulations.
STEEL SEMI TRUCK RAMP SPECS