Find The Right Height | Get Your Dock to the Same Height As Your Truck
Why Does Height Matter?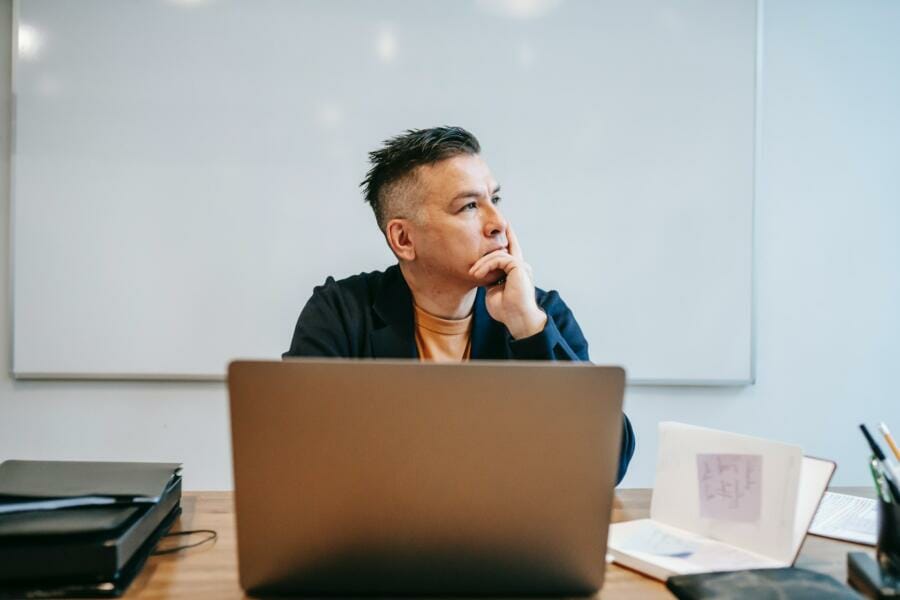 There's no reason to struggle with inefficient loading and unloading in the modern world. With a dock leveler or dock plate from Copperloy, you can revitalize the way you work, and channel your time and resources into getting the job done. Sound like a big claim to make? We've got the evidence to back it up.
First and foremost, you should know what a dock leveler and dock plate do. A dock leveler or plate establishes the correct height and a secure connection between the edge of a loading area and a truck or a ramp. A dock plate connects two areas of a material handling operation, which gives you the security you need to get the job done. It's important to match the height of your dock with a truck or ramp for smooth processes.
If your facility has shipments coming in and out frequently, you need a seamless process to keep shipments moving. A dock leveler or plate streamlines your loading docks with safe and secure loading dock connections.
Why Invest In A Dock Leveler? 
An edge of dock leveler, or EOD, bridges the gap between the edge of a loading dock and a truck or ramp. A dock leveler is ideal for trucks that need to back up to the loading dock. A Copperloy dock leveler is designed for trucks that are 5" above or below loading dock levels and is available in 20,000 and 30,000 lbs. models. There's something for everyone when it comes to Copperloy edge-of-dock levelers.
Copperloy's edge of dock levelers are the best solution for your loading dock needs because they are the safest and most efficient solution for varying truck bed heights. You can also utilize a dock leveler when dock space is limited, or when a full-sized, pit-style edge of dock leveler isn't necessary. 
Every Copperloy edge of dock leveler is built for hassle-free operation. We offer both hydraulic or mechanical activation lifts, both of which are easy to operate. Simply pull back the main handle and the lip will mechanically lift over the dock height. With a small push of the handle forward, the lip will set into position on the truck floor. That's it!
What About A Dock Plate?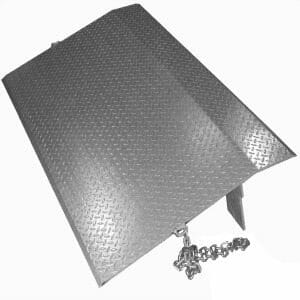 So what about a dock plate? This versatile piece of equipment is just as easy to use.
A loading dock plate is a flat piece of metal with a slight bend in it for easy transitions between one area of material handling operations to the next. Copperloy dock plates don't have curbs, which make them better for irregular or sharp turns. 
Our dock plates are recommended for lighter-weight applications. The aluminum dock plate comes with lifting straps for better transportation, and the steel dock plate includes a one-piece lift chain. Copperloy dock plates can handle capacities between 1,000 and 17,000 lbs. Pallet jacks, dollies, and carts work best with these weight capabilities. 
There are a few differences between the aluminum and steel dock plates. The aluminum plates are not made for forklifts to drive over and are better suited for handcarts and lighter loads. Steel plates can handle up to 17,000 lbs, but they weigh more and aren't as portable as aluminum plates. Depending on your facility's needs, you can determine what's best for you.  
Why Should I Choose Copperloy For My Dock Height Needs?
If your loading and unloading isn't as efficient as possible, it's time to make a change. With Copperloy's dock levelers and plates, you can get a fast and simple solution that revitalizes the way you process shipments.
 For over 50 years, our products have been proudly made in the USA. All of our products are manufactured to meet applicable safety and industry standards. 
Our engineers are also equipped to design and manufacture custom products for portable loading dock equipment such as custom lifts, portable yard and truck ramps, dock boards, and dock plates. Copperloy's loading dock equipment offers industry-leading strength that outperforms the competition. 
Want to learn more about our loading dock equipment? Reach out to our team today!