Our Walkboards
Copperloy is a leading designer and manufacturer of high-quality aluminum walkboards. We design all our ramps to offer unmatched versatility, longevity and strength, so they will fulfill your logistical needs for many years.
Our durable walk boards come in capacities ranging from 900 to 1,500 lbs., widths from 26.5 to 37 inches and lengths from 6 to 16 feet. They can also work with heights up to 62 inches depending on length. With our wide selection of ramps, you can find equipment with the ideal specifications for your operation and competitive pricing.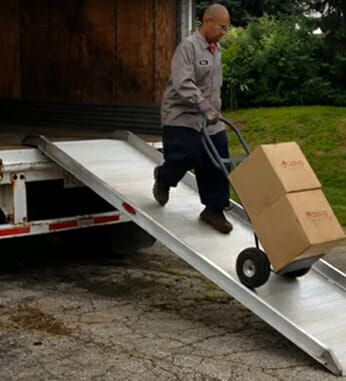 Additionally, aluminum walkboards are not only durable but also lightweight. As a result, they are easy to use and are capable of withstanding even the harshest conditions. Furthermore, we design our equipment with slip-resistant shark tooth decking for safer traversal while loading and unloading.
Copperloy has been a top manufacturer of American-made loading dock equipment and aluminum walkboards for over 60 years, so you can rely on our industry experience to get you the equipment you need. To find the right walkboard or ramp for you, contact Copperloy today, and we can ensure you get the best equipment for your application.
Custom Steel Fabrication and Design Services
The same material handling installation will not work in every facility. Different stresses characterize different workspaces, industries and projects. For this reason, we take great pride in offering premier custom steel fabrication and design capabilities.
To list, just some of our team's past custom projects have included walk boards, lift tables, rebar pallets, dock to ground ramps and more. Count on our team to fabricate extruded aluminum, beryllium copper, stainless steel, specialty steels and a diverse range of other materials.
Our Twinsburg, Ohio facility houses all burning, painting, machining and fabricating capabilities all in one space. Significantly, our team maintains the most current in both robotic and computer numerical control (CNC) technologies to keep product quality and customer satisfaction as high as possible. To start your customization process, simply send us your CAD drawings or let us begin the design process.
Without a doubt, we can help you and your team get the most out of your next project. Reach out to our dedicated team of custom steel fabrication and design experts today to learn more and take the next steps.
About Copperloy
The efficiency of a facility's loading dock can often determine the efficiency of the entire facility. To maintain an efficient loading dock, a team needs durable material handling equipment. For more than half a century, teams from across a diverse range of industries have counted on Twinsburg, Ohio's own Copperloy by JH Industries for some of the most durable material handling equipment available.
Customers count on Copperloy for dock boards, dock plates, yard ramps, edge of dock levelers, specialty ramps, dock to ground ramps and so much more. We take great pride in providing freight handling solutions for tasks of all kinds. For example, we have provided installations for military, construction, wind energy and light assembly applications in addition to many other projects.
Are you and your colleagues ready to start maximizing safety, efficiency and profitability in your workspace? When you upgrade your material handling equipment, you can ensure a workspace that is both safe and productive. Reach out to our team today to start moving forward with your facility upgrade.