Turning The Spotlight On Stage Ramps
Before the actors don their costumes, before the curtains rise, before the lights go up on any theatrical play, musical, concert, or other stage production, lights, sound equipment, pianos, and myriad other heavy objects need to make their way onto the stage. Keeping your team and the equipment safe is why Copperloy manufactures stage ramps. 
What is a stage ramp? 
Stage ramps are just what they sound like: a ramp (that is, "a slope that joins two parts of a road, path, building, etc. when one is higher than the other," according to the Oxford dictionary) that is made with the stage and all it has to hold in mind. Whether your stage is at the local high school, an outdoor concert venue, a busy theater, or an opera house, if you have a stage, you're going to need to purchase or replace a stage ramp at some point.
What makes Copperloy stage ramps different?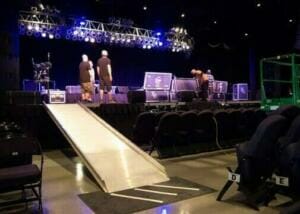 Copperloy stage ramps, part of our line of Specialty Ramps, are built to last and to be reliable. That's because we thought through every aspect of the design of our stage ramps to make them the most useful and trusted by venues everywhere. Your stage crew can safely and confidently load and unload the heaviest equipment without fearing the ramp supporting them will tip, bend, or buckle under the strain.
The Six Features of the Copperloy Stage Ramp
Why do theater crews everywhere trust Copperloy stage ramps to safely load and unload heavy stage equipment? It comes down to six key features.  Each stage ramp is constructed with dependability in mind. Copperloy stage ramps come with unique attributes like:
Durable construction. The high strength and low density of these stage ramps enable them to withstand large amounts of weight, while making the ramp lightweight and easy to set up, take down, and transport. Our ramps also feature fine-tuned welded construction for maximum strength, safety, and longevity. 

Shark tooth deck grating. When a large, heavy object must be pushed up or maneuvered down a stage ramp, it's important that neither it nor the crew member slips, skids, or slides. Our stage ramps feature a slip-resistant surface for superb grip and maximum traction whether you're going up or down the ramp. This feature is important in reducing the risk of injury as well as damage to equipment. 

Runoff curbs and high rails to further ensure objects stay on the ramp.

Heavy weight capacities. Copperloy offers ramps for every kind of venue. With capacities able to support up to 8,000 lbs., we have a stage ramp that can tolerate every type of item.

Lengths up to 20 feet to span even the longest distances. 

Widths up to 72 inches to accommodate oversized items.

Additional figurations. Our stage ramps are also available in special sizes and capacities to meet your requirements. Contact us today to talk about your special request.
Copperloy makes all kinds of ramps
The Hard Rock Rocksino near Cleveland uses Copperloy stage ramps to load and unload its stages, which you can see in this video. In addition to stage ramps, Copperloy produces a portable yard ramp, dock ramps, and other specialty ramps, including van and twinlock ramps as well as dock lifts, dock plates, walkboards and more.   
Copperloy's tough and versatile stage ramps have the features to make them the best choice to ensure crew member safety and the smooth loading and unloading of sound equipment, large musical instruments, props and other gear. Copperloy has more than 60 years of ramp manufacturing experience and proudly makes its products in the United States.