America's Number One Warehouse Loading Dock Ramp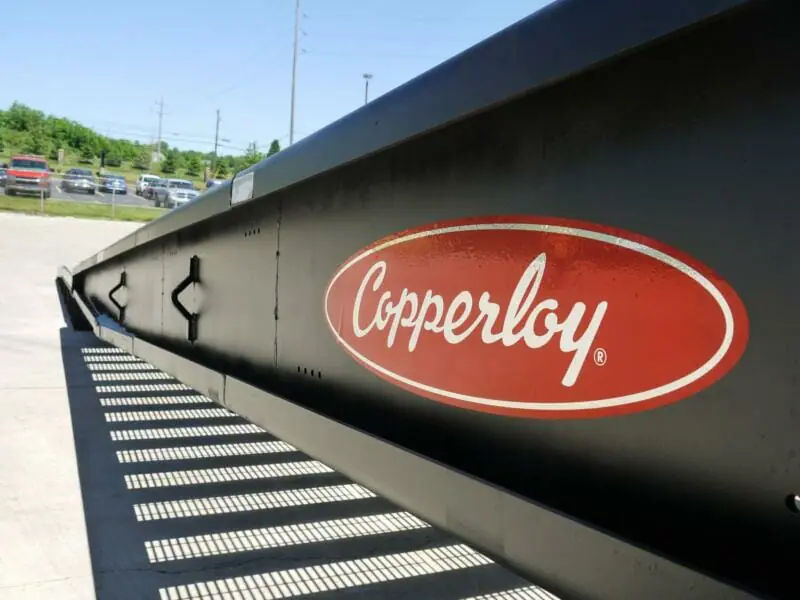 Looking for new loading dock equipment for your warehouse? Consider Copperloy's Warehouse Loading Dock Ramp.
Copperloy is a leading developer of heavy-duty loading ramps as well as other forms of loading dock equipment. So, they can deliver ramps that maximize efficiency and productivity. Furthermore, Copperloy dock ramps offer the highest safety standards in the industry.
Copperloy has been a leading provider of warehouse loading dock ramp solutions for over 60 years. We equip our staff with state-of-the-art manufacturing equipment, so we can maintain the highest possible quality for every portable warehouse ramp.
Here at Copperloy, we offer two central warehouse loading dock ramp options: dock-to-ground ramp and yard ramp.
Dock-to-ground ramps are a semi-permanent solution for freight-loading operations with the option to uninstall and relocate as needed. Warehouse yard ramps are a high-strength, innovative solution for warehouse and semi-truck loading and unloading.
If you are unsure of what ramp size or capacity you need, our technical staff can offer expert recommendations based on your application's unique requirements.
Gallery Of Warehouse Loading Dock Ramps We Manufacture
Dock-to-Ground Ramps | Warehouse Dock Ramps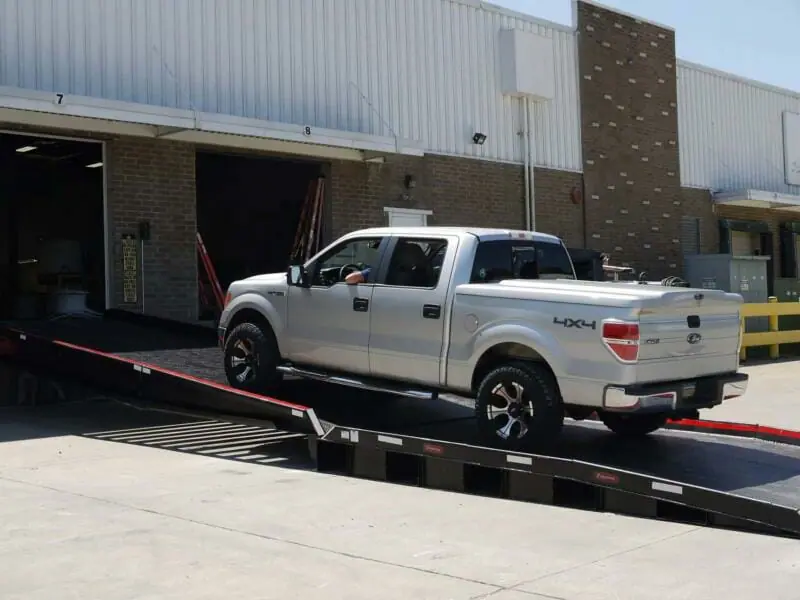 Warehouse truck dock ramps are ideal for materials handling tasks, as they make transporting freight from ground level to dock height much more efficient. Typically, dock-to-ground ramps are used for long-term loading operations.
However, Copperloy ramps are entirely customizable and incredibly mobile. As a result, operators can relocate these ramps whenever necessary, unlike permanent concrete ramps.
Copperloy dock-to-ground ramps feature open-faced steel grating to allow snow, water, and debris to pass through. As a result, the grating maintains high traction even in harsh weather conditions. Furthermore, the high-strength design offers minimal maintenance, repair, and cleaning requirements.
Dock-to-ground ramps can be installed and stored quickly, so you can always add or remove them from an operation as needed.
Dock-to-Ground Ramp Specifications
Our warehouse loading dock ramps offer a wide variety of weight capacities. We can also create custom sizes and specifications upon customer request. Standard specifications of warehouse truck dock ramp are listed below:
Widths: Standard widths up to 118″
Capacities: 16,000-30,000 lbs
Warehouse Yard Ramps | Industrial Loading Dock Ramps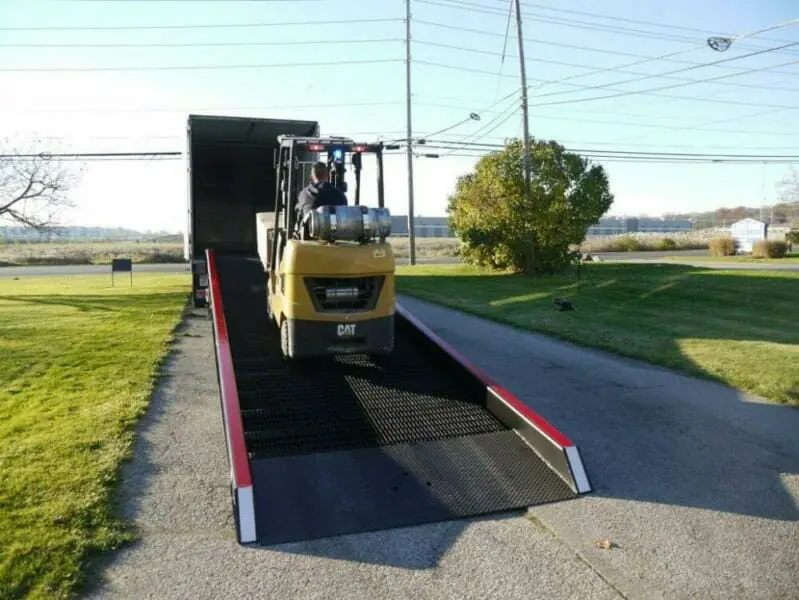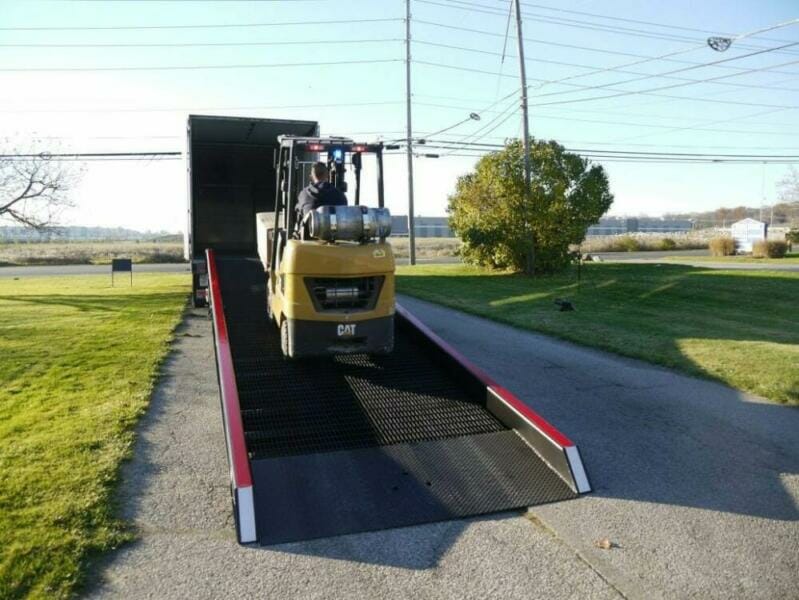 Copperloy warehouse dock ramps are the perfect mobile option for ground-level access to trucks, docks, buildings, and containers. With our yard ramps, you can start a loading operation anywhere without expensive and time-consuming construction.
We offer a wide variety of yard ramp options with capacities up to 35,000 lbs., so our equipment can handle even the toughest applications. Our warehouse yard ramps also offer excellent mobility. So, you can move your ramps from job to job and load freight with forklifts anywhere in your facility.
Copperloy's yard ramp design offers the highest durability in the industry. During our 60 years of experience in warehouse loading dock ramp manufacturing, we have been consistently improving upon our designs. Copperloy mobile warehouse dock ramps are also much safer while maximizing productivity at your facility.
Why Choose Copperloy's Warehouse Loading Dock Ramps?
Choosing Copperloy means you always get the highest quality ramp for your unique application. Not only do Copperloy warehouse loading dock ramps offer exceptional strength and design, but they are also low-maintenance and incredibly safe to operate.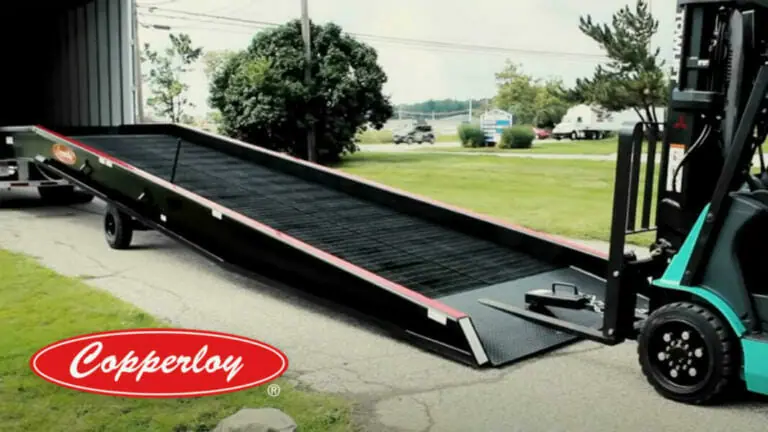 Copperloy ramps also feature a one-cylinder design. This system requires much less pressure to raise in comparison to other industrial ramps on the market. In fact, the one-cylinder design offers many unique advantages:
Easy operation – The hydraulic pump's external location offers convenient access and simpler operation.
Quick raise times – Copperloy ramps raise two and a half times quicker than loading ramps with two-cylinder designs.
Less wear and tear – All rotation is focused on the ramp's positioning sleeve rather than the ramp's connection, so it minimizes wear and tear.
Unmatched stability – The centrally-located cylinder significantly decreases the likelihood of tipping.
Furthermore, as a leading provider of loading dock equipment, we maintain safety as a top priority. Forklifts introduce many safety hazards, especially when traveling over low-quality ramps.
With Copperloy, however, you receive ramps that are manufactured to OSHA's strict safety requirements. This makes forklift operations safer and also helps your facility maintain OSHA compliance.
Frequently Asked Questions:
1. What is the difference between a warehouse loading dock ramp's positioning sleeve and towbar?
The positioning sleeve comes standard on our steel mobile ramps. It is used to get the ramp into the position of the trailer. The towbar is used for towing the ramp around your facility short distances (3-5mph max speed). However, the ramp is not designed for road travel.
2. What kind of tires are on the warehouse loading dock ramp?
The standard tires are 18″ solid/pneumatic tires. The tires do not require air to fill, are maintenance-free, and have lubricated-for-life bearings.
3. What are the height ranges of the ramps?
The standard height range of the warehouse loading dock ramp is 38″-65″. The standard height range for the dock-to-ground ramp is 38″-60″. We can customize any ramp to unique height requirements.
4. How is a warehouse loading dock secured?
All of our ramps ship with safety chains to secure them. Mobile yards ramps are chained to the trailers. Dock-to-ground ramps are bolted to the face of the dock with brackets and chains provided.
5. Are rental yard ramps available?
Yes, Copperloy has a variety of factory-certified ramps for rent that are available for short-term loading dock solutions. Factory certified ramps ensure that all components are in working order and are safe for operation, ensuring your yard ramp improves efficiency and productivity.
Benefits of Copperloy yard ramp rentals:
Factory certified and guaranteed
Rentals available anywhere in the United States
Performance of the industry-leading ramp
Enhancing efficiency and versatility
Ensures employee safety
Notable productivity increase
Easily withstanding industrial and warehouse settings
Users can test out ramp before fully investing
Feel free to contact a Copperloy representative for a cost analysis of new, used, or dock ramp rentals.
6. Can I use a dock ramp on a slope?
We strongly recommend avoiding slopes when using yard ramps. A forklift can travel load trucks with gradients ranging from 5%-12.5% or 2.86°-7.13°. However, heavier loads should not be handled at anything more than a 3%-5% gradient, and it is best to stick to a 10% maximum even for lighter loads. Just because you technically can operate forklifts on a 12.5% gradient does not mean it is always safe.
If you are using a yard ramp to load trucks, try to find ground that is as level as possible. The gradients above are simply guidelines for direct dock-to-truck loading. Adding additional slope to a ramp will quickly exceed these guidelines, preventing safe travel for forklifts on and off the truck.
Any situation where a slope looks too steep could be unsafe for forklift operators. A steep incline increases the risk for loads toppling and potentially causing serious injury. Always use your best judgment whenever you set up operations to protect employees.
7. Stationary vs Portable
Get the best yard ramp pricing and 3-day quick ship. Typical yard ramp applications are to load from the ground to a truck bed or dock level to the ground. It's the easiest, fastest way to load/unload a truck using a forklift. Often called warehouse dock ramps, this stationary ramp allows for extra capacity and the ability to load more trucks than you have dock bays.
The dock-to-ground ramps may be used as car ramps to get vehicles your dock height or forklift ramps. For ground to truck applications, our standard yard ramps provide enhanced mobility with a tow motor. Our ramps also use one-cylinder hydraulics to quickly raise or lower to the truck height. These mobile ramps are the ideal solution for high-volume loading tasks where a row of trucks needs loading simultaneously.