Mobile Yard Ramps
Mobile yard loading dock ramps convert vacant space into a freight-handling center. It's a versatile piece of loading dock equipment that will expand your present dock capacity and create loading facilities where no dock exists, without new construction. Portable yard ramps provide ground-level access to trucks, railcars, or buildings. Their mobility makes it easy to move from job to job and handle freight with a forklift or lift truck virtually anywhere.
Our wide range of new and used mobile yard ramps come with maximum capacities up to 30,000 lbs. The standard Copperloy loading dock ramp is steel. Aluminum ramps with steel grating are available, please contact the factory for more information.
Watch the yard ramp video below to learn more.
8-foot Level Off
Our portable yard ramps give the forklift easy access to trucks and loading docks alike. Since they are easy to maneuver, they can be useful in most loading and unloading conditions, especially when the room is tight and a truck can't access the loading dock.
15-Inch Lip
Deep overlap of ramp frame at the high end assures that the ramp rests firmly on the carrier body or dock floor. Our mobile yard ramps have eight-foot-long safety chains and hooks to provide added security and increase safety. When correctly rigged, chains join the yard ramps and vehicles into a single unit.
Hydraulic Cylinder/Undercarriage




The single-cylinder allows the ramp to raise evenly every time. The undercarriage is easily accessible for maintenance and repair. With a single-cylinder design, there are fewer parts to maintain.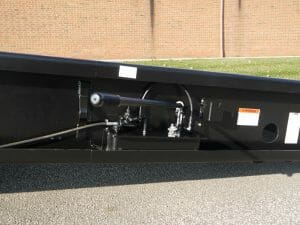 Pump on our Mobile Yard Ramps



The single-acting hydraulic hand pump design requires half the effort needed to raise ramp compared to other mobile ramps. The pump is relocated so that it is protected away from dirt, debris, damage and makes maintenance easier to perform. The handle is stored out of the way when not in use.