Make Workplace Safety the Priority With Steel Dock Ramps From Copperloy by JH Industries
Steel Loading Ramps | Copperloy Dock Equipment
Need durable steel dock ramps for your facility? Copperloy by JH Industries has the solutions for you and your team.
Have you and your team been planning to upgrade your facility's existing material handling setup? You can maximize safety, profitability and efficiency with Copperloy steel dock ramps. In fact, Copperloy loading dock solutions provide stable and durable alternatives to competing ramps.
To keep a workspace running at optimal efficiency, safety must be the priority. In fact, the Copperloy by JH Industries team puts safety above all else. Steel dock ramps and other Copperloy installations feature an exclusive range of standard safety features.
The high-strength steel deck grating characteristic to Copperloy ramps prevents injury as it lets debris fall away and creates a high-traction surface. Copperloy's low-end plate also allows a vehicle's front wheels to make contact with this grating as rear wheels stay on the ground.
An 8-foot level off allows for easy forklift operation and access while an exclusive hydraulic pump ensures easy maintenance and raising. Copperloy's 7-inch safety curbs keep runoff to a minimum and the company's 15-inch lip also prevents ramps from pulling away. Smooth side plates add even more protection as they cover all working parts and an optional towbar allows for ease of movement.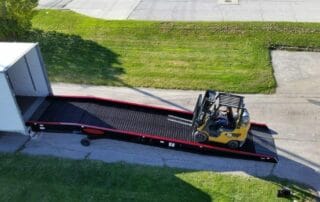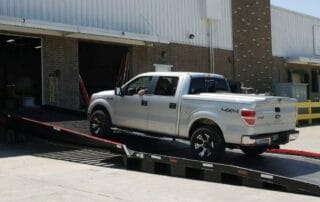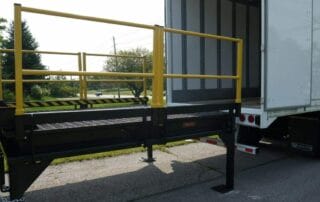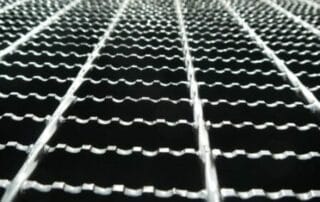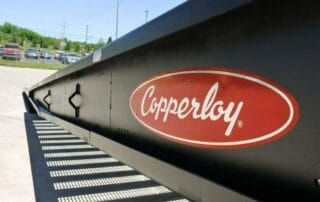 Looking for a Custom Steel Ramp for Loading Dock? Count on Copperloy for Custom Steel Fabrication and Design 
Have you been looking for a custom steel ramp for loading dock or other material handling solutions? If so, then connect with the dedicated team from Copperloy by JH Industries. 
The manufacturing experts from Copperloy realize every facility and every goal is different. They know that the same material handling solution just won't work across the board. For this reason, Copperloy by JH Industries offers an impressive range of custom steel fabrication and design services.
Count on the Copperloy team to meet the requirements for any facility, project or industry. To list, just some of the team's past customizations have included large machined fabrications, custom machinery tooling, custom automation and more.
Copperloy's custom fabrication team sets itself apart through investment in the most current equipment. For example, the professionals from Copperloy maintain 25 650 amp capacity welding stations and six 40' bridge cranes which lift up to 30,000 lbs. In addition, the Twinsburg, Ohio facility houses three premier airless spray paint systems and multiple planer mills.
About Copperloy by JH Industries: Your Loading Dock Ramp Resource
Have you been planning a facility upgrade and looking for durable steel dock ramps? For more than 50 years, Copperloy by JH Industries has been a leading source for premier loading dock equipment. Copperloy produces loading dock equipment of the highest quality with the most current in both robotic and computer numerical control (CNC) technologies.
Collaboration across departments streamlines all manufacturing processes and adds to the product quality for which Copperloy is known. Copperloy's engineering staff not only oversees tasks to ensure integrity but also works with technical sales so products meet demands.
Client businesses across industries turn to the experts from Copperloy by JH Industries for material handling and loading solutions. For example, the company contributes premier freight handling equipment for military, heat processing and construction applications. To learn more about portable dock ramp, truck dock ramp and yard ramp options and more, reach out to Copperloy.   
Whether you and your team have been looking for a custom hydraulic dock, dock to ground ramp or warehouse dock ramp, Copperloy by JH Industries can provide the solutions to keep your space a safe and productive work environment. Have you been searching for dock boards and dock plates, edge of dock levelers or forklift dock ramps? Your team can count on Copperloy by JH Industries. Learn how Copperloy's American-made equipment can add to a safer, more efficient and more profitable workspace.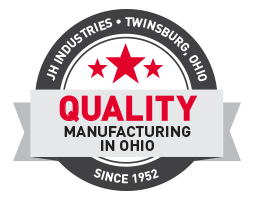 We're the Yard Ramp Experts