Make Your Warehouse Loading Dock More Than a Back Door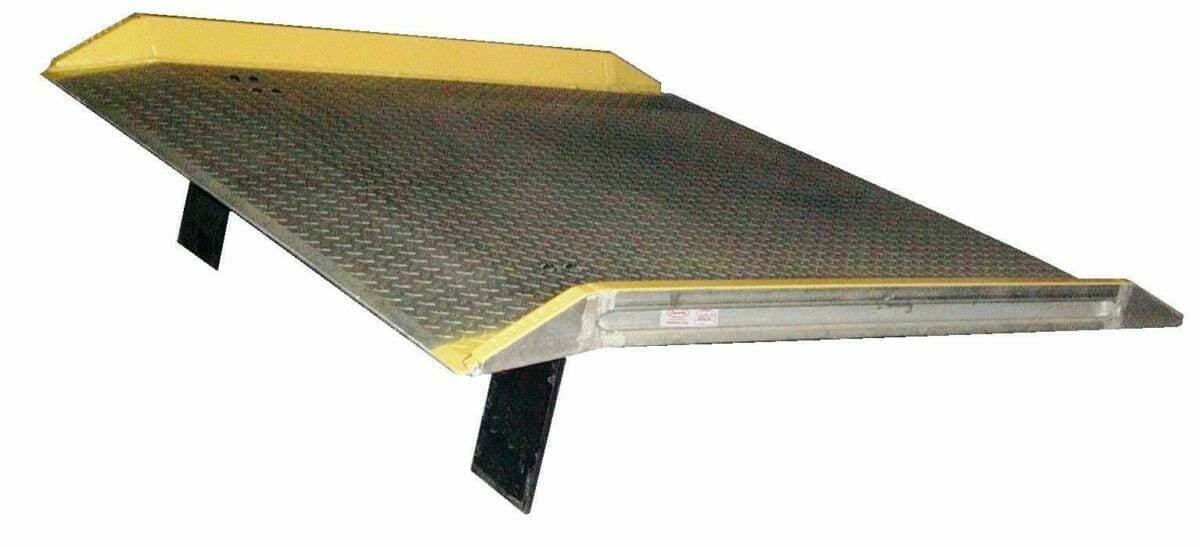 Business owners everywhere understand that a warehouse loading dock is more than just a back door. A loading dock is a key component and often the busiest area no matter what industry you work in.
Manufacturing facilities, distribution centers, grocery stores, and so many more rely on their warehouse loading dock on a daily basis. To keep your dock door functioning safely and smoothly, you need to invest in proper dock equipment for your loading bay warehouse that works efficiently with the infrastructure of your dock area.
All too often, warehouse loading docks can be prone to accidents and can prove to be dangerous. Some existing bay areas might not accommodate the loading operations of your industry requirements. Small dock doors, gravel access, disproportionate slopes, or a dock height that doesn't meet up to tractor-trailers may all be dock features that inhibit your warehouse loading dock. All of these factors can create risks for employees, forklift operators, and delivery truck drivers.
Copperloy has solutions for dock areas with a lack of dock functionality. Featuring a wide variety of durable, safe, and reliable material handling and dock equipment. Copperloy's in-house engineering team designs all its products with safety and improving dock functionality at your loading bay warehouse being the forefront of importance.
LARGEST SELECTION OF WAREHOUSE LOADING DOCK EQUIPMENT

Copperloy features the largest selection of warehouse loading dock equipment at prices that will fit your budget needs. Additionally, all our dock equipment is constructed from the highest quality of aluminum or steel and is built to last. Copperloy's featured dock equipment products that can improve safety, functionality, increase productivity, and fit the budgets of your company:
DOCK PLATES
This loading dock transition plate is used to bridge the height differences between trucks and trailers. Copperloy dock plates are available in aluminum and steel with capacities up to 12,500 pounds. These are ideal for low to medium volume applications for use with hand carts or pallet jacks. Dock Plates do not have side curbs and should be used with light-duty applications using hand carts and pallet jacks. Not recommended for use with heavy powered equipment and forklifts.
DOCK BOARDS
Dock boards might look similar to dock plates, however, these can be used with forklifts and other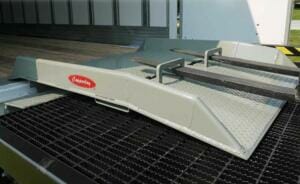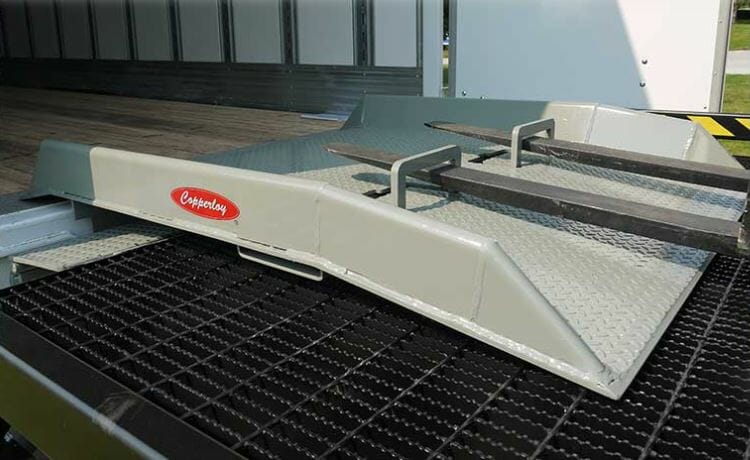 heavy-powered loading equipment. Additionally, dock boards do have side curbs to prevent runoff and are ideal for heavier capacity applications and fork truck use. We offer three different options, available in steel and aluminum and capacities ranging from 10,000 to 20,000 pounds.
EDGE OF DOCK LEVELER
Dock levelers also bridge the gap between truck and trailer and can handle capacities of 20,000 to 30,000 pounds. These are available in hydraulic or mechanical activation for smooth and reliable operation. Copperloy's edge of dock levelers compensates for 5″ above or below dock levels.
YARD RAMPS
Copperloy yard ramps are designed to maximize space, productivity, and safety. Turn any area into a loading dock to expand your freight handling operations. With capacities up to 30,000 and custom sizes available on request.
Available in three purchase options – New, Used, and Rentals. Don't forget the accessories – Wheel Chocks are an additional safety feature to prevent trailer movement during loading and unloading operations.
How Can Copperloy Help You?
Need help determining which material handling equipment is the best solution for your warehouse loading dock? Our knowledgeable staff will ask all the questions to help determine which one is the perfect fit for your operations. Custom sizes and capacities are available for all our warehouse loading dock equipment.
Copperloy has been manufacturing dock equipment for over 60 years. Additionally, everything is manufactured right here in the United States. We are proud of our capabilities and the equipment we manufacture.
Watch the Warehouse Loading Dock Equipment Video Below to Learn More
CALL TODAY FOR QUOTE
Custom Steel Fabrication and Design Services
While one freight handling solution may be ideal for one facility, it may slow down productivity in another. For this reason, our dedicated manufacturing team takes great pride in offering premier custom steel fabrication and design capabilities. Some of the team's past customizations include dock board installations, dock-to-ground ramps, rebar pallets, lift tables, and yard ramps.
To streamline operations and provide optimal value to the customer, we maintain all burning, painting, machining, and fabricating capabilities in one space. This allows for collaboration across departments to meet customers' most specific requirements.
Different stresses characterize different workspaces, so our manufacturers offer a complete selection of dock equipment to suit nearly any task. Customers can collaborate with our team to fabricate beryllium copper, specialty steels, nylon, plastic, and extruded aluminum. We will design your loading dock equipment solutions to offer not only the highest levels of performance but also safety, ensuring compliance with OSHA laws and regulations.
Connect with the team today to submit CAD drawings for conversion into a working 3-D model. Count on the Copperloy team to help you get the most out of your next project.
Why Choose Copperloy?
Every team, warehouse, and project is unique, so why would the same ramp work for every situation? Here at Copperloy, we understand that your operation has a specific setup, and we want to develop the ideal logistics solution to meet your performance requirements.
We equip our expert staff with advanced computer numerical control (CNC) technologies, so we can maintain the highest levels of precision and quality for every project. We also make everything in-house, giving us complete control over our manufacturing processes. Whether technical sales, design, or engineering, we keep everything in one space to make our production methods as efficient as possible.
Copperloy has become an invaluable partner for logistics and trucking organizations as well as a wide range of industries. We can create heavy duty loading ramps or a warehouse loading dock for light assembly, construction, energy, and even military applications, so you can trust us to get the job done right.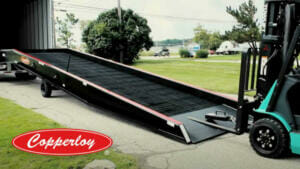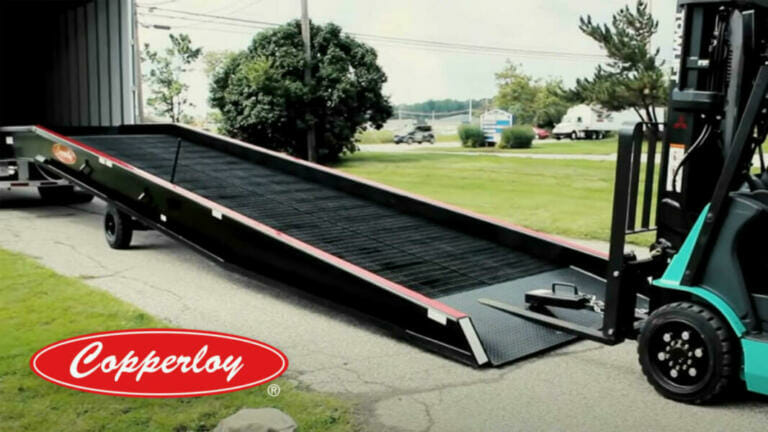 If you are looking for a warehouse loading dock, yard ramp rentals, edge of dock levelers, or other forms of loading equipment, Copperloy is the perfect one-stop-shop for you. Contact us today, and our team of loading equipment specialists will be happy to help you find the ideal addition to your facility.
HIGH WEIGHT CAPACITIES AND DURABLE STEEL CONSTRUCTION MAKE OUR PORTABLE YARD RAMPS THE SOLUTION FOR LOADING OR UNLOADING HEAVY FREIGHT. CONTACT US TO LEARN MORE.