Warehouse Portable Loading Dock Equipment
How Portable Loading Dock Equipment Can Improve Warehouse Operations 
When looking to improve your warehouse, shipping yard or industrial portable loading dock equipment operations Copperloy has the most economical solutions. We offer a variety of portable loading dock equipment that will improve usability, productivity, and efficiency in any facility. With our in-house engineering team and manufacturing facility here in the USA, we have the capacity to custom-design dock equipment to meet any specifications and requirements of any loading dock operations. Helping industries from large to small find the solutions for its loading dock operations is what sets us apart from the competition. 
Optimize Your Freight Loading Capacities
Eliminate the expense and hassle of permanent construction. Portable loading dock equipment is a cost-effective and timely alternative to concrete construction. Designed for interior or exterior these self-supported structures will optimize your freight loading capacities. Our equipment features many benefits that a permanent structure will not provide, such as:
Steel Platforms

– High-quality, durable, solid steel frame.

Custom Made – Perfect fit to existing facility dock, or any area meeting any unique problems or specifications. 
Available In

– Capacities up to 60,000 pounds, lengths reaching 12 feet.

Provide Additional Length & Width

– The ability to lock two or more together and can be added to a yard ramp to form a unique platform.

Shark-Tooth Deck Grating

– High-traction running service to withstand even the toughest applications. 

Simple & Quick

– Set up and takedown of infrastructure. 

All-weather Serrated Bar Grating

– No build-up of snow/ice or debris on platform and built to endure harsh inclement weather such as:

Extreme Heat 

Rain

Strong Winds

Hail

Ice 

Snow

Platform Curbs

– Prevents accidental runoff  and comes with two removable 6-inch curbs for positioning on any side 

Safe Forklift Maneuvering

– 90-degree forklift turns, Ideal for parallel loading in limited space locations. 

Lift Sleeves

– Easily handle, reposition and relocate platforms with a forklift. 

OSHA Compliance

– Designed to meet OSHA safety requirements and building codes.

Easily Relocated

– Relocate to other areas within your facility, yard, warehouse, job site or facility if you change locations. 

Handrail Option

– 42- inch high handrails can be added to platforms of any length. 

Fixed steel legs

– Optional adjustable legs available.
Expanding Your Loading Dock is Easy with Copperloy
 Copperloy portable loading dock equipment is the most economical choice for increasing your freight handling capabilities without the downtime or budget that a concrete dock construction will have. Easily access tractor-trailers, boxcars and other elevated transport from grade level using a forklift or pallet jack to load and unload the freight. 
We have the advantages set up to custom create your premium loading dock equipment… custom fabrication and manufactured to your points of interest and necessities. Whatever the capacity, size, or adaptability needs, Copperloy has you covered. 
Call Today For Quote
FEATURES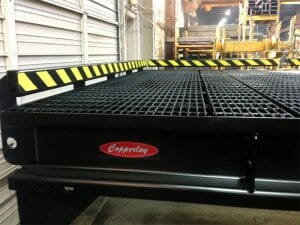 Platform Curbs
6″ portable loading dock safety curbs to prevent accidental runoff. Exclusive hollow section design and proprietary box frame construction take the stress of heavy loads and the extra strain of cargo breakout.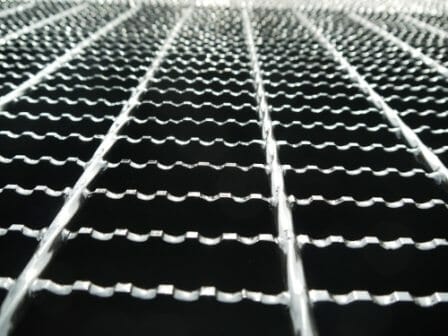 Platform Deck Grating
A mobile loading platform from Copperloy is constructed of electro-forged serrated steel for superior strength. Grating bearing bars are 1-3/4″″ thick. These bars are designed to offer extra durability in the roughest of applications. Bars are spaced 1″ apart to resist clogging of debris and to ensure an all-weather, high-traction running surface.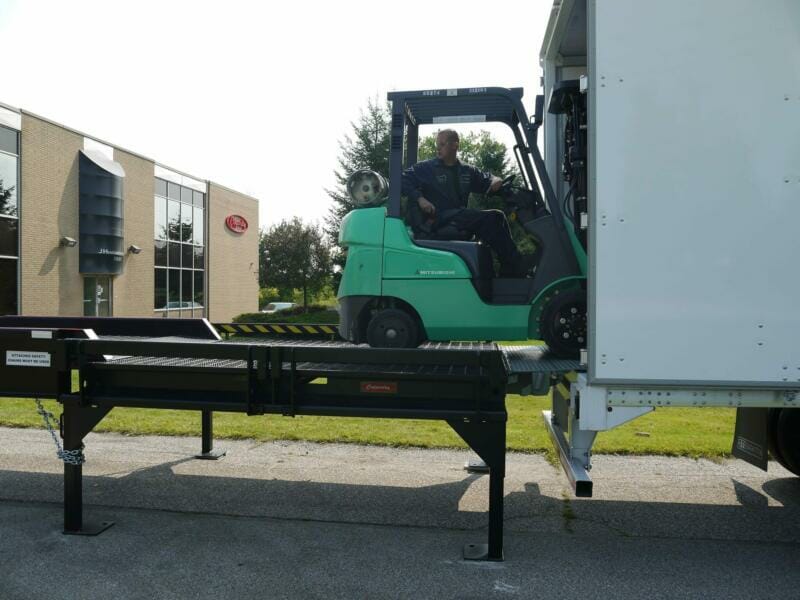 Lift Sleeves
Part of making a platform portable is creating easy ways to move it! Lift loops are provided for easy handling and repositioning of the platforms with a forklift.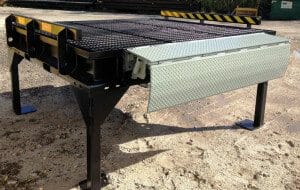 Portable Steel Platforms
Steel Platforms come in capacities up to 60,000 pounds and lengths reaching 12 feet. Steel platforms are heavier and require a forklift to move, but have higher capacities.  Contact the factory for portable steel platform specifications.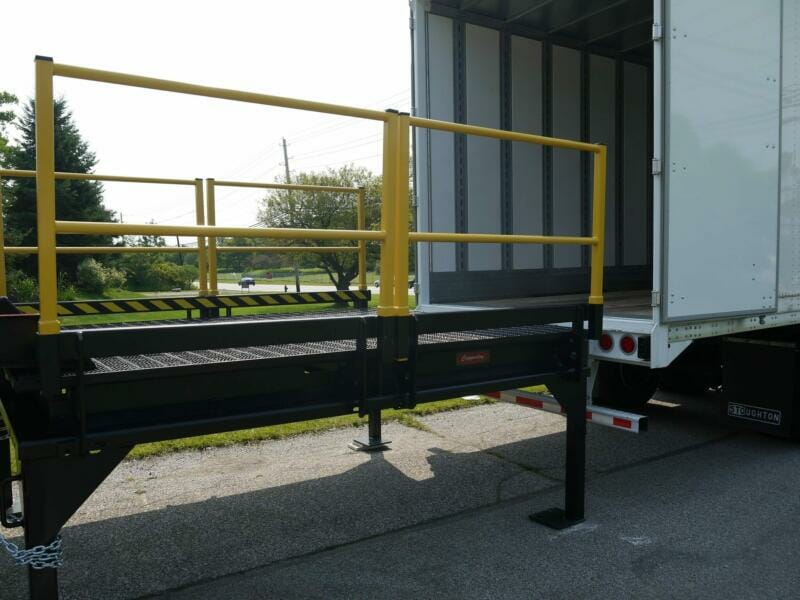 Handrail Option
Handrails can be added to any platform at any length required. Our 42-inch high split handrail are constructed in all steel.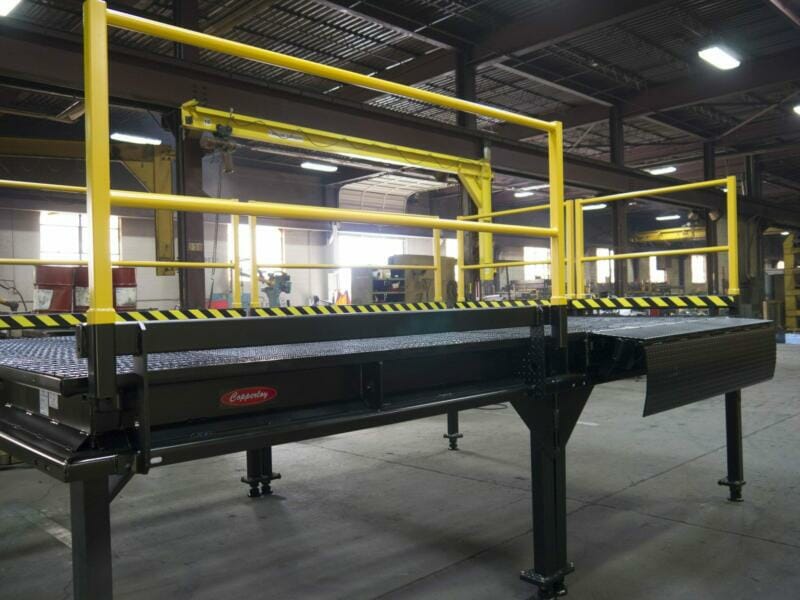 Custom Platform Options
With an in-house engineering team, Copperloy offers tailor-made temporary platforms for any unique problem or specification.
Additional Videos
View our mobile yard ramp videos here and visit us on YouTube for more of our videos!
REQUEST A QUOTE
Interested in a product and want more info? Let us know below and we will reach out with more details. Consumer and dealer pricing available.
You may also be interested in these yard ramp solutions