Loading dock levelers, also known as edge of dock levelers (EOD), are a safe and efficient way to bridge gaps between docks and trucks. Unlike dockboards, a loading dock leveler will fix itself to the loading dock. If you want to make loading and unloading from trucks quicker and safer, Copperloy loading dock levelers are the ideal solution.
In fact, Copperloy dock levelers are incredibly easy to setup. The leveler will lift itself over the truck bed height with just a simple pull of a handle, so you can get to work and complete loading operations with unparalleled efficiency.
Copperloy dock levelers will mount to most of our docks with 66″, 72″, 78″, and 84″ widths. Furthermore, they can bridge the gap to trucks that are up to 5″ above or below your dock level, offering either 20,000 or 30,000 lb. load capacities.
Watch the dock equipment video below to learn more.
Benefits of Copperloy Loading Dock Leveler
Here at Copperloy, we have designed our load dock levelers for simpler operation with the pull of a handle or a press of a wall-mounted button. So, you can quickly position your dock leveler to the optimal height. Our dock leveler equipment also offers the following advantages:
Superior strength and durability: We developed the dock leveler design with a three-dimensional engineering software package, so they can offer the necessary strength for safe loading and unloading from trucks and docks.
Quick positioning and easy to operate: Our dock levelers feature proprietary lifting mechanisms and spring assemblies that position the board with a quarter of the effort required by competing dock leveler equipment.
Push-button operation and positioning for hydraulic models.
Ideal for retrofit: These levelers can be mounted to almost any loading dock. We also offer approach ramps and transition plates for even smoother transitions between docks and trucks.
Reliable safety standards: Dock safety is one of our top priorities. So, our dock leveler design features safety maintenance struts to secure the equipment while you perform maintenance.
Low maintenance requirements: We have designed our dock levelers with lubricated hinges with grease fittings to minimize maintenance and save you time and money.
Edge of Dock Features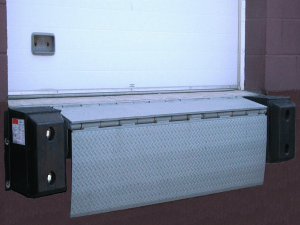 Loading Dock Leveler Specifications
High strength low alloy (50,000 lb. Minimum Yield) tread plate, lip beveled for smooth transition.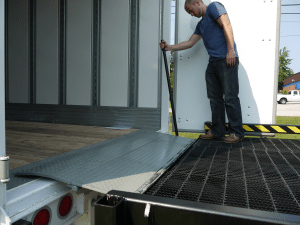 Projections
Bumpers 16″. Ramp 13 1/2″ in the stored position. The lip extends 12″ beyond the bumpers on standard lip models and 14″ on refer lip models.
Bumpers
4″ x 13″ x 10″ molded reinforced rubber mounted to the steel box frame. Optional 4″ x 12″ x 13″ bumper assembly.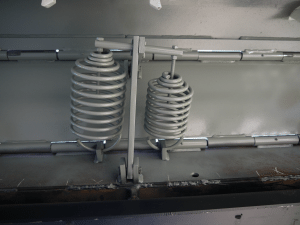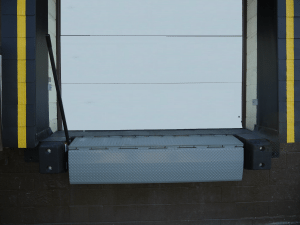 Finish
The unit is completely cleaned, deburred and painted gray.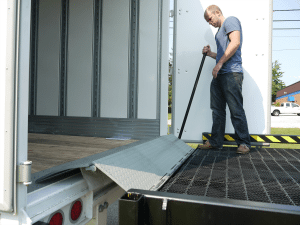 Service Range
Capable of servicing trucks 5″ above and 5″ below the dock.
Capacities
20,000 lb. and 30,000 lb.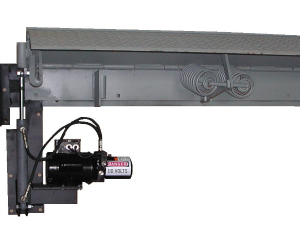 Options
Consult the factory for more information:
Refer Lip
Reduced Lip bend
In-Board Handle Assembly
Hydraulic Model – 115/230 VAC Single Phase
Dock Boards
In addition to our loading dock leveler options, we also offer customizable dock boards. Our dock boards can be tailored for optimal performance in virtually any material handling operation. In fact, we have equipped our in-house engineering team with a state-of-the-art manufacturing facility. As a result, we can use our 60+ years of experience to create the best loading dock equipment solutions on the market.
We offer a variety of choices in both aluminum and steel construction. Most notably, we can custom design dock boards for your unique application requirements! Learn more about our standard dock boards below.
Steel Dock Boards | Welded Steel Curbs
We have designed our steel dock boards to endure even the longest workdays in the toughest conditions. These dock boards feature heavy steel tread plate decks with welded steel curbs, offering capacities ranging from 15,000 or 20,000-lbs. All capacities are available in 60″, 72″, and 84″ widths with many options for length and height differential. Other standard features include 5.5″ curbs, lift chains, fold-down lifting loops, 11″ to 14″ lips, and 10″, 14″, and 18″ locking legs.
Aluminum Dock Boards | Welded Aluminum Curbs
This model of our full aluminum dock boards features welded aluminum curbs and offers a wide variety of different specifications. Our three standard capacities include 10,000, 12,000, and 15,000 lbs. 9-inch and 13-inch locking legs, with 11 or 14-inch lips, and 4-inch aluminum curbs.
These boards also offer widths from 54″ to 72″ and lengths from lengths of 30″ to 84″ depending on the capacity. So, you can find a durable, lightweight aluminum dock board for virtually any application.
Aluminum Dock Boards | Bolt-on Steel Curbs
You can also choose our aluminum dock boards with bolt-on steel curbs. Standard features for these boards include 11″ to 14″ lip, 4″ curbs, 9″ to 13″ locking legs, aluminum track plate, and optional lift chains. The standard weight capacities are 10,000 and 15,000 lbs. with each capacity offering widths from 54″ to 72″ and lengths from 36″ to 72″.
These dock boards offer the strong, lightweight construction of our other aluminum boards in combination with affordability, so you can acquire the equipment you need without exceeding your budget.
Special capacities and sizes are available as well. Contact our factory directly to check availability.
Watch the dock equipment video below to learn more about the Copperloy® dock board.