Mobile Loading Docks | Save Time & Space
Key Features | Mobile Loading Docks
Safety, durability, and performance are Copperloy priorities. Explore key features below!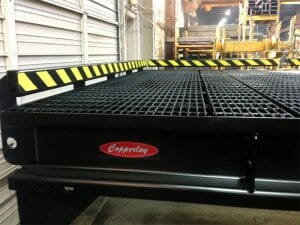 MOBILE LOADING CURBS
Mobile loading docks feature 6″ safety curbs to prevent accidents. Hollow sections and proprietary box frame construction reduce the stress of heavy loads.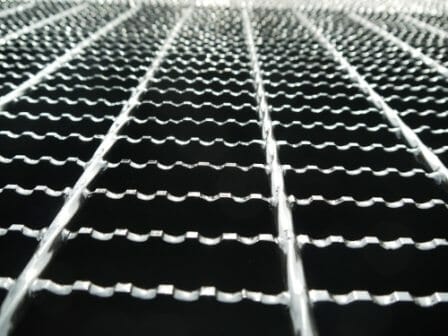 STEEL DECK GRATING
Mobile loading docks are composed of serrated steel. Grating bars are 1-3/4″ thick and spaced 1″ apart to allow debris to fall through. Endure the heaviest of applications and gain all-weather traction with serrated grating.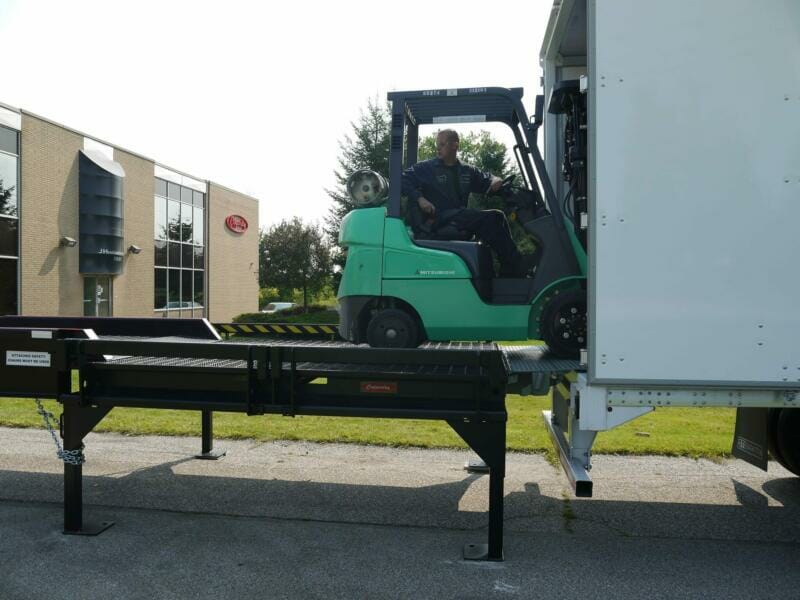 LIFT SLEEVES
Lift sleeves put the mobile in mobile loading docks. Copperloy platforms feature lift sleeves for secure handling and repositioning. Just transport with a forklift!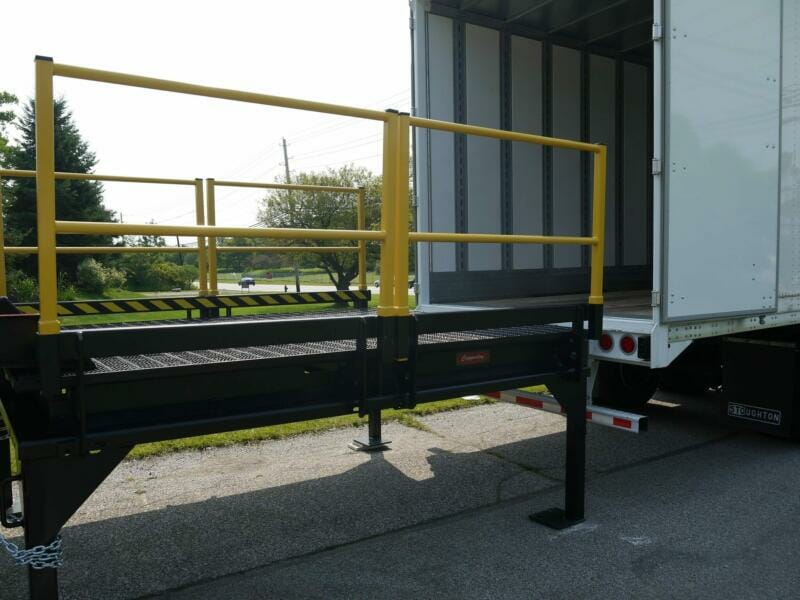 HANDRAIL ADD-ON
Split handrails are 42″ high and made of steel. For additional safety and usability, add handrails to any platform.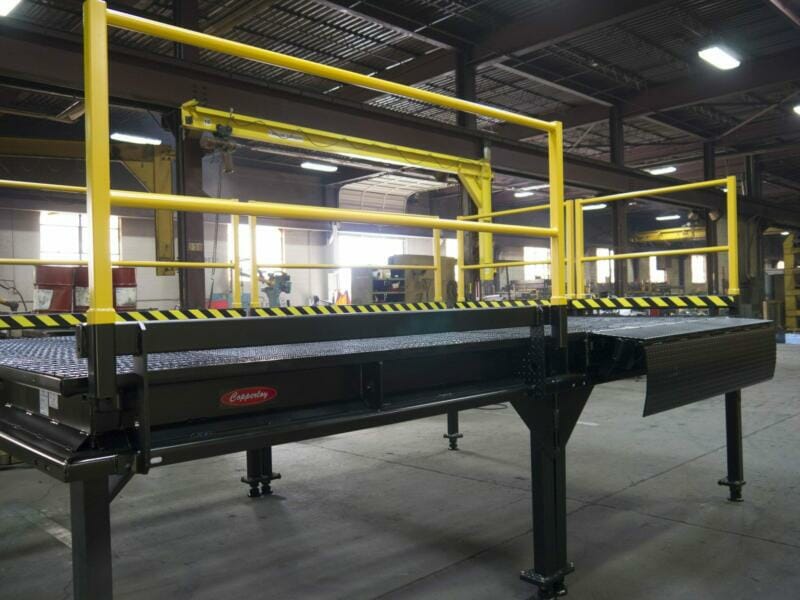 CUSTOM PLATFORM SPECIFICATIONS
In-house engineering is one of Copperloy's most significant strengths. For robust applications, our team of engineers expertly designs the ideal solution. Contact our team with custom specifications!
Deciding the most efficient way to load and unload materials can be tricky. Between busy seasonal shipping months and temporary loading applications, Copperloy has the ideal solution. Mobile loading docks allow shipments to be transported directly from tractor trailers. Forklifts can easily make 90-degree turns into a truck or boxcar. Mobile loading docks solve two common problems. First, loading bay bottlenecks. Second, the absence of a loading dock.
BENEFITS
Mobile loading docks are great for freeing up dock space. Expand dock capabilities and improve your loading dock solutions without breaking the budget.  Then, you can easily relocate.
Create a customizable dock solution without time-consuming construction.  Mobile loading docks are great for parallel loading on carriers or docks.  Engineered from steel, mobile docks are custom made to fit specifications. Dock heights range from 42″ to 57″ and manage capacities up to 60,000 pounds.
Standard features of each portable truck unloading platform include steel grating, movable curb sections, and lift sleeves. You can also attach your mobile loading dock to other loading docks to create a larger platform! Plus, install edge-of-dock levelers on any of the edges. As a result, you can increase the functionality of your truck docking system, existing equipment, and vehicles. Last, but certainly not least, high-quality steel construction requires little maintenance and has a durable lifespan.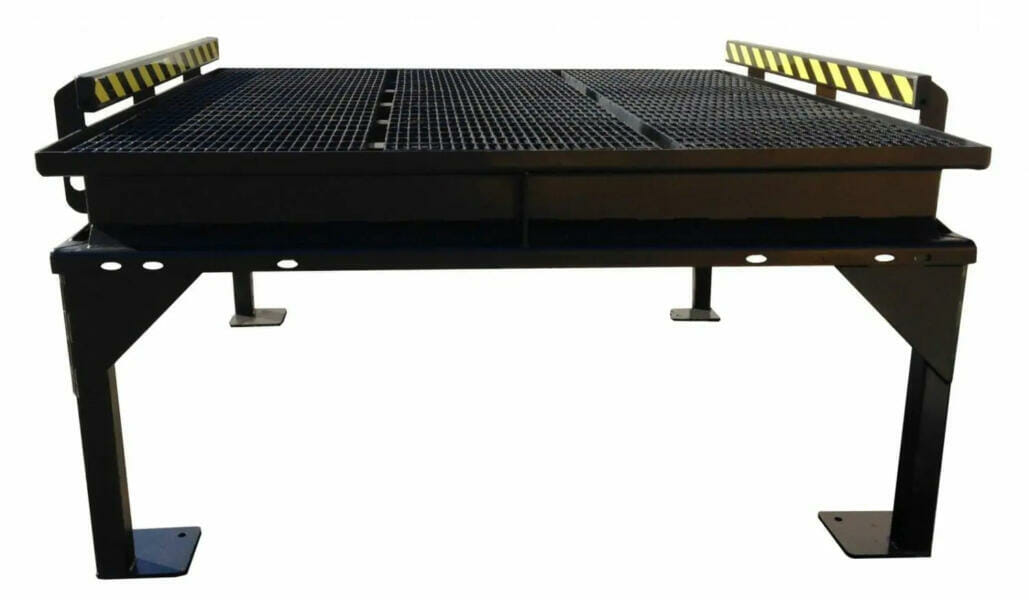 The Ideal Combination
Mobile loading docks paired with Copperloy ground-to-truck or yard ramps are the ultimate combination. Copperloy leads the yard ramp industry. Do you have an open space? Effortlessly transform into a portable unloading dock with Copperloy!
Yard ramps are a portable loading dock ramp and an ideal solution. Move material from ground level to trucks or warehouses. Copperloy offers both aluminum and steel yard ramps. Different specifications are dependant on weight and application requirements. Also, rentals are available! Leases are perfect for short-term projects.
Ground-to-truck ramps conveniently provide grade-level access to semi-trucks or a truck loading dock. A loading dock forklift can safely access freight in the back of a truck. With financing and rental options, Copperloy ensures the most cost-effective solution for loading and unloading tasks.
How Does Copperloy Compare to Other Heavy Duty Ramps?
Watch the video below to see how Copperloy's mobile loading docks outperform the competition:
Choosing the Right Yard Ramp for Your Loading Dock
What to choose from our selection of portable yard ramps depends on how you will be using them. Looking for a permanent loading area or do you require a portable loading ramp? What is the maximum weight that your lift trucks will be transporting? (Don't forget to include the weight of the lift truck.)
Do you require dock-to-ground access or ground-level access to railcars and trucks? Copperloy has been manufacturing yard ramps for over 60 years and our staff is available to consult with you on the best solution for your loading application.
Dock crews prefer Copperloy because our yard ramps are faster and easier to position than any other ramp on the market and have been proven to outperform other manufacturers including Bluff Manufacturing, Vestil, Discount Ramps, and Handiramp. If you're not sure of your future needs, consider a rental yard ramp or a used yard ramp. All Copperloy used ramps are factory certified and guaranteed.
Dock Equipment | Additional Videos
View our loading dock equipment videos here and visit us on YouTube for more of our videos!
Why Choose Copperloy Mobile Loading Docks?
Copperloy mobile loading docks offer a wide variety of benefits for any loading dock. We design our ramps with single-acting hydraulics and many other unique features to make freight handling as easy as possible:
Quick & Easy Operation – Single-acting hydraulics significantly increase the ramp's raising speed, allowing you to position the ramp 2.5X faster than standard yard ramps. We have also positioned the hand pump on the exterior to streamline the setup process.
High-Strength Construction – Copperloy heavy-duty ramps last longer than the competition because we use the highest quality steel and aluminum in the construction of every model. This means you can worry less about wear and tear while getting the best value out of your equipment.
Superior Stability – Our hydraulics system utilizes a centrally located cylinder, which automatically compensates for shifts in weight distribution. This prevents wobbling or tipping to make forklift operation smoother and keep workers safe.
Improved Maneuverability – Our ramp mobility features include a positioning sleeve, towbar, and solid 18-inch tires for quicker repositioning and better handling on uneven terrain. Most importantly, you can spend less time waiting around and more time finishing jobs.
In addition to our design features, Copperloy offers assurance that you can get the high-quality equipment you need with nearly any budget. You can buy new, used, or even get a yard ramp rental, and you will receive a reliable, factory-certified ramp every time.