America's Best Aluminum Loading Ramps
Key Features | Aluminum Loading Ramps / Maximizing Space | Aluminum Loading Ramps / Van Ramps / Custom Steel Fabrication and Design / About Copperloy
We work to maintain our spot as a leading manufacturer of aluminum loading ramps and loading dock equipment. Our aluminum loading ramps offer the ability to maximize space, safety, and efficiency with ease. Here at Copperloy, we understand that safety and productivity are two of the most important aspects of freight-loading operations. As a result, we engineer our equipment to meet the needs of both ramp operators and maintenance staff. Our one-cylinder ramp design uses markedly less pressure to raise up than traditional loading ramps. Furthermore, this design has resulted in a number of other benefits:
Easier operation – With the hydraulic hand pump on the outside, both operation and maintenance are much simpler.
Faster raise times – Copperloy ramps raise two and half times faster than competing products.
Less wear and tear – Rather than on the ramp's connection, rotation is focused on the ramp's position sleeve to reduce overall wear and tear.
Greater stability – The centrally-located cylinder eliminates the chances of tipping and instability.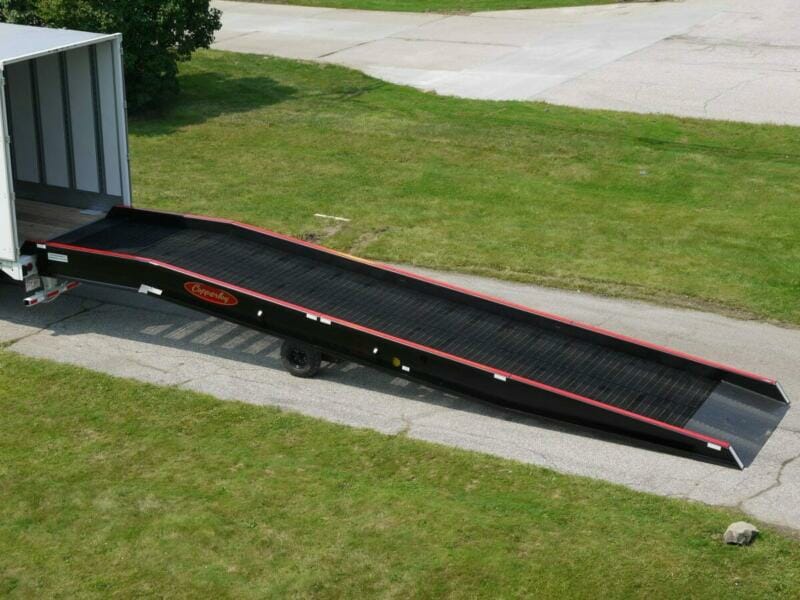 Key Features | Aluminum Loading Ramps
8-FOOT LEVEL OFF
Copperloy considers forklift accessibility and safety to be a serious concern in the design of aluminum loading ramps. As a result, we began implementing the 8-foot level off to provide forklifts with smooth access to loading ramps.
15-INCH LIP
This feature rests on the body of the truck or the dock's floor or platform. In addition, we include 8-foot safety chains to prevent the ramp from pulling away from the dock of truck.
HYDRAULIC PUMP
Copperloy loading ramps only require half the usual effort to operate with the help of our single-acting hydraulic hand pump. The pump is located conveniently for both operation and maintenance. Furthermore, its new location protects it from dirt and other possible damage. The handle can also be removed and stored away when not in use.
LOW END PLATE
While other ramps on the market struggle to make forklift access smooth and safe, Copperloy ramps include features to improve forklift operation. Our low end plate sits lower than a forklift's wheelbase; therefore, the forklift's front wheels can reach the grating while the back wheels remain safely on the ground. This eliminates any bumps that would occur on other ramps and simplifies ground-level entry.
HIGH-TRACTION DECK GRATING
Our aluminum loading ramps contain high strength materials. Each ramp's deck grating can withstand intense environmental conditions. With one and three-quarter inch spaces between the bars, rain, snow, and other debris fall right through, preventing buildup. The serrated grating also maintains high traction in all weather conditions.
SAFETY CURB
The 7-inch curb is a staple feature on Copperloy ramps that prevents runoff.
18-INCH SOLID/PNEUMATIC TIRES
Solid/pneumatic tires significantly reduce maintenance needs for loading ramps. Our tires offer lubricated bearings and do not need to be refilled. Thus, Copperloy ramp tires are virtually maintenance free.
POSITIONING SLEEVE
Our aluminum loading ramps can rotate 180 degrees thanks to the positioning sleeve. A forklift simply has to slide the fork into the sleeve and reposition the ramp wherever necessary within the 180-degree limit. With the feature, you can decrease downtime substantially and increase overall productivity. The positioning sleeve is not designed for over the road or long-distance towing.
TOWBAR
Each Copperloy ramp includes a towbar for easy repositioning around your facility. The towbar connects to the end of the ramp and allows for towing at speeds up to 5-mph around your facility. This feature is not designed for towing long distances.
AVAILABLE YARD RAMP MODELS
Maximizing Space | Aluminum Loading Ramps
Maximize your facility's loading space with Copperloy's aluminum loading ramps. You can create a loading dock anywhere in your facility quickly and easily. Attach the ramp to a dock or truck and send forklifts to begin loading and unloading. Our ramps have the unmatched capability to expand your dock capacity while maintaining high safety standards. Copperloy makes increasing efficiency safe, easy, and cost-effective.
Van Ramps
Will your next facility upgrade require a durable van ramp? Count on Copperloy van ramps to accommodate safe and easy use of dollies, hand trucks and two-wheeled carts. Our selection includes ramps of weight capacities ranging from 2,500 to 4,000 pounds, of widths ranging from 38 inches to 48 inches and of heights as high as 48 inches.
Significantly, Copperloy van ramps can withstand the toughest material handling tasks but are notably light in weight. These ramps feature 3-inch runoff curbs and non-slip shark tooth decking to ensure workplace safety.
Custom Steel Fabrication and Design
Have you and your colleagues been planning to invest in a custom material handling installation for your facility? Our team realizes the same freight handling solution simply will not work for every workspace. For this reason, we take great pride in offering leading custom steel fabrication and design capabilities to customers from across a diverse range of industries.
To list, customers have counted on us for custom van ramps, rebar pallets, dock boards, dock to ground ramps, lift tables and more. Among competing manufacturers, we distinguish ourselves by offering a full selection of materials for customization. For example, customers can collaborate with the Copperloy team to fabricate beryllium copper, extruded aluminum, specialty steels, nylon, plastics and more.
Ready to upgrade your workspace for optimal safety, efficiency and profitability? If so, then connect with our team of engineering and design experts today to learn more. Simply submit CAD drawings for conversion into a working 3-D model.
About Copperloy
Have you and your team been searching for durable aluminum loading ramps for your next facility upgrade? Whether new or used equipment is ideal for your goals, you can feel confident in counting on the Copperloy team. For more than half a century, Copperloy has provided top-quality freight handling installations.
Above all, the Copperloy team commits to both product quality and customer satisfaction. Count on us for top-quality dock plates, van ramps, yard ramps, edge of dock levelers and more. We maintain the latest in both robotic and computer numerical control (CNC) technologies to keep quality as high as possible. Are you ready to get the most out of your next facility upgrade? If so, then connect with our team today and take the next steps.