The Number One Edge of Dock Leveler for the Trucking Industry
If you represent the high-demand trucking industry, it means that you're tough enough to travel far and wide, but you're precise enough to load and deliver valuable material. You also know that you are more successful when you can streamline your loading and unloading process to get every job done fast.
Depending on the job, you might need to handle lots of heavy-duty material quickly, and the quicker you work, the more jobs you finish, and ultimately the better your productivity. Keep reading to learn why more workers in the trucking industry trust Copperloy for an edge of dock leveler that takes their work to the next level.
Mechanical Vs. Hydraulic Edge of Dock Leveler
Truckers can create a dock anywhere with one of our yard ramps or improve dock efficiency with our edge of dock levelers. Copperloy's mechanical edge of dock levelers provide a safe, efficient method to load/unload equipment and access the content of their work vehicles.
With 12 different models available, mechanical loading dock levelers from Copperloy can support 20,000 lb. or 30,000 lb. capacities; 12″ or 14″ projections; and 66″, 72″, 78″ and 84″ widths. Of course, we also provide custom options, so if you're unsure if there's a perfect match, we'll provide you with a tailor-made product to get the job done.

You can easily convert Copperloy's edge of docks into hydraulic edge of dock levelers with the addition of our hydraulic power unit. Enhance loading dock productivity, efficiency, while also reducing stress and the risk of injury for employees. Made of high-quality, heavy-duty materials, our hydraulic edge of dock leveler requires minimal maintenance while also offering quick and easy operation.
The hydraulic pump on Copperloy's edge of dock allows them to rise to the desired height in 11 seconds, which is impressive considering the industry average is 31 seconds, and some of our competitors can take up to 2 minutes. Working with a hydraulic edge of dock leveler is the easiest way to streamline your productivity and create a safer working environment.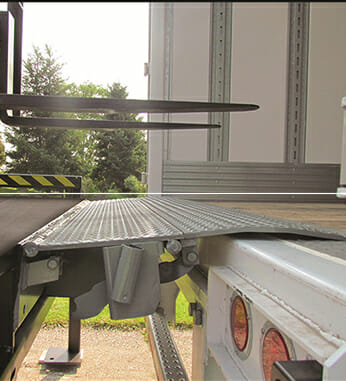 Do I Have to Buy a New Edge of Dock Leveler?
Whether you are looking to buy new or used edge of dock levelers for your loading dock facility, you'll find the right product from Copperloy. A used edge of a dock leveler from  Copperloy provides you with the quality you expect at a price you can't find anywhere else.
All used edge of dock levelers and loading dock equipment are both factory-certified and guaranteed to Copperloy's standards. There's no question about it, you can trust in the quality of our products and our 60 years of experience proudly producing American-made loading dock equipment.
I Don't Need an Edge of Dock Leveler Every Time | What About Renting?
If owning one of our edge of dock levers isn't right for your business operations, you can still rent the best loading dock equipment in the industry for short-term jobs. Consider our rental program if you don't need an edge of dock leveler all the time.
Edge of dock leveler rentals from Copperloy is the perfect option for 1-day jobs that require more material handling without a long-term commitment. Plus, any time you rent from Copperloy, you're always covered with our factory-certified products from our entire lineup of high-quality, durable ramps, lifts, or edge of dock levelers for loading docks and material handling facilities of all kinds.
What About Replacement Parts for my Edge of Dock Leveler?
We always make sure to carry all the necessary parts and accessories for our inventory loading dock equipment. When you purchase steel edge of dock levelers from us, we want to stand by our name so you can trust our products for years.
Some spare parts you can order include parts for our EODs like lower pin brackets, bushings, bumpers, pins, and more. The Copperloy edge of dock is always reliable but does have a few parts that can sometimes need changing, so make sure you contact one of our specialists to take extra special care of your edge of dock leveler.
Where Can I Find Copperloy's Reliable Edge of Dock Leveler?
Whether your trucking business is located in rural Texas or near a big city like Los Angeles, California, Copperloy has dealers throughout the United States that can help you find the edge of dock leveler you need to improve your productivity in the trucking industry. You always have quick and convenient access to yard ramps, portable loading docks, dock boards, and other custom-fabricated material handling equipment through our national distribution network.
For the incredible workers in the trucking industry, no matter what your specific needs and challenges are, Copperloy is here to help you get the job done as quickly, efficiently, and effectively as possible. Everything Copperloy produces is always proudly made in the USA, and we have experience working across dozens of different industries.

Ready to Get your Edge of Dock Leveler From Copperloy?
Finding the right edge of dock leveler is easy with our large selection of yard ramps, dock boards, dock plates, and more. Just select the product category you're interested in and view our many safe and durable options in loading dock equipment. From edge of dock levelers, to lifts, to yard ramps to accessories like wheel chocks, we have it all.
In addition to our standard products like portable ramps, dock boards, and more, we are equipped to also design and customize any of our loading dock equipment. These include custom lifts, portable yard ramps and truck ramps, dock boards, dock plates, and loading dock equipment held to a higher standard than other brands in the industry.
Learn more about the industries we serve and find out if we can help you with your application. Contact us for more information about our services and equipment today!