Why You Should Buy an American Yard Ramp | Improve Productivity with Copperloy
Why Buy an American Yard Ramp from Copperloy?
When you need to streamline your loading and unloading process, you have a lot of choices to sift through. It's always tempting to spend less upfront, but the real cost is hidden until surprise repairs and replacements become an issue. Not to mention, you can't always count on yard ramp safety considerations being up to date.
American Yard Ramps Vs. Imported
Imported yard ramps have not quite made their name in the US yard ramp market, but many manufacturers have noticed a large number of requests from foreign manufacturers that want help with importing and marketing yard ramps. Not surprising, since Copperloy is a trusted retailer of yard ramps in the states, and foreign manufacturers would like to have a portion of our market share.
While the pricing of foreign yard ramps can be attractive, unfortunately, the products offered are not up the durability and safety standards required. The side beams on yard ramps from China and Korea are assembled from several welded pieces instead of one solid structural beam, which means there's a higher risk of product damage from travel and regular use.
Which Industries Can Benefit from an American Yard Ramp by Copperloy?
Copperloy by JH industries manufactures our American yard ramp for a wide variety of industries and applications. Common industries we serve include military and defense, heat processing, construction, and more.
An American yard ramp from Copperloy is the perfect solution for loading and unloading where a permanent ramp isn't an option. Any space can become a loading dock strong and safe enough for all of your precious cargo.
Copperloy's yard ramps also have the fasted lift time in the industry, greater than our competitors and above and beyond the industry standard. If you're shopping for America's favorite yard ramp, we're confident we have what you need.
A yard ramp from Copperloy speeds up loading dock production. Copperloy yard ramps outperform all other portable loading ramps providing the fastest, safest way to load/unload trucks with a forklift. We also supply the necessary equipment to improve the efficiency of your shipping docks from dock ramps and edge of dock levelers to dock lifts.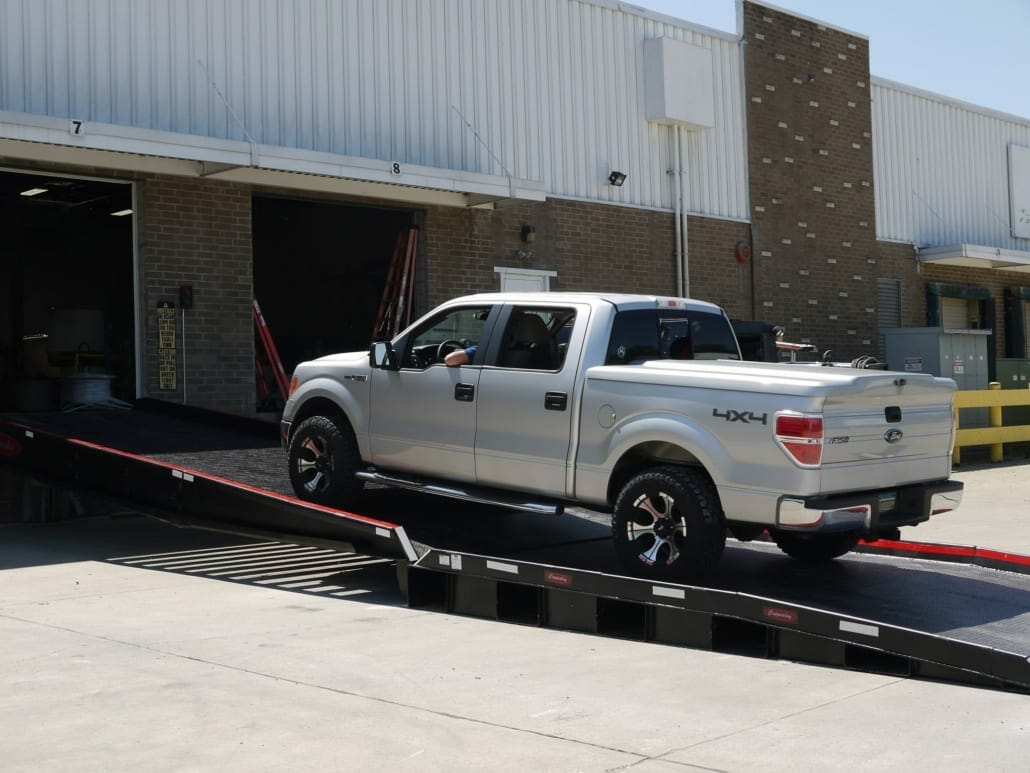 Where Can I Buy a Copperloy Yard Ramp?
You don't need to travel far to find an American yard ramp for sale. Copperloy has yard ramp distribution centers all across the USA, so you're guaranteed to find what you need when searching for the right yard ramp near me.
Copperloy has dealerships in states from east to west, and our main manufacturing plant is located in Twinsburg, Ohio. If you're searching for Copperloy distribution centers in America, your search won't take you long at all.
About Copperloy and America's Favorite Yard Ramp
For over 50 years, Copperloy has been the leader in manufacturing quality, durable loading dock equipment for material handling. We're up to the challenge for any difficult application you might throw our way.
With our in-house engineering department and complete manufacturing facility, we oversee your project from start to finish. From raw material to finished product, your order is produced within our facility. This unique situation enables us to control every step of the manufacturing process, resulting in a quality American yard ramp built to last.
In addition to our standard Copperloy products of portable ramps, dock boards and more, we are equipped to also design and manufacture custom products for portable loading docks. These include custom lift, portable yard and truck ramps, dock boards, dock plates, and loading dock equipment to meet your unique needs.
Learn more about the industries we serve and find out if we can help you with your application. Contact us for additional information about our services and your equipment interests today!