All Steel Constructed Dock Boards
Save
Save
Steel Dock Board Made With Welded Steel Curbs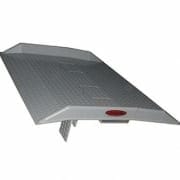 15,000 lb. & 20,000 lb capacities

Overall Widths 60", 72", and 84" 

Lengths 36" to 96" 

Lifting Loop standard on all steel truck dock board 
Save
Save
Copperloy Aluminum Constructed Dock Board Options
Save
Save
All Aluminum Dock Board Made With Welded Aluminum Curbs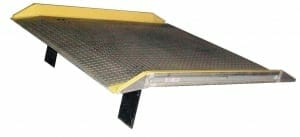 10,000 lb. 12,0000 lb. & 15,000 lb. capacities 
Overall Width 54" to 84" 
Lengths 30" to 60" 
Lifting Chains optional 
Save
Save
Aluminum Dock Board Made With Bolt-on Steel Curbs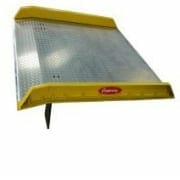 10,000 lb.& 15,000 lb. capacities 
Overall Width 54" to 72" 
Lengths 36" to 60" 
Lifting Chains optional 
Save
Save
Truck Dock Board Benefits:
Made in the USA 

Engineered for the toughest heavy-duty cycles 

Improve loading and unloading efficiency 

Portable with the use of a forklift 

Designed for electric powered and gas forklifts carrying heavier loads.
Save
Save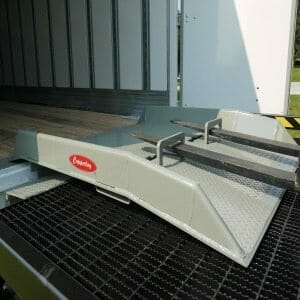 Determining The Capacity Needed For Your Facility
To determine the capacity needed for your board, use the following formula:
STEP 1: CAPACITY
Weight + Load x 0.9 = Capacity
Example: for a forklift of 11,000 lbs. and max load of 4,000 lbs., the resulting capacity would be 13,500 lbs.:
11,000 + 4,000 x 0.9 = 13,500
STEP 2: LENGTH
To determine the necessary length of your dock board is determined by the maximum amount height difference between the dock height and the floor height of the trailer(s) being serviced.
Truck Height – Dock Height = Max Height Difference
Example: if the Truck Height is 54 inches and the Dock Height is 48 inches, the Max Height Difference is +6 inches. 
From here, use the table below to determine the dock board length.
But what if the Truck Height is lower than the Dock Height? In that case, you have two options.
The dock board (with chains instead of lift loops) must be used in reverse, with the board will be in the truck and the lip on the dock.

Raise the truck bed with wheel risers.
STEP 3: WIDTH
Copperloy recommends a minimum width of 60 inches for dock boards that will be used with forklifts.
Choose Copperloy For All Your Loading Dock Equipment Needs
When it comes to safe material handling, Copperloy's inventory does not end at dock boards and dock plates. We offer customers a wide variety of American-made mobile yard ramps, dock ramp,  that provide a loading and unloading facility where one isn't already established. This wide range of equipment includes mobile yard ramps, dock-to-ground ramps, truck ramps, and forklift ramps.
Save
Save
Copperloy Truck Dock Board Videos:
Watch the dock equipment video below to learn more about the Copperloy® dock board. All Copperloy products offer industry-leading strength, outweighing many competitors' capacities. All Copperloy products are made in the USA.
Additional Videos
View our dock equipment videos here and visit us on YouTube for more of our videos!
Save
Save
REQUEST A QUOTE
Interested in a product and want more info? Let us know below and we will reach out with more details. Consumer and dealer pricing available.
You may also be interested in these dock solutions