WAREHOUSE EDGE OF DOCK LEVELERS
A lowest cost solution to get a working dock with a 5″ or less gap
Have you and your team been planning to invest in durable warehouse edge of dock levelers? Connect with the manufacturing team from Copperloy by JH Industries today to learn more.
Watch the dock equipment video below to learn more.
Warehouse Edge of Dock Levelers From Copperloy by JH Industries
Looking for equipment to bridge the gap between a loading dock and a truck ramp? Durable warehouse edge of dock levelers from Copperloy by JH Industries could be right for your facility.
Significantly, an edge of dock leveler provides a fixed alternative to a movable dock board. Copperloy by JH Industries offers pieces in 66", 62", 78" and 84" widths to accommodate nearly any facility's setup.
Copperloy's exclusive models can accommodate trucks 5" above or below loading dock levels. In addition, these pieces are available in both 20,000 lb. and 30,000 lb. models. Customers can choose from both mechanical and hydraulic models to meet the distinct needs of their teams.
These pieces can fit almost any loading dock. Customers can benefit from transition plates and approach ramps to ensure correct fitting.
Why choose a Copperloy by JH Industries edge of dock leveler? These installations are notable for their ease of both operation and maintenance. For example, an exclusive lift mechanism and spring assembly combination position the board with considerably less effort than the comparable edge of dock levelers.
Simply pull back the handle and the lip will mechanically lift over the dock height. Then, a slight forward push of the handle will position the lip onto the truck floor.
All of our edge of dock levelers for sale are available with our quick, 3-day shipping. With loading dock equipment from Copperloy, you'll get more done in less time, and increase your overall capabilities.
These models also help to maximize safety in a warehouse environment. Specifically, these pieces feature exclusive safety maintenance struts to secure levelers during maintenance.
Maintaining a Copperloy by JH Industries edge of dock leveler is easy. To keep your installation working as efficiently as possible, simply lubricate the leveler's hinges as necessary. To learn about how a Copperloy by JH Industries installation could help you maximize efficiency in your workspace, simply reach out to the manufacturing team today.
A loading dock leveler is a perfect solution for when dock space is limited, or when the working range of a full-size, pit-style edge of dock leveler is not needed. Each Copperloy EOD is available with hydraulic or mechanical activation (lift) for smooth and reliable operation.
Choosing the Right Edge of Dock Leveler for Your Facility
Are you and your team planning to implement the edge of dock levelers as part of your facility upgrade? If so, then you and your team will need to set aside some time to get on the same page regarding facility requirements and project goals.
For example, it will be critical to consider how frequently you will use a loading dock, necessary load capacities, and how a piece of equipment could impact cleaning procedures specific to your industry or facility. Every project is different, and the team from Copperloy by JH Industries can help you find the right piece of equipment for your goals.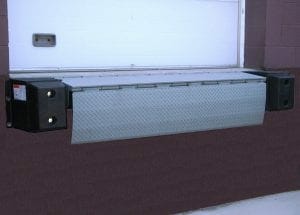 EDGE OF DOCK LEVELERS SPECIFICATIONS
High strength low alloy (50,000 lb. Minimum Yield) tread plate, lip beveled for smooth transition.