Hydraulic Edge of Dock Levelers | Ensure Safe Passage with Copperloy
Transporting freight between docks and trucks is a task that drives freight loading operations and the trucking industry as a whole. Every loading task carries with it precious cargo that requires timely delivery, so safety and efficiency are critical for meeting industry standards. Whether you are transporting heavy-duty materials or pallets of fragile products, you need to get the job done fast without the risk of damaging your inventory.
Copperloy hydraulic edge of dock levelers or EODs can help you improve productivity and safety in your facility. An edge of dock leveler is a form of loading equipment that bridges the gap between docks, trucks, and ramps. Available in a variety of dimensions, Copperloy EODs easily mount to virtually any dock, and with a pull of a lever, it will position itself to create a smooth, level passageway for forklifts, dollies, and other equipment.
Hydraulic or Mechanical? What is the Difference?
Copperloy edge of dock levelers allow loading dock operations to reach optimal levels of efficiency with ease. Whether mechanical or hydraulic, this is a welcome addition to any loading dock, but what is the difference between the models?
Mechanical edge of dock levelers offer high weight capacities of up to 30,000 pounds as well as various dimensional options. For unique application requirements, we also offer several custom options upon request. These levelers are incredibly easy to use. Just pull the handle and the lip plate with lift over the truck height, so you can start loading in no time.
Hydraulic edge of dock levelers are surprisingly similar to their mechanical counterparts, offering similar capacities and customizable options. However, the additional hydraulic power unit makes operation even easier. With the push of a button, the EOD will position itself onto the truck bed Not only does this save time and energy, but it also minimizes the risk of injury for your employees. In fact, our hydraulic edge of dock levelers can position themselves in just 11 seconds, which is significantly faster than competing solutions that take upwards to 2 full minutes!
Why Choose Copperloy Edge of Dock Levelers?
Superior Durability and Safety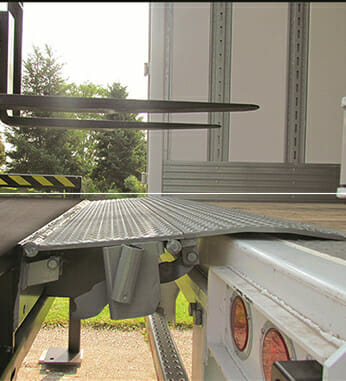 When installing new loading equipment in your facility, you want something that is going to last and get the job done right. With an exclusive three-dimensional engineering software package, Copperloy edge of dock levelers offer more durability than the competition. Exceptional durability also means minimal maintenance, requiring only some hinge lubrication every now and then.
More importantly, your edge of dock levelers need to be safe and protect your employees from potential injury. Once in position, Copperloy hydraulic edge of dock levelers create a smooth, even bridge over which employees and forklifts can travel safely. This ensures your facility stays up to code and meets OSHA's strict safety standards. Higher levels of balance and stability also mean you can significantly improve efficiency for every freight loading task.
Adding an edge of dock leveler to your operation is the best way to optimize daily operations. Copperloy equipment is designed for safety, durability, and longevity, so you have the tools you need to get the job done safely while meeting regular deadlines.
Fully Customizable Design Options
If you want to get the most out of your edge of dock leveler, it needs to fit well with the rest of your equipment. Here at Copperloy, we offer nearly endless configuration options to meet the unique needs of every loading dock. With a wide range of dimensions and capacities, we can provide custom loading equipment solutions that are tailor-made to your specifications.
Our hydraulic edge of dock levelers come in 66", 72", 78", and 84" widths that are compatible with trucks that sit 5" higher or lower than your dock. You can also choose between 20,000 and 30,000-pound capacities depending on your application requirements. Are you looking to upgrade from mechanical to hydraulic? We can convert your current edge of dock leveler to a fully hydraulic system with just a few quick changes.
If you would like to learn more about customization of this style of  forklift ramp, we provide a full list of customizable options on our website. Not sure what you are looking for? Give us a call and our staff can answer your questions, provide recommendations, and help you find the ideal configuration for your equipment.
Buy, Rent, New, or Used? What is Best for You?
Every loading dock is different, so you might not need to purchase a brand new edge of dock leveler out of the box. We certainly recommend buying new if you are looking to get the most time possible, but our used equipment options are just as safe and efficient with the added benefit of competitive pricing.
Used hydraulic edge of dock levelers are fully factory-certified, so they meet all Copperloy quality and safety standards. With our experience in the development of loading dock equipment, we can ensure that you receive functional, high-performance equipment regardless if you buy new or used.
Not looking for long-term ownership of edge of dock equipment? If you just need something for a shorter job, consider Copperloy rental services. We understand that not everyone needs an edge of dock leveler every day, so we offer rentals for all our factory-certified equipment. Whether you need an edge of dock leveler, a yard ramp, or a hydraulic lift, you can rent high-quality equipment for your short-term projects.
Install a Hydraulic Edge of Dock Leveler with Copperloy Today!
Choosing Copperloy means you receive loading dock equipment solutions from a proven American manufacturer. With more than 60 years of manufacturing the finest loading dock equipment on the market, Copperloy can deliver the most reliable ramps, dock boards, hydraulic edge of dock levelers, and more! If you want superior strength, longevity, and safety from your loading equipment, you cannot go wrong with Copperloy.
Looking for edge of dock levelers and other loading equipment but are uncertain of exactly what you need? Get in touch with Copperloy today and speak with a loading equipment solutions expert. We are ready and standing by to answer your questions and help you find the ideal equipment for your operation.