What Are Cargo Van Ramps?
Cargo van ramps from Copperloy are the #1 solution to loading and unloading cargo vans. Their durability and versatility make them a top choice among industry professionals that need to improve safety and efficiency while unloading materials. Folding cargo van ramps extend from the rear of a cargo van to create a seamless transition from the van to the ground. This enables delivery drivers and other service providers to safely enter and exit the cargo van while they move materials.
Copperloy cargo van ramps are the top choice due to their design and capabilities. Our cargo van ramps for sale are available in capacities from 2,500 to 4,000 lbs., widths of 38 to 44 inches, and lengths from 6 to 16 feet. We supply dozens of different standard models to match every customer's unique specifications.
While our cargo van ramps are durable and reliable, they are also lightweight. This feature makes them even more versatile, as they will not slow you down while setting up the ramps. When you buy cargo van ramps for sale from Copperloy, you are instantly upgrading your loading process while simultaneously improving safety. Contact Copperloy today to find the best 9 cargo van ramp for your operations.
Applications of Cargo Van Ramps

Copperloy's premium loading dock equipment is designed to improve the efficiency and safety of loading and unloading processes. Customers choose Copperloy time after time because of our 60+ years of experience providing the highest quality loading equipment. Many industry professionals choose Copperloy cargo van ramps for their lightweight design and unique features. Catering services, delivery drivers, and lawn care providers all depend on a safe and effective 9 cargo van ramp.
Cargo Van Ramps for Catering Services
Catering services are convenient for parties and outdoor events, but the workers have the difficult job of loading and unloading all the food on a strict schedule. Not only does the catering company have to set out the food, but they also have to ensure everything was safely transported and unloaded before serving. A cargo van loading ramp will make unloading heavy trays of food safer and easier for the workers involved. With the cargo van ramp, dollies and carts can safely enter and exit the cargo van.
Cargo Van Ramps for Delivery Drivers
Everywhere you look, delivery drivers are out on the road making hundreds of deliveries a week. Some of the packages they carry are extremely heavy, and the drivers need the assistance of a cargo van loading ramp. A loading ramp creates a safer transition for the driver to unload the delivery, especially if the driver is alone. A 9 cargo van ramp also ensures efficiency at every stop by making the unloading process faster.
Cargo Van Ramp For Lawn Care Services
Lawn care providers are known for their trailers full of lawnmowers, weed eaters, and even aerators. While lawn care services may not use cargo vans, they still need to get their lawn equipment out of the back of a trailer. A cargo van loading ramp creates a stable path for the workers to drive or back the lawn equipment off of the trailer.
Quality and Safety | Cargo Van Ramps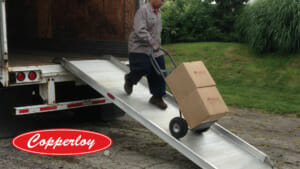 Copperloy's van ramps for cargo vans are ideal for professionals that load and unload with hand trucks, dollies, and two-wheeled carts. Customers note that our cargo van ramps are preferable because of their low maintenance requirements. Specifically, our distinct cargo van design minimizes cleaning and maintenance times while also making storage and installation simple. Our cargo van ramps are designed with high-strength aluminum and all-welded construction.
Standard cargo van ramp features include:
12" Lip
4 ¾" Overall Curb Height
15" Grade Angles