Loading Ramps For Semi Truck & Trailer Use
Semi Trailer Loading Ramps / Benefits of Loading Ramps / Loading Ramp Features / Tractor Trailer Ramps
Copperloy's loading ramps for Semi truck & trailer use can transform any open area into a portable loading dock. This ramp allows for ground to truck grade level access. Forklifts can easily enter the back of a semi to load and unload materials.
With over 60 years of experience, our in-house engineering team has been developing custom solutions for heavy-duty applications. We strive to maintain our position as an industry-leading provider of loading dock equipment.
Designed with strength, stability, safety, efficiency, and durability in mind. Our mission is to engineer and manufacture high-quality dock equipment. Our main focus is on keeping employees safe and material handling operations productive and efficient.
Improve Your Overall Process of Loading and Unloading Operations with Copperloy Loading Ramps For Semi Truck & Trailer
Some of the top benefits and features of our Semi truck ramps include:
Copperloy loading ramps are available in aluminum and steel. With ranges of 38″-65″ for height; 36′ for length; 70″-84″ for width. And capacities of 16,000-35,000 depending on the material made of. A single-hydraulic system that produces less pressure and quicker lift times.
A centrally located cylinder that provides excelled stability which reduces the risk of tipping. Maintenance-free tires with 18″ solid filled, pneumatic tires that won't puncture. And limited wear and tear with the positioning sleeve placement. Additionally, all of our products are manufactured in the USA.
Copperloy has the products to fit your unique specifications. We offer three purchase options – New, Used, and Rentals available anywhere in the US. We also provide financing options for loading ramp purchases. And all our pre-owned and rentals come certified and guaranteed.
Whatever the job requirements and needs might be, Copperloy loading ramps for Semi truck & trailer use can accomplish the job. For an array of available yard ramp sizes, specifications, and weight capacities, contact the Copperloy team. They will assist you in finding the perfect model for your facility and application.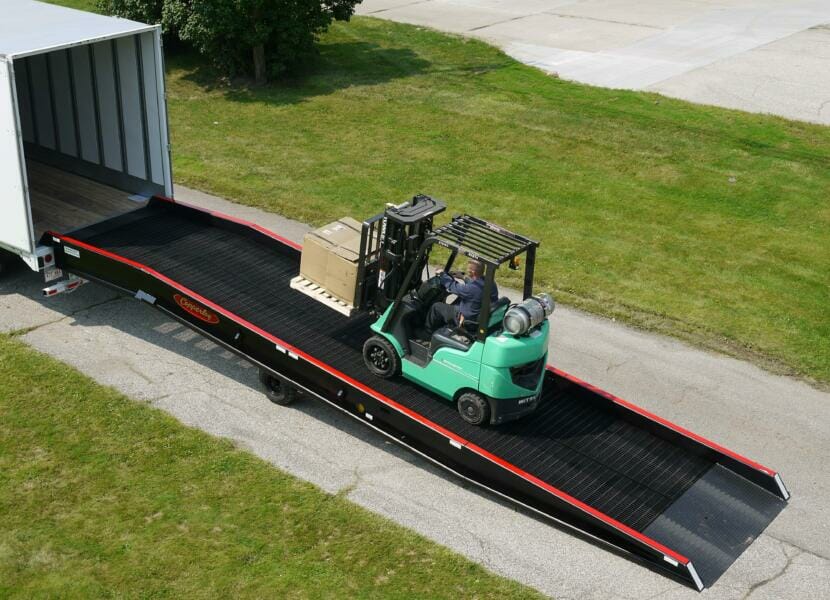 COPPERLOY'S MATERIALS DISTRIBUTION EQUIPMENT IS MANUFACTURED TO LAST WITH RUGGED ALUMINUM AND STEEL. CHOOSE COPPERLOY, THE YARD RAMP MANUFACTURER WITH MORE THAN 60 YEARS' EXPERIENCE.
Benefits of Loading Ramps For Semi Truck & Trailer Use
Copperloy ramps are full of benefits. Most noteworthy, the ramp operates off of a single-hydraulic system. Meaning, lift times are up to two and a half times quicker than standard, two-cylinder hydraulic systems! Additional benefits include:
Ease of Operation

– Conveniently located, the pump is stored away from damage and debris. Operation and maintenance are a breeze with the relocated pump design!

Limited wear and tear

– Rotate the ramp on a redesigned positioning sleeve. Traditionally, rotation takes place at the ramp connection. Instead, rotation at the positioning sleeve decreases wear and tear.

Superior stability

– Copperloy greatly reduces the chance of tipping with a centrally located cylinder! Therefore, altering the center of gravity and providing excelled stability.

Maintenance-free tires

– 18″ solid filled, pneumatic tires don't require any air! Dominate rugged terrain without the worry of punctures or air pressure. Additionally, Copperloy pneumatic tires come with lubricated-for-life bearings!
SPECIFICATIONS OF STEEL LOADING RAMPS FOR SEMI TRUCK & TRAILER 
Length: Up to 36′
Height: Range from 38″-65″
Width: 70″ or 84″
Capacity: 16,000-35,000 pounds
Ask about custom specifications!
SPECIFICATIONS OF ALUMINUM LOADING RAMPS FOR SEMI TRUCK & TRAILER 
Length: Up to 36′
Height: Range from 38″-65″
Width: 70″ or 84″
Capacity: 16,000-25,000 pounds
Ask about custom specifications!
STANDARD TRACTOR TRAILER RAMP FEATURES
7″ safety curbs to prevent accidents
Steel grating for all-weather traction
One-cylinder hydraulic pump for a quick rise time
Positioning sleeve to maneuver 180 degrees into proper position
15″ lip to prevent the ramp from pulling away
Standard, 8′ level off for stability and easy operation. A custom 10′ level off is available! Simply contact Copperloy.
Tractor Trailer Ramps | Copperloy v. The Competition
Want to see how the Copperloy yard ramp measures up to the competition? Check it out in the video below.