Superior Loading Dock Equipment Solutions from Copperloy
Looking for a high-strength ramp for loading docks with durable, long-lasting construction? Copperloy ramps for loading docks are perfect for the job. In fact, Copperloy is a leading manufacturer of loading dock equipment solutions. So, you can trust us to deliver ramps of exceptional quality that are sure to maximize your facility's productivity and keep your employees safe.
Copperloy has been engineering dock ramp equipment for more than 60 years. We give our staff the industry's best manufacturing equipment, so we can more accurately meet the needs of our clients. As a result, we have earned our reputation as a leading provider of loading dock solutions.
Here at Copperloy, safety is always a top priority. Loading with forklifts introduces many safety hazards to your facility, especially if you are working with low-quality ramps. However, Copperloy ramps are designed to meet OSHA's strict safety requirements. As a result, a Copperloy ramp for loading docks is the safest option on the market and can help our clients maintain OSHA compliance.
If you are looking for loading dock ramps but are unsure of what size and capacity you need, get in contact with our technical staff. We can give you professional recommendations based on your unique application requirements, so you can find the best ramps for your facility.
Why Choose a Copperloy Ramp for Loading Docks?
Copperloy loading dock ramps are the ideal solution for creating dock-to-ground access for material handling operations. In contrast to our mobile dock ramps, a dock-to-ground ramp for loading docks is designed for long term use in a fixed location. Also, the dock-to-ground connection means these ramps do not need hydraulics or tires, making operation much simpler. Furthermore, we can custom manufacture our dock-to-ground ramps to meet your loading dock's unique specifications.
Here are some advantages of choosing Copperloy loading dock ramps:
Superior Versatility

: Our ramps come in standards widths up to 118 inches with capacities up to 30,000 pounds, so you can find the perfect ramp for your specific loading operation. Our ramps can also be relocated unlike concrete loading ramps, making them much more useful for multiple projects.

Low Maintenance Requirements

: We design our dock-to-ground loading dock ramps to minimize maintenance and cleaning requirements. Installation and storage are also much easier, saving you more time and money.

High Safety Standards

: We include safety chains and brackets with our loading dock ramps to keep your ramp from sliding off the dock's edge while in use. We also include 7-inch safety curbs to prevent forklift runoff, making heavy-duty loading tasks much safer.

Durable Construction

: All Copperloy ramps for loading docks are built to last with high-strength, steel construction, so they can endure long term, high-frequency use at even the heaviest capacities.
Ramp for Loading Docks Features
Dock to Ground Ramps Design
Copperloy ramps have an open-faced steel grating, so snow, ice, water, and other debris can easily pass through. As a result, the ramp can provide a high-traction surface even in the most turbulent weather.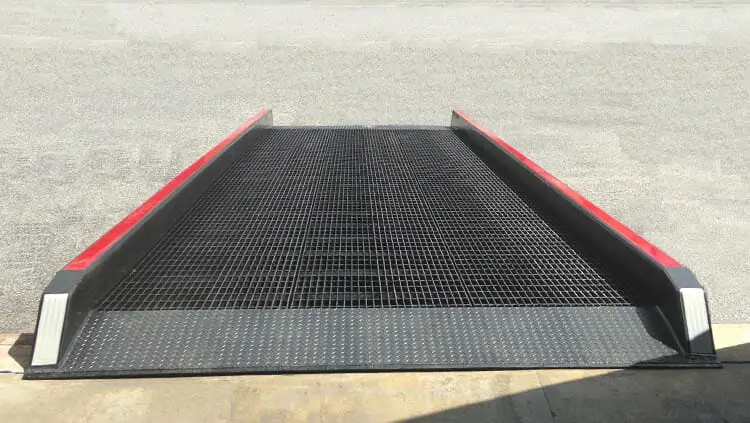 SAFETY CURB
The 7-inch safety curb is another staple feature of Copperloy loading dock ramps. We have included this curb to prevent runoff for forklifts, so loading and unloading tasks are much safer for forklift operators. Also, our unique hollow-section design and box-frame construction minimize stress for heavier loads and cargo breakout.
Specifications
Choose a weight capacity ranging from 16,000 to 30,000 pounds with ramp widths up to 118 inches. We can also create ramps with custom sizes and capacities upon customer request. Pictured below is a custom, two-piece loading dock ramp that is far longer than our standard ramps.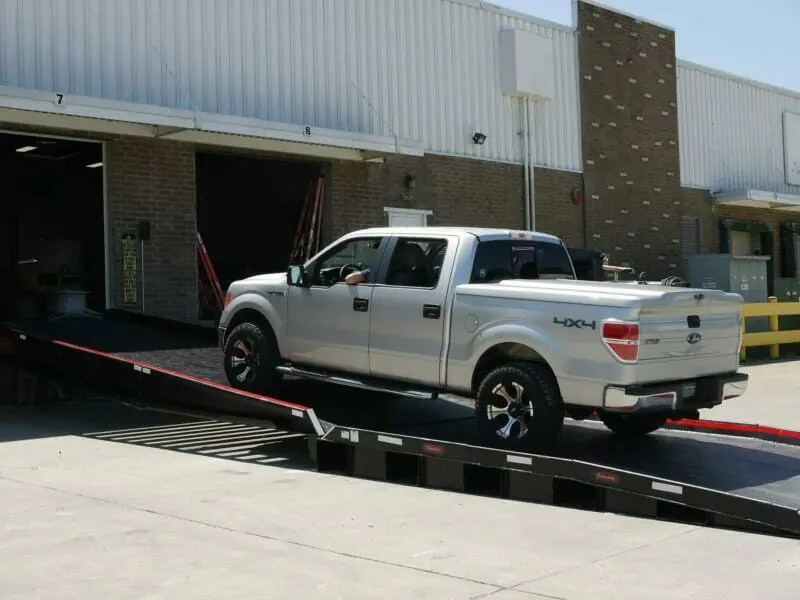 Ramps for Loading Docks Custom Features
In addition to the many core features of our ramps for loading docks, we can fully customize features to meet your facility's specific requirements. Copperloy has 60+ years of experience in the design and manufacturing of loading ramps, so you can rely on us to develop equipment solutions that meet and exceed your quality and performance standards.
Additional Videos
View our ramp for loading docks videos here and visit us on YouTube for more of our loading dock ramp videos!
Additional Videos
Copperloy is dedicated to providing customers with as many resources as possible.  It is our goal to teach clientele proper safety, operating advice, and more.  Check out our mobile yard ramp video here and visit us on YouTube for more!