MOBILE LOADING DOCK RAMPS
Loading Dock Ramp Features / Loading Dock Ramp FAQ's
Mobile loading dock ramps convert vacant space into a freight-handling center. It's a versatile piece of loading dock equipment that will expand your present dock capacity and create loading facilities where no dock exists Portable yard ramps provide ground-level access to trucks, railcars, or buildings. Their mobility makes it easy to move from job to job and handle freight with a forklift or lift truck virtually anywhere. 
Our wide range of new and used mobile yard ramps come with maximum capacities up to 30,000 lbs. The standard Copperloy loading dock ramp is steel. Aluminum ramps with steel grating are available, please contact the factory for more information. 
FEATURES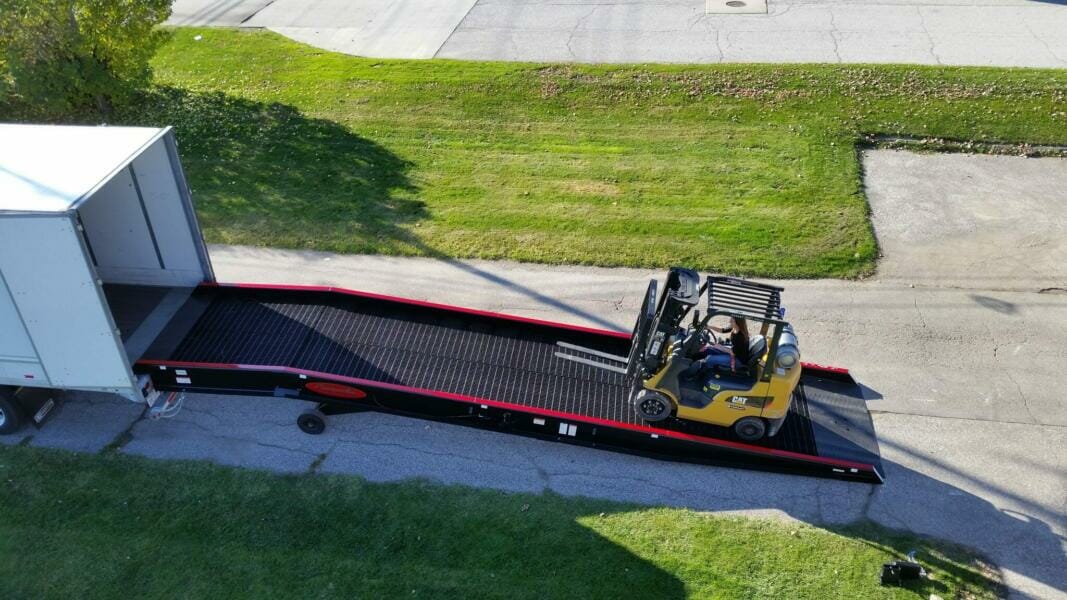 Forklift Ramp Design
Our dock ramps for forklifts are made from steel or aluminum, and they feature steel grating for reliable traction to ensure worker safety. Whether you buy used or new, our mobile ramps will provide the convenience you need to handle loads more efficiently at your facility's loading dock.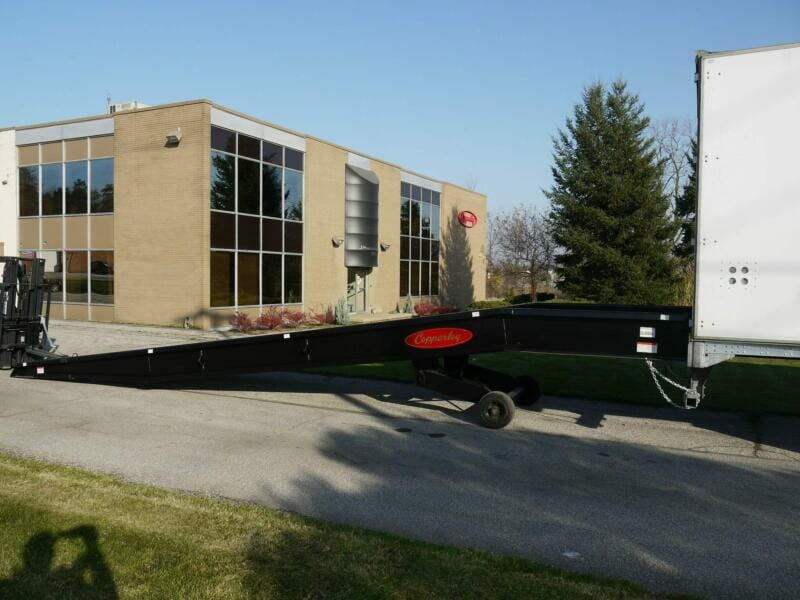 Forklift Ramp Specifications
You have a choice of widths between 70, 84 or 96 inches, and capacities between 16,000 and 35,000 lbs. On our 30-foot forklift trailer ramps, the height range is between 38 and 60 inches.
Watch the yard ramp video below to learn more
Visit us on YouTube for more of our videos!
Forklift Ramp FAQS
How do I know what capacity mobile ramp I need?
You can determine the capacity of ramp needed by adding together the total weight of the fork truck and the max load the fork truck carries. Our standard capacities are 16,000 lbs. and 20,000 lbs.. Larger capacities are available.
What are the sizes of the curbs on the mobile yard ramp?
The curbs on the mobile yard ramp 4″ wide and 7″ high.
How fast can I get a mobile yard ramp?
We stock our 16k and 20k mobile ramp models, which can be ready within a few days. Depending on other models, it can be one to three weeks.
Why are standard mobile yard ramps 84″ wide?
Mobile yard ramp are 84″ wide because that way we can guarantee the ramp will fit into the back of a trailer.
What is the useable width on a mobile yard ramp?
The usable width on a mobile yard ramp is 76″ in between the curbs.
Why should I purchase a Copperloy yard ramp vs. a competitor's ramp?
Copperloy ramps are made in the USA in Twinsburg, Ohio. The undercarriage of the mobile ramp is maintenance free. The ramp only has one cylinder and one hose from the cylinder to the pump.
The pump is on the outside of the ramp, which makes it easily accessible. Copperloy uses A572-50 high strength steel on all mobile ramps. Above all, we care you get the correct product to deliver safe and efficient results for your loading and unloading needs.
Find more answers to common yard ramp questions on our yard ramp resources page or wikipedia.