Portable Loading Dock Ramp
Copperloy portable loading dock ramps are typically used in tandem with yard ramps or dock-to-ground ramps. This type of loading equipment is most applicable in operations involving parallel loading on docks or carries in locations with limited space or no permanent facilities.
Our portable loading dock ramp is an exceptionally strong, all-steel piece of equipment. Not only does it offer portability, strength and versatility, but it also offers superior efficiency with forklift ramps, ground to dock ramps and many other forms of equipment.
A portable loading platform or movable loading dock gives lift trucks the ability to make right angle turns more easily. We custom manufacture our loading ramps to fit each client's unique specifications. We offer fixed heights between 42 and 57″ and capacities extending up to 60,000 pounds. Additionally, our portable loading dock ramps have side plates with A572-50 steel for more durability.
Copperloy is the best choice for loading dock equipment with higher standards of quality, durability and versatility in the United States. Our equipment also offers a variety of unique advantages:
Two or more portable loading dock ramps can lock together to create even larger portable loading docks.
Every portable loading platform comes with steel legs, steel grating deck, two movable curb sections and lift sleeves for safer and easier forklift loading.
Installation of edge-of-dock levelers is possible on any side of the movable platform, so it can offer complete functionality with any other equipment, vehicles, or installations.
Steel grating bars do not require maintenance and have space to allow water and debris to pass through, rather than collecting on the surface.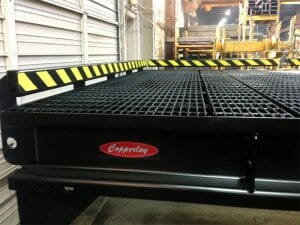 Platform Curbs
Each portable loading ramp has 6″ safety curbs, so forklifts avoid accidental runoff. The exclusive, hollow-section design and proprietary box-frame construction also minimize the stress of heavier loads and cargo breakout.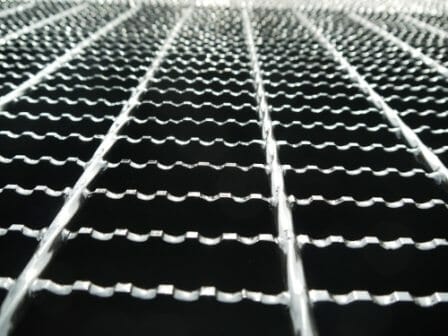 Platform Deck Grating
We construct our portable loading docks with electro-forged, serrated steel, so they offer unmatched strength. The 1/4 to 3/4″ thick grating bearing bars also offer more durability in particularly harsh applications. We position these bars 1″ apart. As a result, they can resist clogging from debris and maintain a high-traction surface in all weather conditions.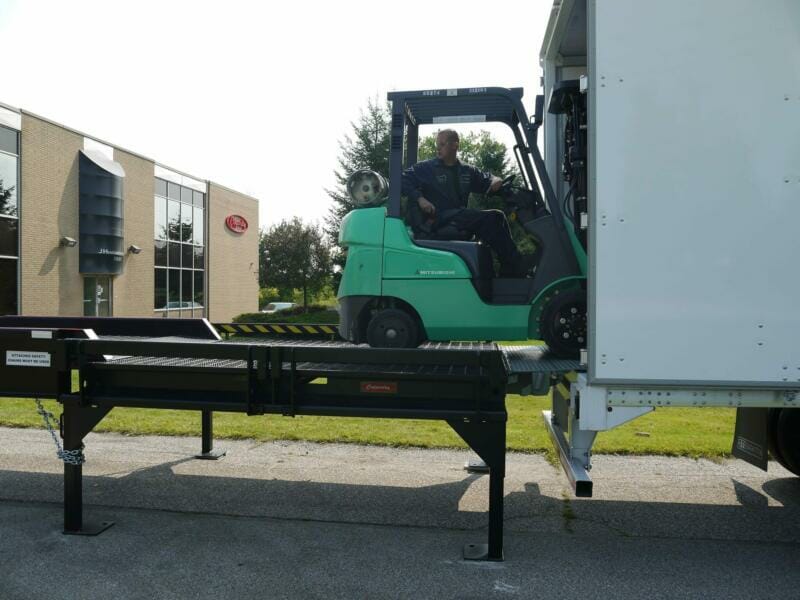 Lift Sleeves
The lift sleeves are another feature that increase convenience and efficiency. These sleeves allow forklifts to more easily handle and reposition portable loading docks.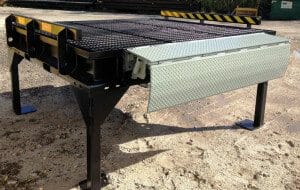 Portable Steel Platforms
Our portable steel platforms offer capacities up to 60,000 pounds and lengths up to 12 feet. These platforms are much heavier, so they require a forklift to move. However, the higher capacities make them ideal for intense loading operations.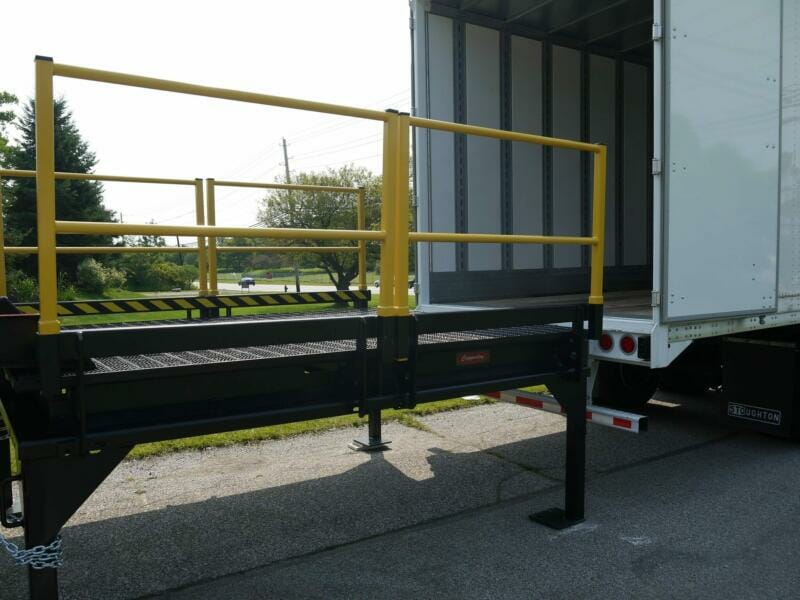 Handrail Option
We also offer handrails for any platforms regardless of length. Our 42″, high-split handrails are made entirely of steel.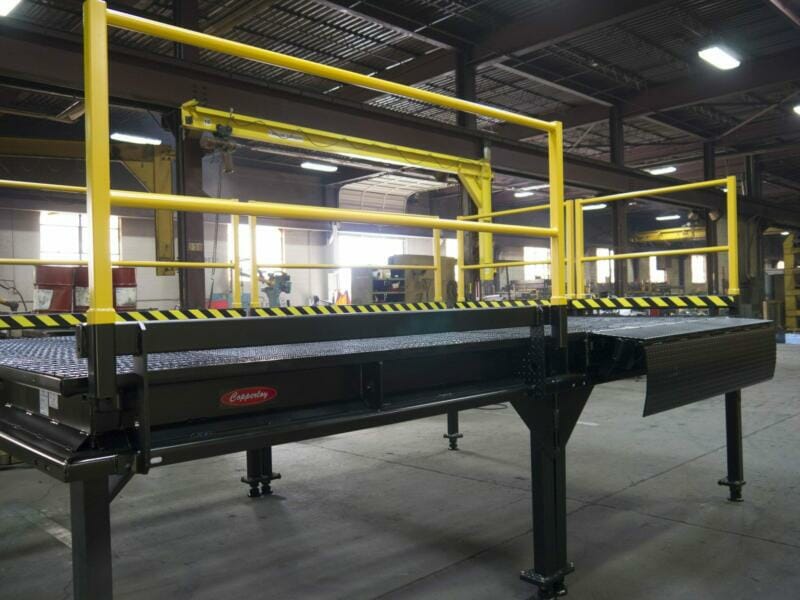 Custom Platform Options
Copperloy also offers custom-made temporary platforms for any unique application. We have an expert, in-house engineering team, so we can fulfill the needs of all our clients.
The Ideal Combination
When you combine a portable loading dock ramp with a yard ramp or dock-to-ground, you can ensure maximum safety and productivity for your loading operation. Furthermore, you can transform nearly any open space into a portable loading platform with ease.
Yard ramps function as portable loading ramps, allowing for the transporting of materials from ground level to trucks or warehouses. We offer both steel and aluminum yard ramps depending on your application's requirements. We also offer rentals for short-term operations.
Dock-to-ground ramps provide ground level access to both docks and semi-trucks. They also allow forklifts to access freight in the back of the truck more easily. Additionally, Copperloy offers financing for ramp rentals and purchases. As a result, we can provide the most cost-effective loading equipment solutions.
FAQs
What is the most common portable loading dock ramp?
Each loading operation introduces a unique set of variables, so choosing a ramp needs to be specific to every client's application. First and foremost, we need to know what weight you will be loading and unloading over the ramp. Once we determine the weight, we can also figure out the capacity you need.
What is the width of a Copperloy portable loading dock?
Standard widths of our portable loading ramps are 70″, 84″ and 96″. However, we can create custom widths for unique application requirements upon request.
How long are Copperloy portable loading platforms?
The typical loading ramp length is 36′ long with an eight-foot level off at the top. We can also add length when the application calls for it.
What is the function of the ramp's eight-foot level off?
The level off on our loading ramps gives forklift easier access to trailers. It helps level forklifts for pallets at the truck's opening.
What is the difference between a towbar and a positioning sleeve?
This a standard feature for all Copperloy loading ramps. This sleeve makes moving and positioning the ramp much more efficient. The towbar allows for easier towing of the ramp across short distances in your facility at a speed of about 3-5mph.
What kind of tires do the ramps have?
Copperloy ramps have 18″, solid tires. These tires do not require refilling and have lubricated bearings, so they are essentially maintenance-free in comparison to air-filled tires.
REQUEST A QUOTE
Interested in a product and want more info? Let us know below and we will reach out with more details. Consumer and dealer pricing available.
You may also be interested in these yard ramp solutions