American Made Truck Loading Ramps
Heavy Duty Truck Loading Ramps and Loading Ramps for Rent | Made in the U.S.A.
Without a doubt, heavy applications require heavy solutions! If you have been looking for heavy duty truck loading ramps, heavy truck ramps, heavy-duty tractor ramps, loading ramps for rent, then you can count on Copperloy. In fact, Copperloy leads the industry in custom loading and unloading solutions and has mastered America's ultimate ramp, the Copperloy yard ramp.
Copperloy designs dock solutions that are both high-value and cost-efficient. Overall, you can optimize space, push productivity, and increase safety with expertly engineered ramps. In comparison to competitors' two-cylinder systems, our innovative one-cylinder design allows the ramp to both raise and lower evenly and creates greater stability.
QUICKER RAISE TIMES THAN COMPETING RAMPS
Position to the desired height up to 2 and 1/2 times faster than conventional heavy duty truck loading ramps.
LIMITED WEAR AND TEAR
Damage to the ramp's structure is minimal due to rotation taking place on a redesigned positioning sleeve. Traditionally, rotation occurs where the ramp connects.
EXCELLENT STABILITY
A centrally located cylinder both increases stability and reduces the likelihood of tipping.
EASIER OPERATION
Significantly, the hydraulic pump sits on the outside of the ramp frame to streamline operations.
SOLID FILLED PNEUMATIC TIRES
Copperloy tires are especially beneficial as they require neither maintenance nor repair. In fact, the solid filled pneumatic tires can handle all types of rugged terrain with less chance for punctures or loss of air pressure.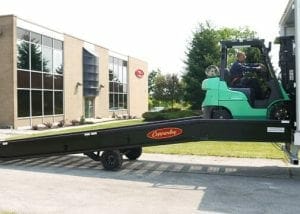 Key Features | Heavy Truck Ramps
In all, Copperloy heavy duty truck loading ramps can help you maximize safety, efficiency and profitability. They not only instantly create a loading facility, but also minimize the hassle of construction. Significantly, Copperloy truck yard ramps can handle up to 35,000 lbs. In fact, some ramps are in stock ready to ship. These ramps are notable for both durability and high levels of performance. Overall, Copperloy ramps outperform their competition. If you want to learn how Copperloy loading ramps for rent could add to your facility, then see the key features below!
8′ LEVEL OFF
Copperloy yard ramps have an 8′ level off section unlike the 6′ level off section on other manufacturers ramps. The level off section allows the fork truck to safely enter the trailer at a level approach and without having to stop. This feature makes for a very stable yard ramp.
15″ LIP
The 15″ lip is designed to firmly rest on the trailer bed and must be fully supported. Safety chains are shipped with the ramp and must be secured to the trailer prior to using the ramp.
HYDRAULIC PUMP
Raise the ramp with less effort using our single-acting hydraulic hand pump. For ease of use and maintenance, the pump has been relocated. Also, the unique location guards against dirt, debris, and damage.
LOW END PLATE & DECK GRATING
A low end plate enables front driving tires to connect with high-traction deck grating while the rear tires remain in contact with the ground. Constructed for durability and the toughest of applications, Copperloy ramps feature grating bars. Designed with high-strength steel, the bars are spaced 1-3/4″ apart to allow both precipitation and debris to fall through. Finally, the grating is serrated to provide a high-traction surface in all weather.
POSITIONING SLEEVE FOR HEAVY EQUIPMENT LOADING RAMPS
Effortlessly maneuver the ramp 180 degrees with the positioning sleeve feature. As a result, increase productivity with reduced loading and unloading time. Just slide a fork of the forklift into the sleeve and align into the desired position!
TOWBAR
An add-on feature on steel and aluminum mobile ramps, the towbar fastens to the lower end of the ramp. Conveniently move the ramp short distances within your facility with the tow bar.
18″ PNEUMATIC TIRES
Solid filled, 18-inch pneumatic tires dominate rugged terrain. Significantly, these tires do not require air to fill, eliminating the chance of punctures and air pressure issues. Lubricated-for-life bearings, pneumatic tires are maintenance-free!
SAFETY CURBS
Above all, the Copperloy team works to ensure product safety and quality. To prevent an incident, 7-inch safety curbs are a standard feature on all Copperloy ramps.
SMOOTH SIDE PLATES
In addition to enclosing all working components, smooth side plates also guard against possible damage caused by other equipment.
Heavy Duty Truck Loading Ramps | What's the Use?
Ground-to-truck ramps conveniently allow ground level access to semi-trucks. Copperloy ramps ensure for maximum safety and productivity. Ramps were engineered with industrial use in mind. Based on material handling requirements, ramps are available in aluminum or steel bases.
Quickly and easily transform an open yard space into a portable loading dock. Copperloy ramps are a safe, efficient solution to load and unload materials. Forklifts can easily access freight in the back of a truck. Copperloy provides financing for purchase of heavy duty truck loading ramps and loading ramps for rent, ensuring the most cost-effective solution to increase capabilities and production.
Finding the Right Ramp: Heavy Duty Tractor Ramps, Truck Ramps, and More!
Choosing the right ramp depends on the application. From heavy duty steel truck ramps to mobile ramps, the options are endless. Take these questions into consideration:
Are you looking for a permanent loading area or do you require a portable loading ramp?
What is the maximum weight, including the weight of the truck, that your lift trucks will be transporting?
Do you require dock-to-ground access or ground-level access to both railcars and trucks?
After answering these questions, consult with our both experienced and dedicated staff. Copperloy has been manufacturing ramps for over 60 years. If you are ready to upgrade your space, then connect with Copperloy today.
Copperloy Loading Ramps for Rent
Have you and your team been looking for a material handling solution for a short-term project or event? If so, then Copperloy's loading ramps for rent may provide the efficiency you need. In fact, rental options from Copperloy offer the same benefits as other pieces in the company's collection.
All of Copperloy's factory-certified ramp rentals offer the same safety features as pieces available for purchase. To list, Copperloy customers can choose from an extensive range of heavy duty truck loading ramps, forklift ramps, dock-to-ground ramps, mobile yard ramps and more.
Both Steel Fabrication and Design Services From Copperloy by JH Industries
Sometimes, a one-size-fits-all material handling solution just will not add to efficiency in a workspace. For this reason, Copperloy offers premier custom steel fabrication and design capabilities. If you have been considering a custom loading dock installation to streamline operations in your facility, then reach out to the team from Copperloy by JH Industries today.
A RESOURCE FOR BOTH INNOVATION AND DESIGN
Copperloy by JH Industries distinguishes itself from competing manufacturers through the investment in the latest in both fabrication equipment and technology. For example, the Copperloy team keeps 25 650 amp capacity welding stations and six 40' bridge cranes each with 30,000 lb lifting capacities. The company's Twinsburg, Ohio facility also houses three airless spray paint systems and multiple planer mills.