Aluminum Ramps – Ramp With Steadfastness
Our aluminum ramps will meet the requirements of all your commercial and utility applications. Here at Copperloy, we continually strive to raise the standards and expectations of our aluminum ramps.
Copperloy offers a diverse selection of ramps Where there's a need there's a ramp. And if not, we will custom build it. Not exactly sure what ramp you need for the job? Our staff is always here to help with any questions.
However to help narrow down your job needs please review the following:
Safe, Reliable and Efficient
Our goal is to produce the safest, most reliable, efficient with functionality and longevity ramps available in the industry. Productivity and safety are two of the most crucial aspects of a loading dock operation; therefore, Copperloy ramps are engineered to meet the needs of all staff members. As with all our ramps durable designs, they are more than capable of handling the strenuous workdays of your warehouse or facility, and personal needs.
Copperloy has the equipment you are in need of, meeting any loading/unloading job requirements. If you are looking to purchase a new or used yard ramp, or even rent heavy-duty ramps and any other heavy-duty loading, hauling, or transportation product visit us today!
KEY FEATURES OF COPPERLOY'S YARD RAMPS | ALUMINUM LOADING RAMPS
8-FOOT LEVEL OFF
Copperloy considers forklift accessibility and safety to be a serious concern in the design of aluminum loading ramps. As a result, we began implementing the 8-foot level off to provide forklifts with smooth access to loading ramps.
15-INCH LIP
This feature rests on the body of the truck or the dock's floor or platform. In addition, we include 8-foot safety chains to prevent the ramp from pulling away from the dock of truck.
HYDRAULIC PUMP
Copperloy loading ramps only require half the usual effort to operate with the help of our single-acting hydraulic hand pump. The pump is located conveniently for both operation and maintenance. Furthermore, its new location protects it from dirt and other possible damage. The handle can also be removed and stored away when not in use.
LOW END PLATE
While other ramps on the market struggle to make forklift access smooth and safe, Copperloy ramps include features to improve forklift operation. Our low end plate sits lower than a forklift's wheelbase; therefore, the forklift's front wheels can reach the grating while the back wheels remain safely on the ground. This eliminates any bumps that would occur on other ramps and simplifies ground-level entry.
HIGH-TRACTION DECK GRATING
Our aluminum loading ramps contain high strength materials. Each ramp's deck grating can withstand intense environmental conditions. With one and three-quarter inch spaces between the bars, rain, snow, and other debris fall right through, preventing buildup. The serrated grating also maintains high traction in all weather conditions.
SAFETY CURB
The 7-inch curb is a staple feature on Copperloy ramps that prevents runoff.
18-INCH SOLID/PNEUMATIC TIRES
Solid/pneumatic tires significantly reduce maintenance needs for loading ramps. Our tires offer lubricated bearings and do not need to be refilled. Thus, Copperloy ramp tires are virtually maintenance free.
POSITIONING SLEEVE
Our aluminum loading ramps can rotate 180 degrees thanks to the positioning sleeve. A forklift simply has to slide the fork into the sleeve and reposition the ramp wherever necessary within the 180-degree limit. With the feature, you can decrease downtime substantially and increase overall productivity. The positioning sleeve is not designed for over the road or long-distance towing.
TOWBAR
Each Copperloy ramp includes a towbar for easy repositioning around your facility. The towbar connects to the end of the ramp and allows for towing at speeds up to 5-mph around your facility. This feature is not designed for towing long distances.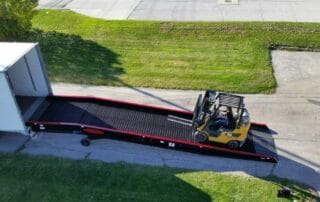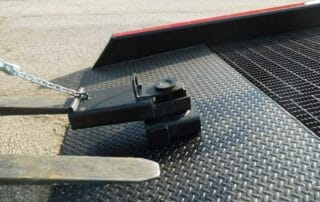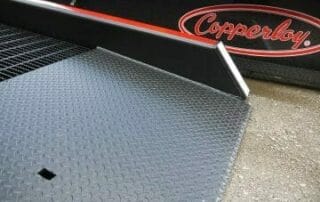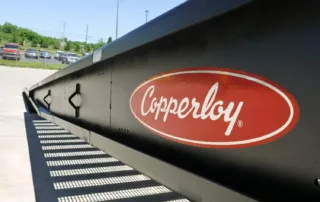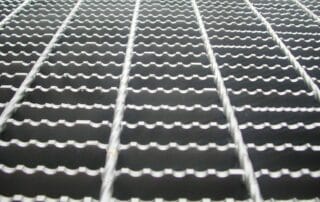 Maximizing Space | Aluminum Loading Ramps
Maximize your facility's loading space with Copperloy's aluminum loading ramps. You can create a loading dock anywhere in your facility quickly and easily. Attach the ramp to a dock or truck and send forklifts to begin loading and unloading. Our ramps have the unmatched capability to expand your dock capacity while maintaining high safety standards. Copperloy makes increasing efficiency safe, easy, and cost-effective.