Copperloy is your #1 choice for warehouse ramps made in the U.S.A. 
Dock To Ground Ramps / Yard Ramps
Copperloy manufacturers' heavy-duty warehouse ramps designed to improve the safety and productivity of all loading dock operations. Whether you need a permanent loading dock solution or a mobile one, Copperloy has the dock equipment to meet these requirements. 
For over sixty years Copperloy has been designing and manufacturing warehouse ramps proudly made in the United States. Our in-house engineering team continually strives to design and enhance our dock equipment to ensure safety and durability. 
Coppeloy offers two industry-leading material handling equipment options. For the warehouse that needs the freedom of mobility we offer yard ramps. For the warehouse that needs more of a permanent solution we offer ground-to-dock ramps. 
Dock-to-Ground Ramps | Permanent Warehouse Ramps 
Do the needs of your loading dock operations require vehicles to travel from ground level to dock level? If yes, you can rely on Copperloy's high-performance dock-to-ground ramps. Commonly used as a permanent or fixed solution for warehouse dock operations.
Additionally, they have the capability to relocate if needed for growth and/or downsizing of your location. These ramps are built tough and can handle just about any loading and unloading situation needed. 
Copperloy's dock-to-ground ramps offer capacities up to 30,000 lbs. And standard widths up to 118 inches. However, Copperloy dock-to-ground ramps can be customized to meet any facilities' specifications and requirements. 
Additional features include an all-weather open-faced steel grated dock. Therefore, creating a year-round high-traction surface; debris, snow, ice, and water will not build upon its surface.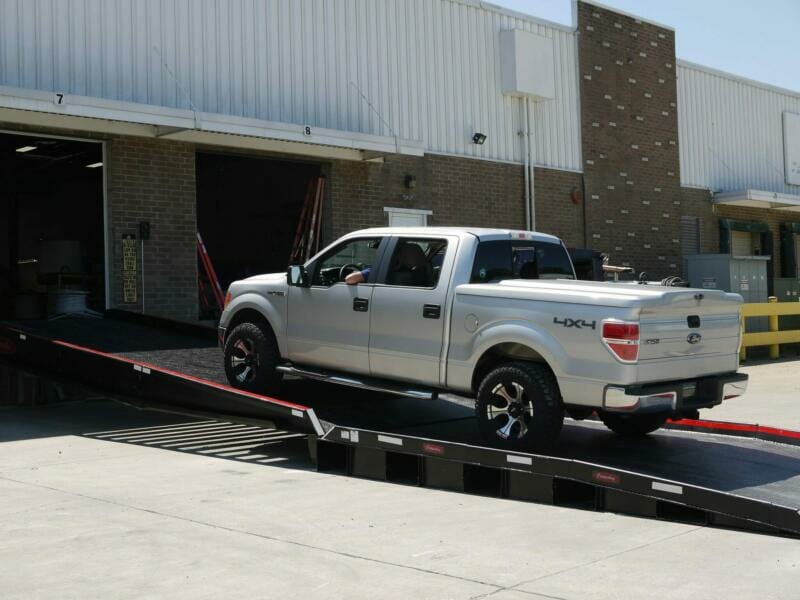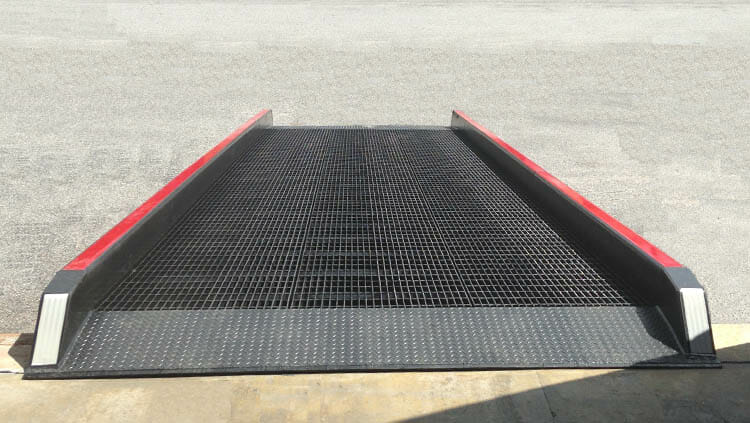 Warehouse Ramps – Dock-To-Ground Ramp Design
Open-faced, steel grating allows snow, water, and other debris to fall through. As a result, a high-traction running surface is available throughout varying weather conditions. Dock-to-ground ramps provide an innovative alternative to permanent concrete installations.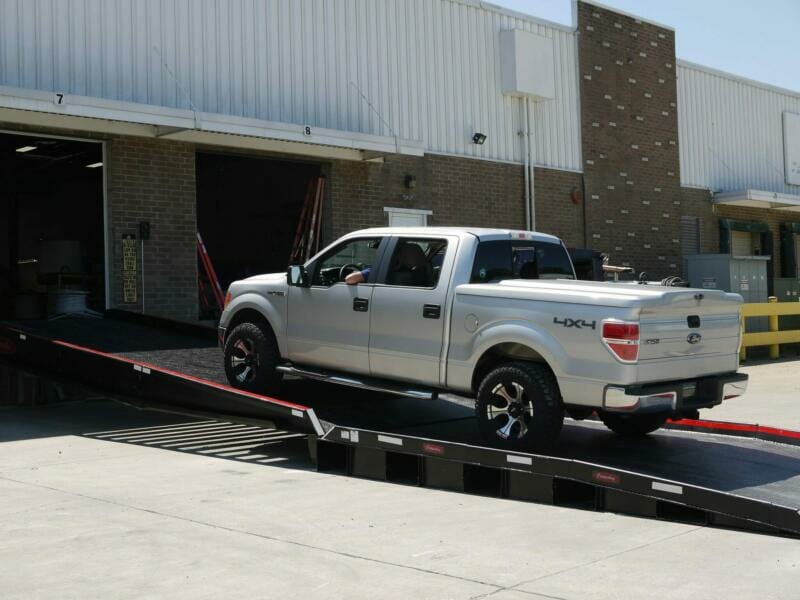 Warehouse Ramps – Dock-To-Ground Ramp Specifications
These warehouse dock ramps support a wide range of capacities. Additionally, upon request, custom sizes and specifications are available. For example, check out our custom two-piece, extra-long dock ramp! Copperloy created this ramp for a unique loading situation.
Widths: Standard widths up to 118″, custom available upon request!
Capacities: 16,000-30,000 lbs.
Yard Ramps | Mobile Warehouse Ramps 
Yard ramps allow for forklifts and lift trucks to load and unload to tractor-trailers, railcars, or buildings from ground-level. Does your loading dock operations depend on the location of the job? If yes, our yard ramp offers the quickest and most efficient solution to move from job to job. 
Additionally, Coperloy's loading dock ramps offer a cost-effective solution for facilities that do not currently have an existing dock. Skip the hassle of the tedious planning and construction of a permanent concrete dock. We maintain a large inventory of yard ramp models with next day shipping anywhere in the United States.
Our yard ramps offer capacities up to 30,000 lbs. and standard lengths up to 36 feet. They are durable, versatile, and require minimal maintenance. Designed to be set up quickly and efficiently, and can be stored just as easily. 
Expand your current loading dock capacities with a Copperloy portable warehouse ramp.  
Yard Ramps | Mobile Warehouse Ramps | FEATURES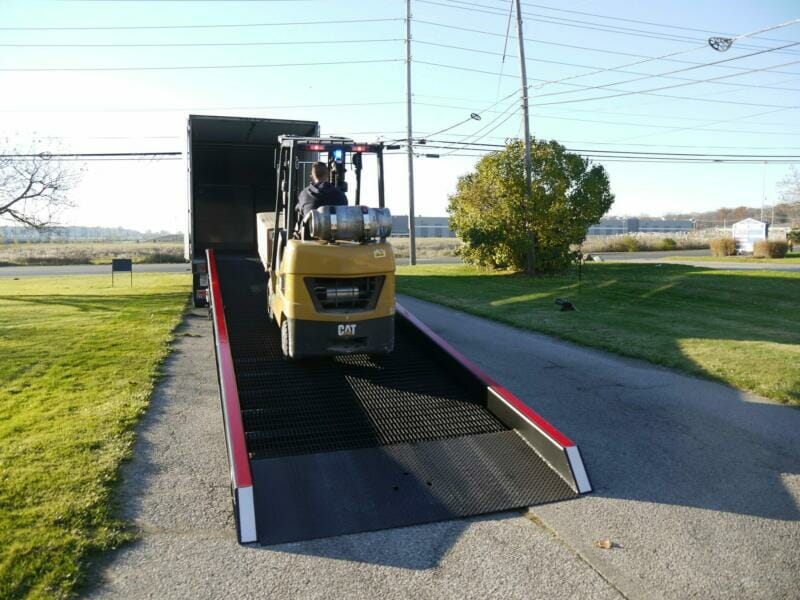 STEEL RAMPS
Lengths: Up to 36′
Heights: Range from 38″-65″
Width: 70″ or 84″
Capacity: 16,000-35,000 lbs.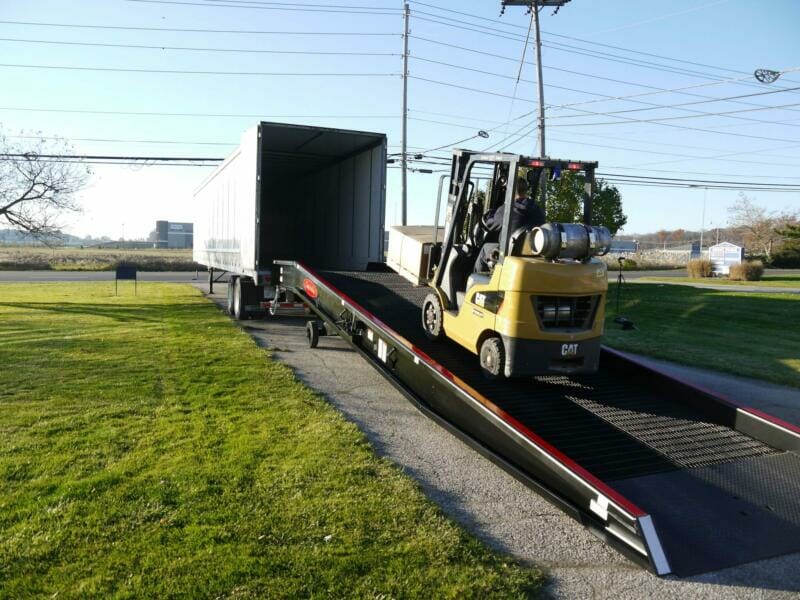 ALUMINUM GROUND-TO-TRUCK RAMPS
Lengths: Up to 36′
Heights: Range from 38″-65″
Width: 70″ or 84″
Capacity: 16,000-25,000 lbs.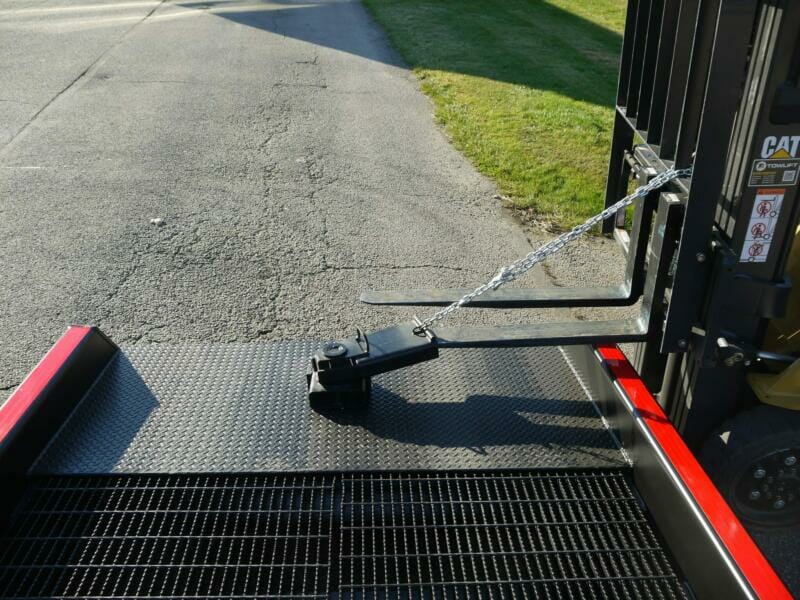 UNIVERSAL TRUCK RAMP FEATURES
7″ safety curbs
18″ solid, pneumatic tires
High-traction, steel grating
Redesigned hydraulic pump for quickest raise times and ease of use
Positioning sleeve for easy alignment
Standard 8′ level off, consult factory for a custom 10′ level off
15″ lip
Optional tow-bar for convenient towing around facilities