What Is A Portable Dock Plate?
Copperloy's portable dock plate can help solve one of the biggest challenges when loading or unloading a truck at the loading dock and you need a secured transition between your dock and trailer. They offer economical solutions for less demanding applications, bridging the open space of differing heights between the trailer floor and the docking platform.
The Copperloy dock plate is an economical, lightweight alternative to dock boards. Designed specifically for more lightweight applications and is an easy way to move your load. We recommended our portable dock plate for loading and unloading applications where non-powered material handling equipment is utilized.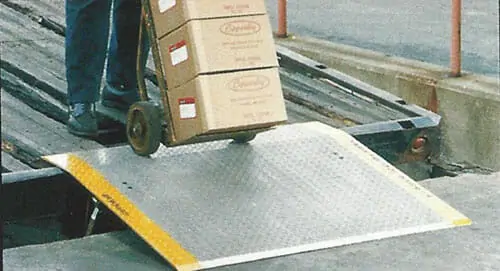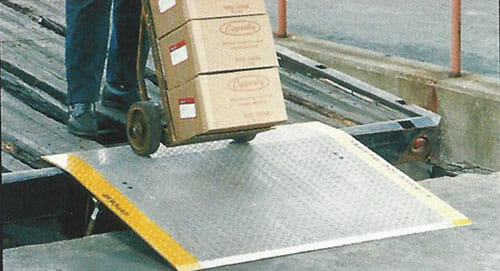 These plates are a flat piece of metal that includes a slight bend for an easy transition a flat piece of metal with a slight bend and are curbless which makes them ideal for irregular turns or loading dock situations with dollies, handcarts and pallet jacks.
Copperloy dock plates are available in aluminum or steel construction and are manufactured in a variety of different sizes and capacities. They come standard with an 11-inch lip, which is slightly bent to 11 degrees. Fourteen-inch lips are also available for refrigerated trailers.
Designed to handle capacities between 1,000-14,000 pounds. Additionally, though lightweight and easy to transport, the aluminum plates come standard with knuckle saving lift straps for added convenience.
If your business depends on using dollies or pallet jacks to move your loads from one place to another, then the dock plate is an essential and economical tool to own. Our in-house engineering team can customize special order configurations dock plates to meet any specification, size or requirements.
When it comes to lighter weight applications, Copperloy recommends employing a portable dock plate. All Copperloys products are manufactured proudly in the USA!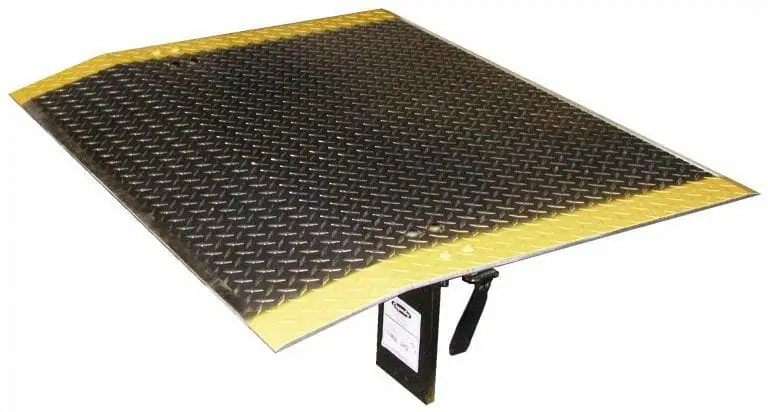 DOCK PLATES ARE NOT INTENDED FOR USE WITH POWERED EQUIPMENT
If your material handling requires the use of forklifts and fork trucks we recommend you explore Copperloy Dock Boards. Dock boards are designed to handle higher capacities and larger equipment. Additionally, these boards feature curbs to prevent runoff.
Much like dock plates, dock boards are available in steel and aluminum. Fill out the form along the side or give us a call to discuss your unique specifications!