Finding the Right Dock Plate for Your Facility
Make the Connection With a Durable Dock Plate / The Right Dock Plate for Your Space / Ensuring Efficiency in Your Space / Bridge the Gap With a Dock Board / About Copperloy
Unlike dock boards, dock plates do not have side curbs and are compatible with light-duty applications that involve hand trucks or pallet jacks. Copperloy dock plates can handle a wide range of height differences.
Durable industrial dock plates from Copperloy are available in both steel and aluminum models. Aluminum options include nylon lifting straps while steel models include one-piece lift chains.
Make the Connection With a Durable Dock Plate
Copperloy's dock plates and boards will help you efficiently bridge the gap between the freight bed or trailer and loading dock.  With a no-skid tread and a strength yield of 20,000 lbs. these dock ramps easily compensate for height differences between dock and truck bed.
If you and your team have been looking for a way to streamline light material handling tasks, then our dock plates may be just what you need. These pieces are useful for bridging gaps between a dock and trailer. Copperloy dock plates are useful across a diverse range of industries and applications. Count on Copperloy for reliable dock plates and other durable, American-made material handling solutions.
The Right Dock Plate for Your Space
In addition to our standard option, we offer dock plates in various widths and lengths to fit nearly any project goal. Connect with our team to find out more about specific options. Fill out the form on the side to take the next steps.
Aluminum Dock Plates
The aluminum model can handle loads up to 12,500 pounds. Copperloy's aluminum dock plates are ideal for traffic from lighter material handling equipment.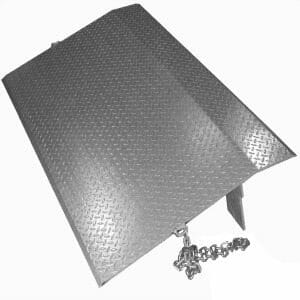 Steel Dock Plates
Have you and your team been looking for an installation to accommodate greater impact than that from pallet jacks and dollies? Steel dock plates from Copperloy offer higher weight capacities than aluminum pieces and can often accommodate traffic from fork trucks.
However, depending on activity levels in a space and other factors, an industrial dock board may be more effective in a facility than a dock plate. Connect with the Copperloy manufacturing team to find out which piece could be ideal for your goals.
Ensuring Efficiency in Your Space
Copperloy's heavy duty dock plates offer the durability and efficiency that alternative installations do not.
Overall, Copperloy heavy duty models streamline the heaviest of material handling tasks. Specifically, these dock plates have capacities that range between 1,000-14,000 lbs.
Bridge the Gap With a Dock Board
When you need an installation that can withstand significant forklift traffic, a Copperloy dock board can provide your ideal solution. Copperloy dock boards feature side curbs to prevent runoff. These pieces have high weight capacities that range from 10,000 to 20,000 lbs. Customers can choose from steel and aluminum models to fit nearly any project goal.
Connect with the team today to find out about material options, weight capacities and customization options.
About Copperloy
Have you and your team been planning a facility upgrade? Have you been looking for a way to maximize safety, efficiency and profitability in your workspace? If so, then Copperloy by JH Industries could provide the solution for your facility and goals. 
In fact, client companies from across a diverse range of industries have turned to the Copperloy team for freight handling solutions for more than five decades. To list, teams count on Copperloy for yard ramps, dock plate solutions, custom steel fabrication and design, dock boards, edge of dock levelers and more. 
The Copperloy by JH Industries team distinguishes itself by investing in the most current in both robotic and computer numerical control (CNC) technologies. Significantly, this commitment allows the company to produce material handling equipment of the highest quality. 
Customers also turn to the team for premier custom steel fabrication and design services. Specifically, the team from Copperloy can fabricate extruded aluminum, beryllium copper, stainless steel, specialty steels and more to fit the unique needs of any facility.
To streamline operations and ensure high-quality customization, the team keeps all burning, machining, painting and fabricating operations in one space. This allows for communication across departments and the highest value possible for the customer.
To list, just some of the team's past customizations have included rebar pallets, lift tables and dock to ground ramps. Are you and your team ready to begin the customization process? If so, then reach out to Copperloy today.
Whether you have been looking for heavy duty trailer loading ramps, a dock ramp, or a custom dock plate you can count on the team of manufacturers from Copperloy to help you upgrade your loading dock equipment. Depend on the Copperloy team for both new and used material handling equipment.
The dedicated team of manufacturing experts from Copperloy prioritizes safety, above all. Without a doubt, you can make your facility a safer place to work when you team up with Copperloy. Reach out to the team today to find out more and take the next steps.
Watch the dock equipment video below to learn more.
REQUEST A QUOTE
Interested in a product and want more info? Let us know below and we will reach out with more details. Consumer and dealer pricing available.
You may also be interested in these dock solutions
Dock Board Categories