Buy a Yard Ramp in Ohio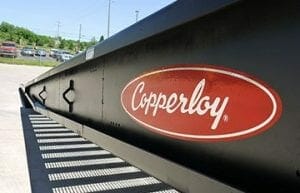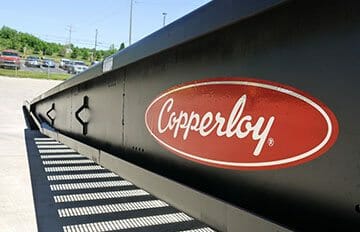 Copperloy's distribution network spans across the United States, with distributors located near you in Ohio. Copperloy has over 60 years of experience producing high quality, industry-leading loading dock equipment.
Manufactured in Twinsburg, OH, Copperloy's American-made products are put to use by many local businesses and facilities across the cities of Cleveland, Cincinnati, Columbus, Toledo, Akron, Youngstown and more.
Our lineup of Ohio loading dock equipment both a stationary and portable Ohio yard ramp, as well as dock boards and rail boards in a huge range of sizes and capacities, edge of dock levelers and just about anything you'd need for logistic or material handling applications of all kinds.
Increase Your Dock Capacity With Ramps In Ohio
Yard ramps in Ohio are a cost-effective and efficient way to increase your capacity while streamlining your supply chain. If you need help with freight handling, yard ramps in Ohio are one of the best ways to do so. Businesses across industries have daily and weekly shipments that need to be processed, and if you don't have a fast way to do so, you'll end up wasting valuable time. Having ramps in Ohio as part of your business provides you with the freight handling equipment you need to accommodate deliveries, and maximize your productivity.
If you still aren't totally sure about investing in yard ramps in Ohio, here some of the biggest benefits.
GET A QUOTE ON A PORTABLE STEEL YARD RAMP
Learn about the Capabilities of Copperloy Yard Ramps!
Why You Should Invest In Yard Ramps In Ohio
What are the benefits to Copperloy's yard ramps in Ohio? As mentioned, yard ramps significantly improve your loading capacity and streamline your operations. Specifically, when you shop Copperloy's ramps in Ohio, you'll benefit from easy operation. Our ramps are engineered with a pump location on the outside of the yard ramp, which allows for easier access. In addition, our yard ramps in Ohio allow for faster raise times, and are actually up to two and a half times faster than the average yard ramp.
Because we prioritize quality engineering, we also build our yard ramps in Ohio with stability in mind. The centrally located cylinder on the ramp keeps the ramp stable while it's being raised and lowered. This means less tipping, and a safer experience for your team. Our ramps are built with solid pneumatic tires that are great on rugged terrain, and won't have issues like punctures or air pressure problems.
When you choose Copperloy for yard ramps in Ohio, you'll have a wide range of options to choose from. We have varying sizes and capacities to accommodate businesses across industries. If you have specific questions about our ramp dimensions, get in touch with our team today.
What About Yard Ramp Rental In Ohio?
If you aren't ready to make the leap and purchase a yard ramp, Copperloy offers yard ramp rental in Ohio as a different option. Our yard ramp rental's are certified and deliver the same level of quality and performance as a brand-new yard ramp. Plus, the factory certification means that there's no risk involved when you opt for yard ramp rental in Ohio. You'll ensure employee safety while boosting overall productivity and improving your operations. Plus, if you utilize yard ramp rental in Ohio for a while, you may decide to make an informed purchase based on your experience.
Copperloy offers yard ramp rentals across the United States. Whether you need heavy-duty ramps, forklift ramps, mobile yard ramps, and more, we are the team for the job. Contact us today to learn more about our yard ramp rental in Ohio.