Yard Ramp in Kansas from Copperloy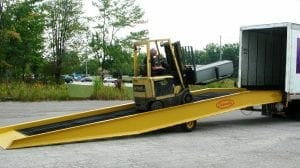 Copperloy is an industry leader for the absolute best, highest quality yard ramp and loading dock equipment in Kansas. Everything we produce is proudly made in the USA and we have more than 60 years of experience helping an array of businesses and facilities improve their operations. When you're ready to become more productive, profitable, efficient, capable, and safer, then it's time to choose Copperloy.
Find Kansas Loading Ramps for Sale
We have a nationwide network of distribution centers, so whether you're in Wichita or Topeka, Kansas City or Manhattan, you'll be able to take advantage of hassle-free, affordable shipping. With our rugged material handling equipment, you'll see that maintenance needs are minimal and that our dependable gear will hold up to the elements year-round. Whatever you can throw at us, our loading ramps are built to last.
For custom-made solutions, Copperloy's in-house engineering team will come up with something that perfectly matches your unique demands or challenges. We utilize the latest high-tech systems for design and manufacturing, always ready to help you step ahead.
Call Copperloy at 888-989-9164 and we'll be happy to answer your questions, provide you with more information, and help you get started with the best yard ramps– Copperloy's.