Finding The Right Cargo Van Loading Ramps
Copperloy is an industry leader in cargo van loading ramps and has a team of experts who can help you find what you need. Our ramps are built to last and have helped industries and organizations find the solution to their ramp needs for over 50 years.
We are experts in custom steel fabrication and can offer a wide range of cargo ramps, in addition to our dock boards and dock plates that can be used for cargo transportation. Our cargo ramps come in three special options: twin-lock loading amps, stage ramps, and aluminum van ramps.
We also offer the best in quality van ramps. Let's take a look at some of the benefits of a Copperloy van loading ramp.
CALL TODAY FOR QUOTE
Van Ramps For Your Facility Needs
Van loading ramps are used often by delivery drivers and professional movers. They are ideal for loading and unloading with hand trucks, dollies, and two-wheeled carts. Our van ramps are sturdy and reliable, which is why professionals trust us when they need van ramps.
In addition, Copperloy van ramps are extremely low maintenance. Our design minimizes cleaning and makes storage a breeze. That way, you won't have to interrupt a project to worry if the ramp is being properly maintained.
Copperloy's cargo van loading ramps are also a leader in safety. Curbs prevent runoff for dollies and carts to move safely so you don't have to worry. This is because our quality construction makes these ramps not only safe, but durable. Their lightweight nature makes them easy to transport and store.
For decades, Copperloy has produced only the best in cargo van loading ramps. You can trust our experts and our design to provide the best experience possible. That way, you can worry about getting the job done, and trust our ramps will remain sturdy throughout the process.
SAVE YOUR BUSINESS TIME AND MONEY. FIND OUT HOW COPPERLOY YARD RAMPS CAN GET YOUR DRIVERS BACK ON THE ROAD FASTER.
About Copperloy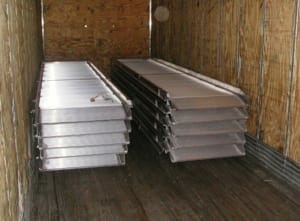 Copperloy is a leader in the development of loading dock ramps, dock boards, dock plates, van ramps, and other dock equipment. For more than 50 years we've worked to perfect our processes to give our customers a smooth experience. Our experience has allowed us to reach an unparalleled level of safety. You can trust our equipment will get the job done.
At Copperloy's facility, we maintain the most modern manufacturing equipment and robotic technologies. We utilize the latest in mechanical technology to continue building upon and improve our standards.
Copperloy also offers custom steel fabrication and design services. Our steel fabrication division has the ability to cut, burn, weld, machine, and paint large fabrications. Our experienced engineers and designers are eager to work with you on your CAD drawings and turn your vision into reality. We'll take a drawing and make it a working 3D model for custom steel fabrication.
We understand the necessity of collaboration, and it's why we work across departments to meet our customer's needs. Our engineering staff reviews all projects and works with our technical staff to make sure we meet even the most technical requirements. These high standards are why our customers have trusted us for decades to provide the best in American-made material handling solutions.
Whether it's a cargo van loading ramp, or dock board, or other dock equipment solution, you can trust Copperloy to provide you with a reliable, top-of-the-line product. Not only do our ramps improve productivity, but we also ensure safety, which is an immeasurable benefit. Let the Copperloy team help on your next project. You'll benefit from our expertise, detail-oriented approach, and commitment to customer satisfaction.
Call us today to get started and get a quote. Let us help you get the job done.
CALL TODAY FOR QUOTE