Cargo Ramps | Copperloy Dock Equipment
As the industry leader in custom steel fabrication, Copperloy has a wide selection of specialty, cargo ramps.  Additionally, dock boards and dock plates make for easy cargo transportation.
Specialty Cargo Ramps
Copperloy specialty cargo ramps consist of three varying products. First, a full line-up of split, twin-lock loading ramps. Second, an array of stage ramps for concerts and performances. Third, aluminum van ramps. Learn more about each of our specialty ramps!
TWIN LOCK RAMP | SPLIT RAMP
Copperloy twin lock ramps are innovative, versatile, and convenient. Made of aluminum, twin lock ramps are also known as split ramps. These light, but mighty ramps handle 6,000 lbs-7,500 lbs capacities. The fixed standard width is 19″ with a locked width of 38″. Check out standard lengths below!
10-foot: Built for heights from 20 to 28 inches
12-foot: Built for heights from 25 to 34 inches
14-foot: Built for heights from 29 to 40 inches
STAGE RAMPS
Copperloy's aluminum cargo ramps are the ideal ramp for concert and theatre events. Durable and safe, stage ramps offer quick and easy equipment loading and unloading. From lighting and sound equipment to speakers and instruments, efficiently prepare for shows and performances.
Production companies, concert halls, theaters, and stadiums have trusted in Copperloy for years! With over 60 years of experience, Copperloy proudly manufactures American-Made equipment. Rely on Copperloy for durable and versatile stage ramps other loading gear.
See the video below at the Rocksino using our ramps with their stages!
VAN RAMPS
Copperloy van ramps are built of high-strength metal and perform for years to come. Aluminum van ramps are heavy duty yet user-friendly. 3″ run-off curbs, a 12″ lip, and non-slip shark tooth decking provide safety for you and your team.
Our van cargo ramp supports capacities from 2,500 to 4,000 lbs. Widths range from 38″-44″. On the other hand, lengths span 6′-16′.
Van ramps are engineered for loading at a 15-degree angle to optimize safety and performance. Depending on the length, these ramps can work with heights as high as 48″. Browse standard models or ask us about custom specifications to find the model best for you!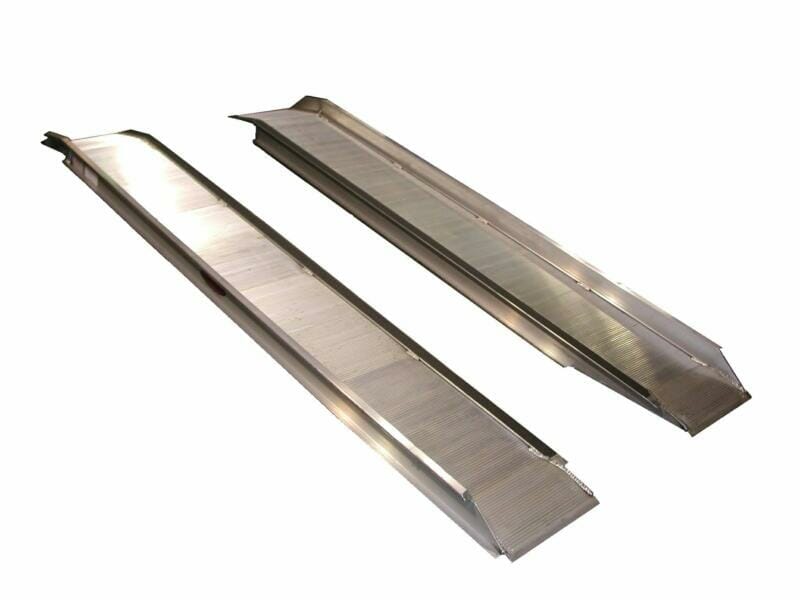 COPPERLOY'S STEEL YARD RAMPS ARE ENGINEERED TO ALLOW FORKLIFTS TO LOAD AND UNLOAD ANY TYPE OF CARGO QUICKLY AND SAFELY.
ADDITIONAL LOADING EQUIPMENT
DOCK BOARDS | CARGO RAMP EQUIPMENT
Dock boards can be customized to match any specification. Solve challenging applications or work with preexisting equipment and spaces. Copperloy offers aluminum and all steel boards. Furthermore, we custom manufacture dock boards to just about any dimension or capacity.
Steel Dock Boards With Welded Steel Curbs
Copperloy's steel dockboard handles the toughest of tasks. It's our most durable option! Steel dock boards feature a heavy steel treaded plate deck with fully welded steel curbs. The board supports either 15,000-lb. or 20,000-lb. gross capacities.
Capacities
15,000 lbs
20,000 lbs
Widths
Features
Locking legs: 10″, 14″, or 18″
5.5″ curbs to prevent accidental runoff
Fold-down loops for easy lifting and convenient storage
11″ or 14″ lip to prevent pulling
Optional lift chains can be added for ease of maneuverability
Aluminum Dock Boards with Welded Aluminum Curbs
Aluminum dock boards feature welded aluminum curbs for added strength. A tough tread-plate provides a lightweight, corrosion-free surface. Copperloy aluminum dock boards are tough, budget-friendly, and lightweight.
Capacities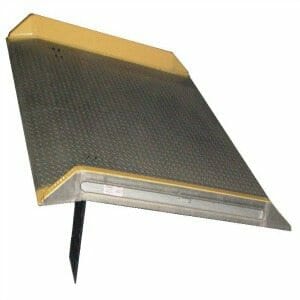 10,000 lbs
12,000 lbs
15,000 lbs
Widths
Lengths
Features
Locking legs: 9″ and 13″ options
4″ curbs to prevent accidents
11″ or 14″ lip to prevent pulling
Aluminum Dock Board with Bolt-on Steel Curbs
This dock board is the medium between Copperloy's all-steel and all-aluminum dock board. Featuring bolt-on steel curbs, this board combines lightweight with strength.
Capacities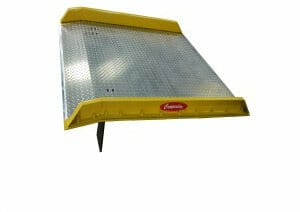 Widths
Lengths
Features
Structural, steel curbs bolted onto 6″ centers
11″ or 14″ safety lip
9″ or 13″ locking legs
4″ safety curbs
For a lighter, more cost-effective option, check out Copperloy dock plates! Dock plates support lower capacities for less-demanding loading tasks.