Four Reasons to Purchase a Steel Yard Ramp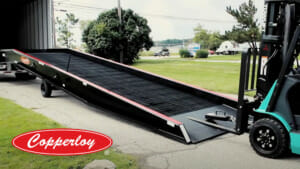 What is a yard ramp? Sometimes defining this piece of equipment is difficult merely because it can be called other things, including a mobile yard ramp or a yard dock ramp. In essence, though, a yard ramp is a movable metal ramp that helps with the loading and unloading of materials. This sounds like a fairly simple concept, but envisioning how a metal ramp can make your team more efficient and more safe might be a little more of a gap. Let us do what we do best and bridge the gap so you understand why a steel yard ramp should be your next investment.
Easy Operation
You get the benefit of an easy on, easy off ramp bridging your dock to the transport carrier with not much effort needed from your workforce. We manufacture our yard ramps with the pump on the outside of the yard ramp frame. Not only does this make it easily accessible, it also keeps your employees safer because they do not need to have any body parts close to the yard ramp in order to operate it.
Faster raise times
Our yard ramps can be vertically positioned two and a half times faster than the average ramp (see the pump and the vertical raising of the yard ramp in motion). The benefits of a faster raise time are obvious. With a faster raise time and, by consequence, a faster lowering time, loading and unloading can happen faster. The loading dock area becomes more efficient without sacrificing safety. In fact, efficiency and safety are increased in parallel.
Less Wear and Tear
Many yard ramps get into the proper position by rotating at the ramp connection. Over time, this can create a lot of wear and tear on the entire ramp mechanism. That's why at Copperloy we manufacture a positioning sleeve. The positioning sleeve is yet another feature of our steel yard ramps that will help you maintain the equipment longer while also increasing safety and efficiency at your loading dock.
Greater Stability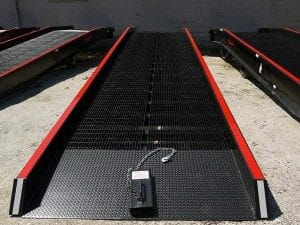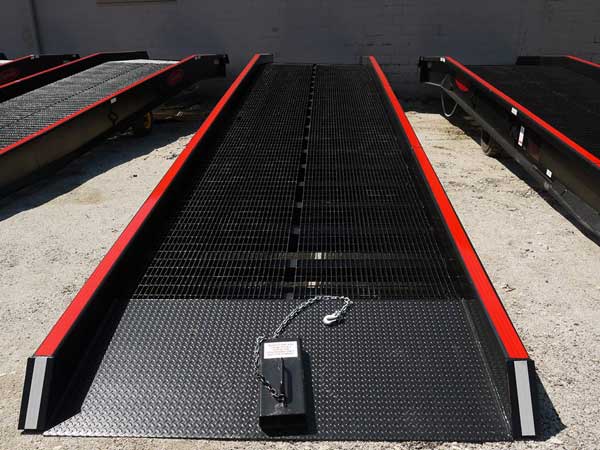 A fourth reason to invest in a steel yard ramp is the greater stability you benefit from specifically in our Copperloy steel yard ramps. Our yard ramps are manufactured with a centrally located cylinder, so as the ramp moves up and down, the center of gravity remains stable. This means less tipping, which, of course, translates to safer conditions and more efficient work from your employees.
There is no question that there are many more benefits a steel yard ramp will bring to your company. The high-quality and reliable steel yard ramps from Copperloy will make your workers feel safer, it will increase efficiency and effectiveness, and it will also prevent needing to spend money on new equipment on a constant basis.
Apart from the manufacturing quality you will benefit from, every Copperloy yard ramp comes with our over 50 years of experience, and you can feel secure knowing that our ramps are proudly made right there in the US.
Contact us today to learn more.