Why Dock Crews Trust Copperloy's Yard Ramps For Maximum Productivity
The Yard Ramp Features Every Dock Crew Needs
If your dock crew is looking for a yard ramp for your next job, Copperloy's yard ramp is the solution for you. There's a reason we are the #1 choice for dock crews, because we engineer our yard ramps to work fast, safely, and give you the greatest stability.
Our yard ramps are the best mobile solution for ground level access to buildings, trucks, or railcars. With a maximum capacity of up to 35,000 lbs, there's no job our yard ramps can't handle. But don't just take it from us. Let's take a look at some of the features of our yard ramps that will make your job easier, and show you why dock crews trust Copperloy for their yard ramp needs.
Easy To Position
One of the most important aspects of a yard ramp is how easy it is to position where you need it. When you're on the job, the last thing you want to deal with is wasted time spent adjusting your ramp. 
Copperloy's yard ramps are engineered with a hydraulic hand pump. This pump allows the operator to quickly adjust the ramp's height with ease. With each pump, the ramp raises ½" and raises 2.5 times faster than the standard yard ramp. When compared with caster wheel ramps, it raises 20 times faster. The time you would spend adjusting other ramps, you'll spend on getting your work done.
Our hydraulic hand pumps are easy to access outside the frame, which makes maintenance easy, and the handle is stored out of the way. We've also engineered this ramp with a single cylinder design, so the ramp raises evenly and requires less pumps to raise to your desired position.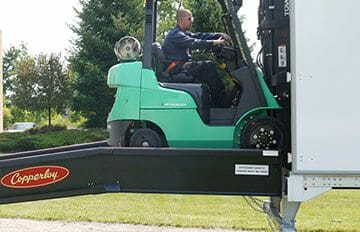 Unmatched Stability 
Yard ramp stability is a key aspect of safety in your job site. If you can't trust your yard ramp to stay in place, why even use it? Thankfully, we've taken extra care to ensure that Copperloy's yard ramps stay put when you need them to.
We have a position sleeve that is a standard on all of our steel yard ramps. This sleeve also for 180 degree motion when you need to maneuver tight spaces. It is an extremely durable means of position the yard ramp. We also have a 15" lip overlap, which is a deep overlap of the frame for secure connection. This comes with 8" long safety chinese and hooks for added stability. 
Our deck grating and curbs are also designed for stability. This electro-forged serrated steel grating provides superior traction, and the 7" curb will prevent any accidental vehicle runoff.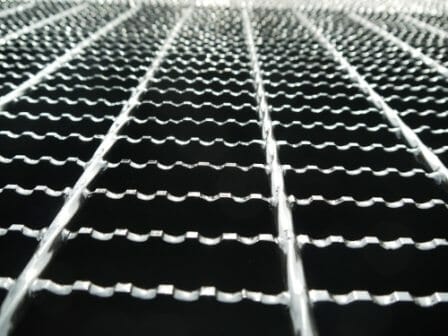 Easy Access and Low Maintenance
Thanks to our 8-foot level off section, you'll have easy access to trucks and loading docks. This also allows for more room to get to hard to reach loads on the back of a truck.
Copperloy's yard ramps come with solid pneumatic tires that are standard on all of our steel model ramps. These 18" tires are ideal for any application, and perform well on regular or bumpy services. The best part? They are completely maintenance free.
Choose Copperloy For Your Next Yard Ramp
If your dock crew is looking for your next yard ramp solution, the choice is clear. Copperloy has engineered a yard ramp that is American made, and ready to go on any job site. We are the #1 choice for mobile yard ramps, thanks to our features that allow for easy positioning, complete stability, and low maintenance. Spend more time getting the job done and less time worrying about your yard ramp.