Automate Your Workday with the Perfect Steel Yard Ramp Manufacturers
Copperloy Wants to Help you Get the Job done Safer and More Efficiently
Anytime you're loading and unloading on the job, you're walking the type wire of safety and speed. Copperloy has years of experience as steel yard ramp manufacturers, and we never compromise one for the other. Time and time again we leave our competitors in the dust with our heavy-duty steel yard ramps.
Copperloy by JH industries carries the perfect steel yard ramps for a more automated workday. Whether you're looking for faster raise times or more safety options for your employees, Copperloy has it covered as steel yard ramp manufacturers. Read on to see how we can automate your next project.
Industry Leading Lift Times | Steel Yard Ramp Manufacturers
Copperloy manufactures the preferred steel yard ramp of loading crews offering the fastest raise times and easiest operation of all the portable loading ramps available through our distribution network.  Our steel yard ramps allow you to create a portable loading dock anywhere and efficiently load/unload semi-trucks and shipping containers.
When you add one of our hydraulic lift extensions to your steel yard ramp, you can get to work even faster. You can easily convert Copperloy's yard ramps into hydraulic steel yard ramps with the addition of Copperloy's hydraulic power unit. Enhance loading dock productivity, efficiency, while also reducing stress and risk of injury for your employees.
If there isn't an existing dock ramp that checks all of your boxes, the experienced steel yard ramp manufacturers at Copperloy have the capability to customize the right one for you. Contact our sales team to get started on your next custom yard ramp project.
How The Steel Yard Ramp Manufacturers at Copperloy Streamline your Productivity
The steel yard ramp manufacturers at Copperloy offer a wide selection of yard ramp sizes and capacities to fit your unique requirements. New steel yard ramps, Used steel yard ramps, and steel yard ramp Rentals available anywhere in the US. No matter what your budget, Copperloy has the right ramp for you.
For more details on the available sizes of our steel yard ramps, specifications, and weight capacities, contact the Copperloy team.  The experienced steel yard ramp manufacturers at Copperloy can assist you in finding the perfect model for your facility and job requirements to improve productivity.
Can a Steel Yard Ramp be Your Only Docking Solution?
Having the ability to accept box truck or freight deliveries is crucial to the supply chain of many industries. Products including everything from new internal supplies to bulk material and even new equipment will normally be delivered by a semi or box truck. But, not every facility has the correct requirements to implement a permanent loading dock into its structure, and it's never an affordable option to move to a facility that already has a suitable loading dock in place.
Yard ramps produced by the steel yard ramp manufacturers at Copperloy serve as either a permanent or temporary supplement to businesses whose facilities don't have permanent means of loading and unloading freight. These quality steel yard ramps are able to be easily re-positioned so that as long as the delivery driver can fit in your lot, you can easily access the freight bed.
If you were interested in modifying your supply chain in order to give your business the ability to receive freight shipments on the regular, the experienced steel yard ramp manufacturers at Copperloy can offer than solution. It's no wonder we're the #1 choice for mobile yard ramps, thanks to our features that allow for easy positioning, complete stability, and low maintenance. Automate and speed up deliveries with a Copperloy steel yard ramp today!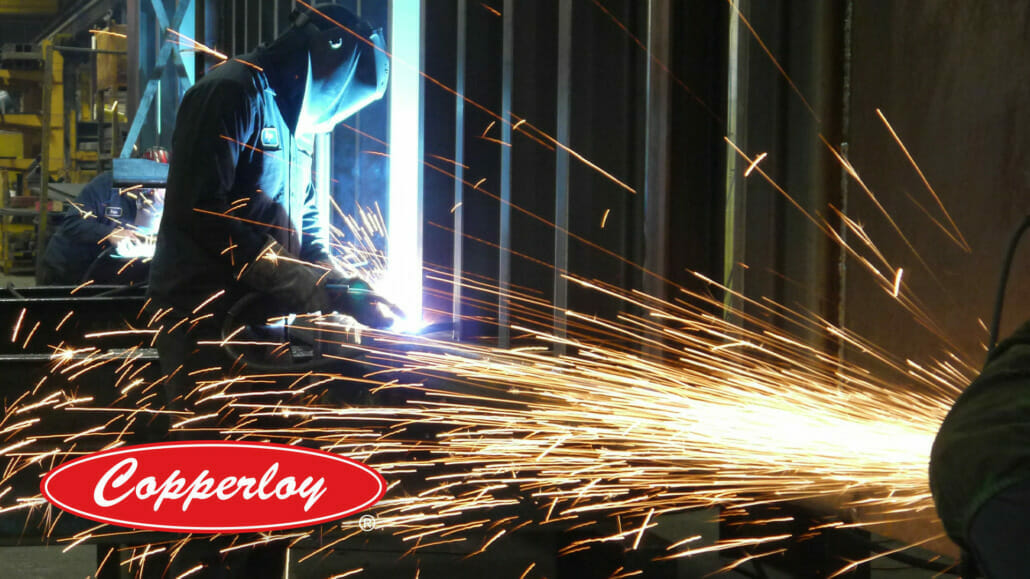 The Ultimate Steel Yard Ramps from Copperloy
Our steel yard ramps are produced to maximize space, automate productivity, and safety in any work place. Our commitment to quality has earned us the title of America's favorite yard ramp. Made in the USA in Twinsburg, Ohio, our one-cylinder ramp design is more stable and uses less pressure to lift any yard ramp compared to traditional yard ramps with two-cylinder hydraulic systems.
Our enhanced design features and benefits deliver:
Easier Operation – The pump location on the outside of the steel  forklift ramp frame allows for easier access.
The Fasted Raise Times – Vertically position the ramp up to two and a half times faster than the competitor's steel yard ramp.
Less Prone to Wear and Tear – Rotation occurs on the redesigned positioning sleeve instead of the ramp connection, reducing wear on the ramp structure.
Greater Stability and Durability – The centrally located single cylinder keeps the steel dock ramp more stable while raising and lowering which means less chance of tipping.
Solid-filled Pneumatic Tires – Better for handling rugged terrain and also reducing the chances of punctures or air pressure problems.
Features Produced by the Steel Yard Ramp Manufactures at Copperloy
Capacities of 20,000 – 30,000 lbs.
Widths ranging from 66″ to 84″
Projections of 12" and 14"
Copperloy has the widest selection of yard ramp sizes and capacities to fit your facilities requirements, anywhere in the US. The team of steel yard ramp manufacturers at Copperloy can easily assist you when it comes to finding the perfect model for your facility and application.
Ready to Place an Order with America's Favorite Steel Yard Ramp Manufacturers?
There's only one name you need to know when it's time to automate your loading and unloading processes. Copperloy manufactures the industries most efficient and safest steel yard ramps on the market.
From dock-to-ground solutions, to steel mobile yard ramps, Copperloy designs and manufactures countless steel yard ramps. As a leader in custom steel fabrication, no one can beat our reputation for high-quality, performance dock equipment.