Spring Into Increased Productivity With a Box Truck Ramp From Copperloy
Improve Your Operations this Spring with a Box Truck Ramp
With spring weather finally approaching, it's time to consider if your facility is fully optimized. A box truck ramp is a piece of loading equipment that allows you to seamlessly load and unload cargo while offering easily adjustable features when needed. 
If your facility processes heavy equipment and loads, then heavy duty ramps are the solution for you. At Copperloy, our box truck ramp is engineered for safety and stability so employees can feel secure knowing that processing will run smoothly. Before you look to purchase heavy duty ramps for your operations, let's take a look at some key features that will ensure shipping is as easy as possible.
Safety Features for a Box Truck Ramp
Safety is paramount at any shipping and handling facility. The COVID-19 pandemic has added additional stress to many warehouse operations as companies have faced product shortages, shipping delays, and inflation. With more work to do than ever, it's important to keep employee safety at the forefront of your operations.
The Copperloy box truck ramp comes with a centrally located cylinder that alters the center of gravity and thus reducing the chances of tipping. In addition, these heavy duty ramps have a 15" lip and safety chains that create a secure attachment to the loading platform. The ramp also has steel grating as the loading surface, which means that no matter what weather conditions you experience this spring, you won't need to worry about slipping or accidental runoffs. The box truck ramp also comes equipped with an 8 foot level off that allows forklifts to access cargo easily.
Mobility and Adjustment
No two facilities are the same, which is why it's important to have a box truck ramp that's easy to adjust. Our ramps come with a tow bar that makes it easy to move them across your warehouse or space. These heavy duty ramps also have positioning sleeves that easily adjust the loading platform to reach the bed of the truck or trailer.
When it comes to maintenance of a box truck ramp, we ensure this is an easy process. The tires on our ramps are 18" solid-filled pneumatic tires, which means you won't need to worry about punctures or air pressure.
Longevity of Heavy Duty Ramps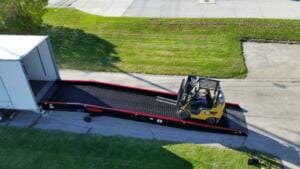 When you purchase heavy duty ramps, you want them to last. That's why our box truck ramp is engineered with a single hydraulic system. The result? Raise times that are two times faster than the average heavy duty ramp and that are easy to maintain. We also build our ramps so that the positioning sleeve is easy to locate and place, which means that the rotation won't occur at the ramp connection. This reduces heavy sleeve wear and tear typically seen on a box truck ramp. When you purchase ramps from Copperloy, you can trust that they will last for years.
Optimize Your Facility Today
Heavy duty ramps are a great way to improve operations this spring and keep business moving quickly. Once you add a box truck ramp to your facility, you can trust that this equipment will perform optimally for years to come. Plus, your employees will remain safe and secure thanks to our built in features.
Don't wait. Optimize your shipping and handling today with a box truck ramp from Copperloy.