Specialty Ramps
Copperloy's lineup of high-strength aluminum yard ramps is ideal for heavy equipment, such as sound equipment, furniture or electronics. Our ramps can handle nearly any unique need, and are available in a variety of sizes, styles and capacities. Designed for dollies and carts, the aluminum and steel yard ramps that Copperloy offers for sale feature shark-tooth decking for a safe, non-slip surface. Our aluminum and steel ramps can also be custom-made, with lengths available to 16 feet and capacities to 4,000 lbs. (U.S. Patent #200688.) No matter where you're going or what your loading, let the high-quality aluminum yard ramps from Copperloy help you get the job done more effectively.
Why should I choose an aluminum ramp?
If you're moving heavy equipment, such as sound equipment, furniture or electronics, aluminum ramps provide the durability and flexibility you need to handle items of all weights and sizes. Our specialty ramps feature shark-tooth, non-slip decking and can be custom made.
What Types Of Aluminum Ramps Do You Have Available?
We offer:
Stage/Van Ramps – Easily load and unload sound equipment for concerts and theaters.
Twin Lock Ramps – Space ramps farther apart or lock them together depending on truck size and application.
Walkboard Ramps – Durable aluminum ramps for a variety of moving applications.
Watch the specialty ramps video below to learn more.
FEATURES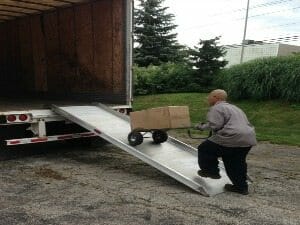 Van Ramps
Van ramps are manufactured in 2,500 to 4,000 lb. capacities, with overall widths of 38″ and 44″ and lengths from 6′ to 16′. Van ramps can service heights up to 48″ (Depending on length).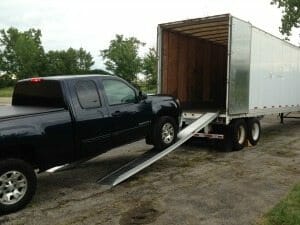 Twin-Lock Ramps
Spaced for auto loading, or locked together for manual loading, twin-lock loading ramps provide a safe and convenient way for handling heavy loads. All-aluminum construction resists weathering and provides dual service applications. Available in 6,000 and 7,500-lb. capacities per pair with overall locked widths up to 84″. Split ramps are perfect for loading:
An automobile onto a truck
A motorcycle or four-wheeler onto a flatbed truck
Heavy theater or audio equipment
Split loading ramps are available in 6,000 and 7,500-lb. capacities per pair with overall locked widths up to 38″.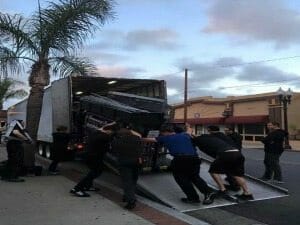 Stage Ramps
Stage ramps offer a versatile and convenient solution for usage in the concert and theatre industry. Quickly load and unload heavy equipment, sound and electrical gear, speakers and more. Make setup a breeze and cut down on the stress, time and physical labor of setting up for shows and performances.
Additional Videos
View our specialty ramps videos here and visit us on YouTube for more of our videos!
If you represent the high-demand trucking industry, it means that you're tough enough to travel far and wide, but you're precise enough to load and deliver valuable material. You also know that you are more successful when you can streamline your loading and unloading process to get every job done fast.
Depending on the job, you might need to handle lots of heavy-duty material quickly, and the quicker you work, the more jobs you finish, and ultimately the better your productivity. Keep reading to learn why more workers in the trucking industry trust Copperloy for an edge of dock leveler that takes their work to the next level.
Mechanical Vs. Hydraulic Edge of Dock Leveler
Truckers can create a dock anywhere with one of our yard ramps or improve dock efficiency with our edge of dock levelers. Copperloy's mechanical edge of dock levelers provide a safe, efficient method to load/unload equipment and access the content of their work vehicles.
With 12 different models available, mechanical loading dock levelers from Copperloy can support 20,000 lb. or 30,000 lb. capacities; 12″ or 14″ projections; and 66″, 72″, 78″ and 84″ widths. Of course, we also provide custom options, so if you're unsure if there's a perfect match, we'll provide you with a tailor-made product to get the job done.

You can easily convert Copperloy's edge of docks into hydraulic edge of dock levelers with the addition of our hydraulic power unit. Enhance loading dock productivity, efficiency, while also reducing stress and the risk of injury for employees. Made of high-quality, heavy-duty materials, our hydraulic edge of dock leveler requires minimal maintenance while also offering quick and easy operation.
The hydraulic pump on Copperloy's edge of dock allows them to rise to the desired height in 11 seconds, which is impressive considering the industry average is 31 seconds, and some of our competitors can take up to 2 minutes. Working with a hydraulic edge of dock leveler is the easiest way to streamline your productivity and create a safer working environment.
Do I Have to Buy a New Edge of Dock Leveler?
Whether you are looking to buy new or used edge of dock levelers for your loading dock facility, you'll find the right product from Copperloy. A used edge of a dock leveler from  Copperloy provides you with the quality you expect at a price you can't find anywhere else.
All used edge of dock levelers and loading dock equipment are both factory-certified and guaranteed to Copperloy's standards. There's no question about it, you can trust in the quality of our products and our 60 years of experience proudly producing American-made loading dock equipment.
I Don't Need an Edge of Dock Leveler Every Time | What About Renting?
If owning one of our edge of dock levers isn't right for your business operations, you can still rent the best loading dock equipment in the industry for short-term jobs. Consider our rental program if you don't need an edge of dock leveler all the time.
Edge of dock leveler rentals from Copperloy is the perfect option for 1-day jobs that require more material handling without a long-term commitment. Plus, any time you rent from Copperloy, you're always covered with our factory-certified products from our entire lineup of high-quality, durable ramps, lifts, or edge of dock levelers for loading docks and material handling facilities of all kinds.
What About Replacement Parts for my Edge of Dock Leveler?
We always make sure to carry all the necessary parts and accessories for our inventory loading dock equipment. When you purchase steel edge of dock levelers from us, we want to stand by our name so you can trust our products for years.
Some spare parts you can order include parts for our EODs like lower pin brackets, bushings, bumpers, pins, and more. The Copperloy edge of dock is always reliable but does have a few parts that can sometimes need changing, so make sure you contact one of our specialists to take extra special care of your edge of dock leveler.
Where Can I Find Copperloy's Reliable Edge of Dock Leveler?
Whether your trucking business is located in rural Texas or near a big city like Los Angeles, California, Copperloy has dealers throughout the United States that can help you find the edge of dock leveler you need to improve your productivity in the trucking industry. You always have quick and convenient access to yard ramps, portable loading docks, dock boards, and other custom-fabricated material handling equipment through our national distribution network.
For the incredible workers in the trucking industry, no matter what your specific needs and challenges are, Copperloy is here to help you get the job done as quickly, efficiently, and effectively as possible. Everything Copperloy produces is always proudly made in the USA, and we have experience working across dozens of different industries.
Ready to Get your Edge of Dock Leveler From Copperloy?
Finding the right edge of dock leveler is easy with our large selection of yard ramps, dock boards, dock plates, and more. Just select the product category you're interested in and view our many safe and durable options in loading dock equipment. From edge of dock levelers, to lifts, to yard ramps to accessories like wheel chocks, we have it all.
In addition to our standard products like portable ramps, dock boards, and more, we are equipped to also design and customize any of our loading dock equipment. These include custom lifts, portable yard ramps and truck ramps, dock boards, dock plates, and loading dock equipment held to a higher standard than other brands in the industry.
Learn more about the industries we serve and find out if we can help you with your application. Contact us for more information about our services and equipment today!
/
by advandesign
Three "Must Have" Features in an Edge of Dock Leveler
If you're in need of an edge of dock leveler for your next project, you need a solution that you can rely on. Regardless of your job site and weight requirements, Copperloy has a range of edge of dock options for you. Our edge of docks are trusted by industries everywhere for consistent performance and safety.
If you've never purchased an edge of dock before, or if you're just looking for more information about this product, we've got you covered. Here are just a few examples of features in an edge of dock leveler that you'll want to look out for when you're looking to buy this product.
#1: Easy and Safe Installation
Copperloy's edge of dock leveler is easy to install and is built for safety. The most important step is that the installer reviews the edge-of-dock manual and follows all precautions. The first step is to assess the dock area and ensure it's ready for installation, and make any necessary repairs. Make sure all anchors have a minimum strength in shear of 10,000 lbs force, and a minimum of 6,000 lb pullout strength in uncracked concrete. As always, the dock leveler has to be in compliance with local codes.
If you need help with the installation of your edge of dock, a Copperloy team member is here to help. We also have videos throughout our website that give a comprehensive overview of our products.
#2: Safety and Durability
You need an edge of dock that is safe and reliable, especially if your job requires a high capacity edge of dock. Copperloy's edge of docks are all built with a safety maintenance strut to secure the unit while you are performing maintenance. 
Every edge of dock leveler is also created with a three-dimensional engineering software package, which helps ensure durability. When it comes to proper positioning, we have an exclusive lift mechanism and spring assembly that sets the dock board in place. This requires just one-quarter of the effort that's needed to operate conventional edge of dock levelers. Not only are these edge of docks durable, but they're built to maximize efficiency, you can get the job done as quickly as possible.
#3: Customization Options
Having a manufacturer who can customize your edge of dock leveler opens up the possibilities for the product. Copperloy is proud to offer customizable options on our edge of docks, and sell docks that come in different sizes and capacities. We can even take a standard edge of dock and convert it to a hydraulic dock in a few quick steps. 
Copperloy's edge of docks come in 66", 72", 78", and 84" widths, and our shipping dock leveler is capable of servicing trucks 5" above or below dock levels. The shipping dock is available in 20,000 lb or 30,000 lb capacities. You can find out more about our edge of dock measurements and customizations on our website, or by giving us a call.
Choose Copperloy for Your Edge of Dock Leveler
When you need an edge of dock leveler, you can count on Copperloy to provide the best solution. Copperloy's edge of dock levelers are safe and low maintenance, and have capacities up to 30,000 lbs. 
Copperloy has options for dock levelers, including our mechanical dock and our hydraulic dock. Our mechanical dock leveler is a standard model that can be customized to fit your specifications. Our hydraulic dock leveler has a hydraulic power unit that allows for quick and easy operation. As always, our edge of dock levelers are made with quality materials that can withstand any job site.
Learn more about Copperloy's edge of dock levelers or contact us today to learn more about what makes our product the leading solution.
/
by advandesign
The Yard Ramp Features Every Dock Crew Needs
If your dock crew is looking for a yard ramp for your next job, Copperloy's yard ramp is the solution for you. There's a reason we are the #1 choice for dock crews, because we engineer our yard ramps to work fast, safely, and give you the greatest stability.
Our yard ramps are the best mobile solution for ground level access to buildings, trucks, or railcars. With a maximum capacity of up to 35,000 lbs, there's no job our yard ramps can't handle. But don't just take it from us. Let's take a look at some of the features of our yard ramps that will make your job easier, and show you why dock crews trust Copperloy for their yard ramp needs.
Easy To Position
One of the most important aspects of a yard ramp is how easy it is to position where you need it. When you're on the job, the last thing you want to deal with is wasted time spent adjusting your ramp. 
Copperloy's yard ramps are engineered with a hydraulic hand pump. This pump allows the operator to quickly adjust the ramp's height with ease. With each pump, the ramp raises ½" and raises 2.5 times faster than the standard yard ramp. When compared with caster wheel ramps, it raises 20 times faster. The time you would spend adjusting other ramps, you'll spend on getting your work done.
Our hydraulic hand pumps are easy to access outside the frame, which makes maintenance easy, and the handle is stored out of the way. We've also engineered this ramp with a single cylinder design, so the ramp raises evenly and requires less pumps to raise to your desired position.
Unmatched Stability 
Yard ramp stability is a key aspect of safety in your job site. If you can't trust your yard ramp to stay in place, why even use it? Thankfully, we've taken extra care to ensure that Copperloy's yard ramps stay put when you need them to.
We have a position sleeve that is a standard on all of our steel yard ramps. This sleeve also for 180 degree motion when you need to maneuver tight spaces. It is an extremely durable means of position the yard ramp. We also have a 15" lip overlap, which is a deep overlap of the frame for secure connection. This comes with 8" long safety chinese and hooks for added stability. 
Our deck grating and curbs are also designed for stability. This electro-forged serrated steel grating provides superior traction, and the 7" curb will prevent any accidental vehicle runoff.
Easy Access and Low Maintenance
Thanks to our 8-foot level off section, you'll have easy access to trucks and loading docks. This also allows for more room to get to hard to reach loads on the back of a truck.
Copperloy's yard ramps come with solid pneumatic tires that are standard on all of our steel model ramps. These 18" tires are ideal for any application, and perform well on regular or bumpy services. The best part? They are completely maintenance free.
Choose Copperloy For Your Next Yard Ramp
If your dock crew is looking for your next yard ramp solution, the choice is clear. Copperloy has engineered a yard ramp that is American made, and ready to go on any job site. We are the #1 choice for mobile yard ramps, thanks to our features that allow for easy positioning, complete stability, and low maintenance. Spend more time getting the job done and less time worrying about your yard ramp.
/
by advandesign
REQUEST A QUOTE
Interested in a product and want more info? Let us know below and we will reach out with more details. Consumer and dealer pricing available.
You may also be interested in these ramp solutions
Specialty Ramps Categories