Specialty Ramps
Copperloy's lineup of high-strength aluminum yard ramps is ideal for heavy equipment, such as sound equipment, furniture or electronics. Our ramps can handle nearly any unique need, and are available in a variety of sizes, styles and capacities. Designed for dollies and carts, the aluminum and steel yard ramps that Copperloy offers for sale feature shark-tooth decking for a safe, non-slip surface. Our aluminum and steel ramps can also be custom-made, with lengths available to 16 feet and capacities to 4,000 lbs. (U.S. Patent #200688.) No matter where you're going or what your loading, let the high-quality aluminum yard ramps from Copperloy help you get the job done more effectively.
Why should I choose an aluminum ramp?
If you're moving heavy equipment, such as sound equipment, furniture or electronics, aluminum ramps provide the durability and flexibility you need to handle items of all weights and sizes. Our specialty ramps feature shark-tooth, non-slip decking and can be custom made.
What Types Of Aluminum Ramps Do You Have Available?
We offer:
Stage/Van Ramps – Easily load and unload sound equipment for concerts and theaters.
Twin Lock Ramps – Space ramps farther apart or lock them together depending on truck size and application.
Walkboard Ramps – Durable aluminum ramps for a variety of moving applications.
Watch the specialty ramps video below to learn more.
FEATURES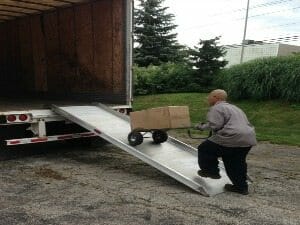 Van Ramps
Van ramps are manufactured in 2,500 to 4,000 lb. capacities, with overall widths of 38″ and 44″ and lengths from 6′ to 16′. Van ramps can service heights up to 48″ (Depending on length).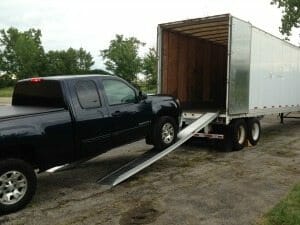 Twin-Lock Ramps
Spaced for auto loading, or locked together for manual loading, twin-lock loading ramps provide a safe and convenient way for handling heavy loads. All-aluminum construction resists weathering and provides dual service applications. Available in 6,000 and 7,500-lb. capacities per pair with overall locked widths up to 84″. Split ramps are perfect for loading:
An automobile onto a truck
A motorcycle or four-wheeler onto a flatbed truck
Heavy theater or audio equipment
Split loading ramps are available in 6,000 and 7,500-lb. capacities per pair with overall locked widths up to 38″.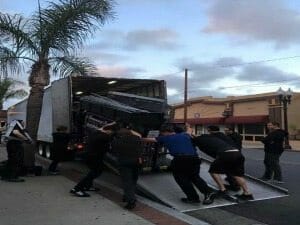 Stage Ramps
Stage ramps offer a versatile and convenient solution for usage in the concert and theatre industry. Quickly load and unload heavy equipment, sound and electrical gear, speakers and more. Make setup a breeze and cut down on the stress, time and physical labor of setting up for shows and performances.
Additional Videos
View our specialty ramps videos here and visit us on YouTube for more of our videos!
For any loading dock or material handling facility, flexibility and efficiency are both key. That's where a heavy duty mobile yard ramp comes into play. Even by adding just one mobile ramp to your operation, you'll be able to greatly increase your capabilities, increase your overall productivity, and more.
One of the main benefits of a mobile yard ramp is that it is indeed mobile. You don't need any permanent installations, and to begin with, this saves you money.
Additionally, you'll also be receiving a piece of equipment which will be providing you with a more agile and versatile operation. When you need extra capacity, you can quickly and easily bring the forklift ramp into action. When you need to make room for other equipment or gear, you can change the position or angle of the portable forklift ramp, and when you need more open space or room to maneuver within your facility, the ramp can be moved out of the way.
Watch how our portable yard ramps work in this video:

Of course, as opposed to permanent ramp installations, a mobile
yard ramps
is also adjustable to work with a range of different equipment and scenarios. Height can be quickly changed from 37 inches up to 65 inches, providing you with the added versatility you crave, and ensuring you always have the right equipment to get the job done.
Heavy duty portable truck ramps can also hold up to heavy duty demands. With capacities starting at 16,000 lbs and continuing all the way up to 30,000 lbs, you can always rest easy and feel confident in the durability and dependability of your yard ramp.
A high-quality mobile yard ramp provides all of the added features and components that you've been seeking. Side curbs provide for safe conditions and loading and unloading, and additional safety measures are provided with features such as safety chains, and steel grating. The included 8′ level-off of the ramp ensures easy operation, and with a positioning sleeve, hydraulic pump, and pneumatic tires, operation is simple and hassle-free.
Ultimately, material handling and loading docks are about efficiency. When you want to do more with less, maximize your usage of space and personnel, and improve both safety and productivity at the same time, a heavy duty mobile yard ramps is what you need. With features such as the ones listed above, you can be confident that you're making the correct decision. It's a smart investment which will continue to pay dividends for facilities of all varieties.
/
by advandesign
Railboards for forklifts with unique safety requirements
At Copperloy, we pride ourselves not only on the quality, durability, versatility and craftsmanship of all of our products and loading dock equipment, but also on our ability to design custom products to meet the unique needs, circumstances and specifications of our customers and clients.
When ALCOA needed a new railboard built for their unique needs, we were excited to assist them with solving their challenge.
Like many companies who depend upon railboards and the constant loading and unloading of supplies, equipment and products from railcars, ALCOA had difficulty finding appropriately sized equipment. The railboard they were using was 100″ wide. However, the opening of their railcars was 148″.
This left a 4-foot gap in width which created a huge safety concern–there would be nothing stopping a forklift from accidentally or mistakenly drifting farther forward, and potentially falling into the gap between the platform and the railcar itself.
Luckily, Copperloy's in-house engineering and custom fabrication team was able to come up with a fresh solution to the problem. We added "wings" to the car end of the railboard which extended its overall width to 202″, more than double the original.
With the wing extensions on either side, once they came into contact with the side of the rail car, they would prevent the forklift from traveling any further and creating that dangerous situation described above. It was also important to ensure proper smooth operation of the railboard itself. The wings accomplished this by allowing the lip of the 100″ board itself to project 9″ safely into the railcar.
Problem solved and mission accomplished. Meeting your unique needs, solving your problems, and increasing your productivity, overall capabilities, and your safety, are what we're all about.
Our ability to create custom material handling equipment like this railboard for ALCOA is one of the many differentiating factors between Copperloy and the competition. With more than 60 years of experience, and with everything proudly designed and made in the USA, Copperloy is the leader for material handling and loading dock equipment with good reason.
Feel free to call our team directly at 800-321-4968 to find out more about how Copperloy can solve your difficult loading dock and material handling challenges.

/
by advandesign
Copperloy participating at Terminal Properties Exchange (TPE) 2013
Copperloy is happy to announce that we will be attending the upcoming TPE in Captiva, Florida. The Terminal Properties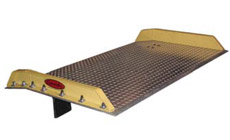 Exchange will be taking place this year from May 12-15, and is one of the largest annual events of its kind for the freight industry. As a leading provider of material handling and loading dock equipment to the industry, we will be showcasing a variety of our versatile and innovative solutions at the TPE.
We have been serving the logistics and freight industries for more than 60 years, providing a wide range of products and solutions. Everything we produce is proudly made in the USA, and with an expert in-house team of engineers, we can custom design and manufacture tailor-made solutions for companies with varying needs and unique or hard to match specifications and circumstances.
With the US economy being so reliant on the logistics and freight industries, just about anything which is purchased across the country spent some time on a truck, and that means that a Copperloy product helped along the way. Through our decades of experience, we understand the challenges of the freight industry. This firsthand knowledge is one of the many reasons that leading freight carriers and brands continue to work exclusively with us.
Of course, anyone who has been in this or similar fields before knows that one of the major hassles of logistics and freight are the inconsistent measurements and specifications of different trucks and other gear and equipment, and the burden this places on freight terminals and their employees. And this is exactly where and how our products come to the rescue.
We're a leading provider of edge of dock levelers, providing a service range of 5 inches above and 5 inches below the dock, offering amazing flexibility. Our edge of dock levelers are offered with various gross weight capacities, and in all common sizes and specifications, and offer quick and easy operation with the dual extension spring lift assist. They are built to last, require little to no maintenance, and can be equipped with push button operation and hydraulic lift functionality.
We also provide a huge range of dock ramps, including dock to ground ramps, and portable yard ramps that help facilities maximize their space and efficiency. In addition, Copperloy also produces a wide range of other material handling equipment. This includes dock boards, dock plates, dock lifts and lift tables, portable platforms, and on down the line.

We'll be happy to provide you with more information and product specifications and capabilities while we're at the TPE in Florida! If you can't make it to TPE, then contact us now for information about our products and how they can help your transportation company.
The Terminal Properties Exchange is a great opportunity to connect with potential service and equipment providers, and others across the logistics and freight industry. If you or your company will be attending the TPE this year, be sure to stop by and see what we're able to offer.
We hope to see you there!
/
by advandesign
REQUEST A QUOTE
Interested in a product and want more info? Let us know below and we will reach out with more details. Consumer and dealer pricing available.
You may also be interested in these ramp solutions
Specialty Ramps Categories