Here's What To Ask When Purchasing A Used Yard Ramp
Purchasing a used yard ramp is a great way to get a quality product that saves some money. Buying used yard ramps also saves you some time, because these products are usually available faster than brand new ramps. 
However, it's important to prepare the right questions for the seller before you make any final decision. What you don't want to do is settle for a ramp below your standards that either isn't safe, or doesn't have the functionality you need.
Here are a few questions that are important to ask when purchasing a used yard ramp.

What Are The Safety Features?
The safety of your jobsite and fellow employees is imperative. Before purchasing a used yard ramp, ask the seller to explain the safety features of the ramp and why they matter. All ramps should follow industry safety requirements, like the OSHA standards. 
It also helps when ramps are easy to install. Here at Copperloy, we've engineered our ramps for exactly that purpose. All of Copperloy's installations come with safety features that include an 8-foot level off, smooth side plants, high-strength steel deck grating, and more. All you have to do to install a Copperloy ramp is use the ramp's hydraulic pump to move it in .5 inch increments for each pump movement until you reach the desired height. We also use safety chains and have adjustable features, so you don't have to struggle for hours to get the used yard ramp to work.
Asking about safety features is a critical part of purchasing a used yard ramp.
What Are The Dimensions Of The Ramp?
It may seem obvious, but you should make sure you have it in writing what the dimensions of the ramp are — especially if you are unable to see for yourself. Take note of these dimensions and how they will work on your job site. 
Every ramp is different, but Copperloy's standard mobile yard ramps come in widths of 70", 84", and 96". We also have custom widths to meet your needs. Our ramps are 36" long and have an 8-foot level off section at the top of the ramp. Again, this is a customizable option. If you need length added, we've got you covered.
Not all used ramp sellers will have customizable options for used ramps, so ask about dimensions before you make a final decision.

What Is The Most Common Ramp You Sell?
It helps to ask about a ramp manufacturer's most popular products. Of course, the answer to this question may not be a feasible option for you, but it gives you an idea of what customers are coming to that seller, and why. Every project is different, and generally your ramp purchase is determined by what the total weight will be on the ramp. 
If this is your first time purchasing a used yard ramp, the experts at Copperloy can help. With over 50 years of experience in manufacturing, our team can answer questions or concerns, and help you find the absolute best fit for you. 
Has The Ramp Been Inspected?
You should inquire about ramp inspections to ensure you aren't purchasing a product that's likely to give you problems. Just because a product is used, that doesn't mean it has to perform sub-optimally. Set a standard for the type of ramp you need, and make sure you have the information to determine if a ramp is up to those standards.
Copperloy used a 44-point detailed inspection checklist that certifies that all of our used yard ramps can perform at their best. We check things such as hydraulics, structural integrity, and overall performance. A detailed inspection means you won't be struggling with unexpected issues down the road.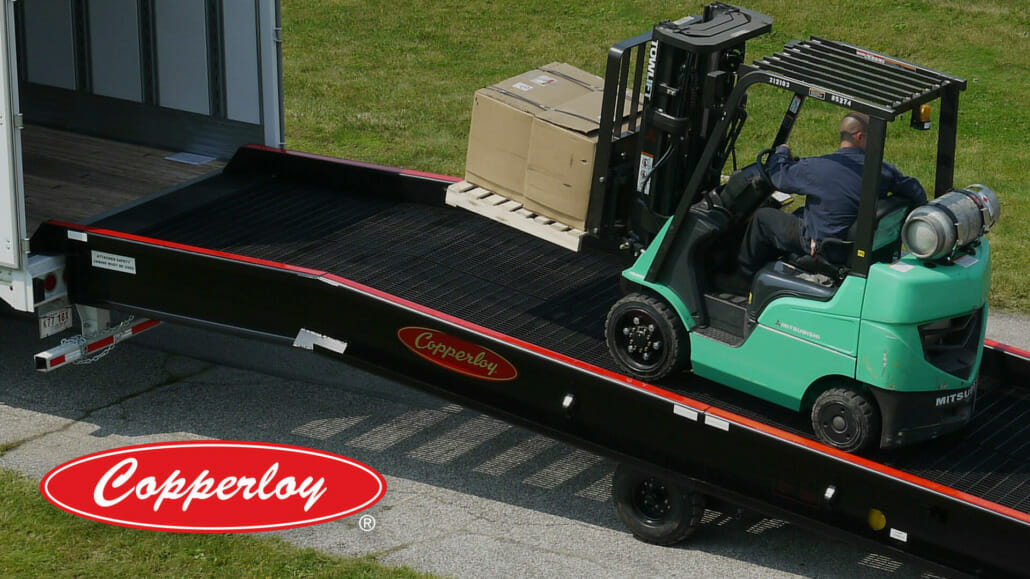 Got Questions? We've Got Answers
We believe in our yard ramps, and you should, too. We are here to answer any questions you have about purchasing a used yard ramp, and how our ramps will perform on your job site.
Give us a call today.