Here Are 3 Features You Need in Your Edge of Dock Leveler
Three "Must Have" Features in an Edge of Dock Leveler
If you're in need of an edge of dock leveler for your next project, you need a solution that you can rely on. Regardless of your job site and weight requirements, Copperloy has a range of edge of dock options for you. Our edge of docks are trusted by industries everywhere for consistent performance and safety.
If you've never purchased an edge of dock before, or if you're just looking for more information about this product, we've got you covered. Here are just a few examples of features in an edge of dock leveler that you'll want to look out for when you're looking to buy this product.
#1: Easy and Safe Installation
Copperloy's edge of dock leveler is easy to install and is built for safety. The most important step is that the installer reviews the edge-of-dock manual and follows all precautions. The first step is to assess the dock area and ensure it's ready for installation, and make any necessary repairs. Make sure all anchors have a minimum strength in shear of 10,000 lbs force, and a minimum of 6,000 lb pullout strength in uncracked concrete. As always, the dock leveler has to be in compliance with local codes.
If you need help with the installation of your edge of dock, a Copperloy team member is here to help. We also have videos throughout our website that give a comprehensive overview of our products.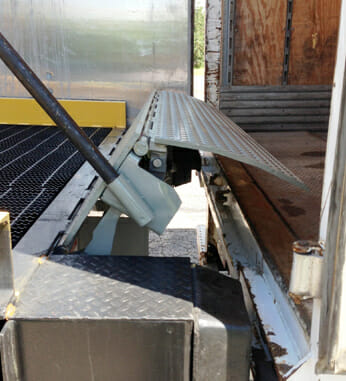 #2: Safety and Durability
You need an edge of dock that is safe and reliable, especially if your job requires a high capacity edge of dock. Copperloy's edge of docks are all built with a safety maintenance strut to secure the unit while you are performing maintenance. 
Every edge of dock leveler is also created with a three-dimensional engineering software package, which helps ensure durability. When it comes to proper positioning, we have an exclusive lift mechanism and spring assembly that sets the dock board in place. This requires just one-quarter of the effort that's needed to operate conventional edge of dock levelers. Not only are these edge of docks durable, but they're built to maximize efficiency, you can get the job done as quickly as possible.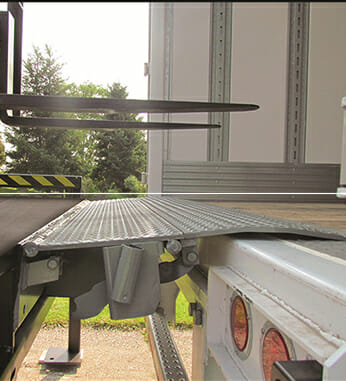 #3: Customization Options
Having a manufacturer who can customize your edge of dock leveler opens up the possibilities for the product. Copperloy is proud to offer customizable options on our edge of docks, and sell docks that come in different sizes and capacities. We can even take a standard edge of dock and convert it to a hydraulic dock in a few quick steps. 
Copperloy's edge of docks come in 66", 72", 78", and 84" widths, and our shipping dock leveler is capable of servicing trucks 5" above or below dock levels. The shipping dock is available in 20,000 lb or 30,000 lb capacities. You can find out more about our edge of dock measurements and customizations on our website, or by giving us a call.
Choose Copperloy for Your Edge of Dock Leveler
When you need an edge of dock leveler, you can count on Copperloy to provide the best solution. Copperloy's edge of dock levelers are safe and low maintenance, and have capacities up to 30,000 lbs. 
Copperloy has options for dock levelers, including our mechanical dock and our hydraulic dock. Our mechanical dock leveler is a standard model that can be customized to fit your specifications. Our hydraulic dock leveler has a hydraulic power unit that allows for quick and easy operation. As always, our edge of dock levelers are made with quality materials that can withstand any job site.
Learn more about Copperloy's edge of dock levelers or contact us today to learn more about what makes our product the leading solution.