Whatever the Requirements Copperloy® has the Solutions
Still unsure of the best solution for your loading dock equipment requirements? Visit these pages for more options of portable loading dock equipment:
Contact Copperloy® today, our representatives are available to answer any questions and assist finding the best fitting ramp to keep your employees safe all the while increasing your productivity. 
Portable Loading Dock Yard Ramps Features Include: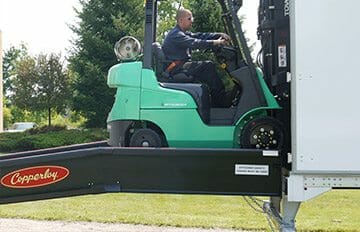 8-FOOT LEVEL OFF
Copperloy mobile ramps have an 8-foot level off feature. This is essential for forklifts to have simple access to trucks, loading docks, and platforms. This permits the fork truck to securely enter the trailer at a level approach and without halting. This feature makes for a truly stable yard ramp and is particularly useful on mobile ramps.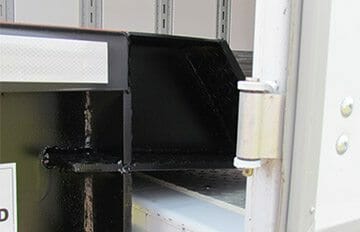 15-INCH LIP
The design of its 15-inch lip is to solidly lay on the truck carrier body, dock floor or platform. Our mobile ramps come equipped with eight-foot-long safety chains. Chains join the ramp to keep it from pulling away.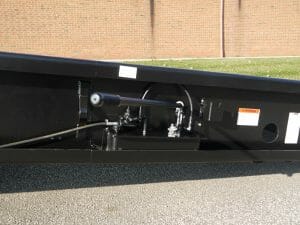 HYDRAULIC PUMP
The single-acting hydraulic hand pump design requires half the effort needed to raise ramp compared to other mobile ramps. The location of its pump helps protect from dirt, debris, damage and makes maintenance easier to perform. The handle conveniently stores out of the way when not in use.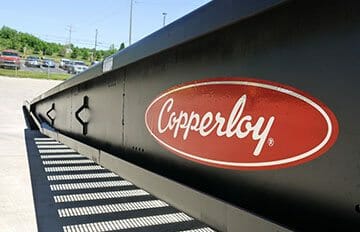 SMOOTH SIDE PLATES
Smooth side plates and safety curbs are standard. Constructed of high strength steel and encase every working part, while likewise shielding them from conceivable harm from other equipment.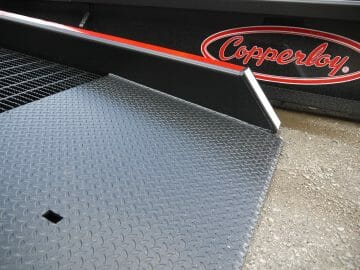 LOW END PLATE
We designed an end plate that is shorter than the wheelbase of most fork lift trucks. This way, front drive wheels can reach high-traction grating, while rear wheels are still on the ground. The plate comes standard with beveling from the underside. This helps to provide an easy and smooth ground-level entry. It also eliminates jolts and bumps as the fork lifts travel on and off the yard ramp, with or without a load.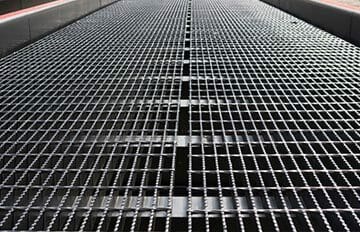 DECK GRATING ON OUR YARD RAMPS
High-quality, high-strength steel is standard on all Copperloy yard ramps. Grating bars designed for toughness during the harshest utilization. The 1-3/4 inch bar depth allows snow, rain, and other debris to fall through. The serrated grating helps to guarantee an all-weather, high-traction running surface.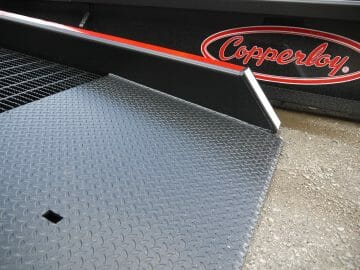 SAFETY CURBS
7-inch high curbs are standard on all Copperloy ramps to help prevent accidental runoff with a patented box frame.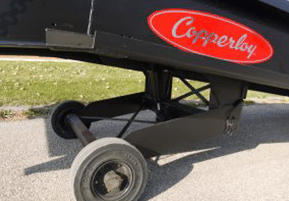 18-INCH SOLID/PNEUMATIC TIRES
The solid/pneumatic tires are standard on all Copperloy mobile yard ramps and are ideal for all applications. The tires do not require air to fill, are maintenance free, and have lubricated-for-life bearings.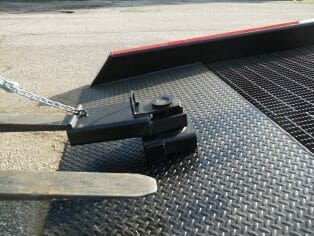 THE YARD RAMP POSITIONING SLEEVE
The position sleeve permits the ramp to maneuver 180 degrees which decreases loading/unloading time and expands productivity. The fork slides into the positioning sleeve to allow the ramp to be easily positioned into place. The positioning sleeve is standard with all steel mobile yard ramps. Not intended for long-distance towing.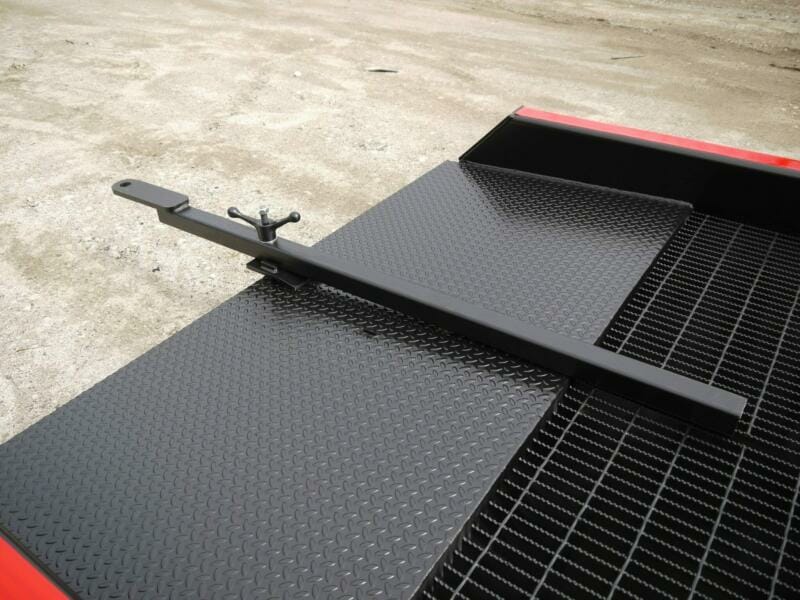 TOWBAR
A towbar is an option on both steel and aluminum mobile yard ramps which attaches to the lower end of the loading ramp. This allows short distance towing of the ramp (within your facility). The max towing speed is 5-mph and not intended for over-the-road towing.
Watch the yard ramp video below to learn more.
Our yard ramp comparison video shows the Coppperloy ramp vs. the competition. See the fastest raise time in action.
All Copperloy ramps offer industry-leading strength, outweighing many competitors' capacities. All Copperloy products are made in the USA.
FAQS
What is the difference between a positioning sleeve and towbar?
The positioning sleeve comes standard on our steel mobile ramps. It is used to get the ramp into position of the trailer. The towbar is used for towing the ramp around your facility short distances (3-5mph max speed). The ramp is not designed for road travel.
What kind of tires are on the mobile yard ramp?
The standard tires are 18″ solid/pneumatic tires. The tires do not require air to fill, are maintenance free, and have lubricated-for-life bearings.
What are the height ranges of the ramps?
The standard height range of the mobile yard ramp is 38″-65″. The standard height range for the dock to ground ramp is 38″-60″. We can customize any ramp to unique height requirements.
How are the ramps secured?
All of our ramps ship with safety chains to secure them. Mobile yards ramps are chained to the trailers. Dock to ground ramps are bolted to the face of the dock with brackets and chains provided.
Are rental yard ramps available?
Yes. Copperloy has a variety of factory-certified ramps for rent and available for short-term loading dock solutions. Factory certified ramps ensure that all components are in working order and are safe for operation. Improve efficiency and production with a factory-certified dock ramp rental.
Additional Videos
Copperloy is dedicated to providing customers with as many resources as possible.  It is our goal to teach clientele proper safety, operating advice, and more.  Check out our mobile yard ramp video here and visit us on YouTube for more!