Avoid Dock Drama | Streamline Your Workflow With Portable Loading Docks

Tired Of Dealing With Loading Dock Drama? Then You Need Portable Loading Docks
Without portable loading docks at your facility, you're going to deal with dock drama. Portable loading docks are used in tandem with dock-to-ground amps to act as mobile platforms that make loading and unloading a breeze.
If you process shipments frequently, you need to be able to create loading docks in limited spaces, or in spaces where no permanent facilities exist. That's why portable loading docks can revitalize your shipping and processing capacity, by creating the ability to load and unload from just about anywhere.
Portable Loading Docks Will Revitalize Your Work Capacity
It's normal to be concerned about making the investment in portable loading docks due to the cost of the equipment itself, plus any potential maintenance. However, portable loading docks are the most cost-effective way to add loading docks to a facility.
Consider the other methods for adding a dock space to your facility. You could invest in a construction project and have a permanent loading dock installed. However, this requires contacting a construction crew, finding the time to accommodate for a long-term project, and investing in the materials themselves. Plus, a permanent loading dock means you cannot move or adjust this dock if/when you need it. Portable loading docks can be moved easily and quickly, so you can get back to work.
Portable loading docks can also be used inside or outside, which makes them a versatile piece of equipment that's adaptable to your business' needs. If you're tired of dealing with loading dock drama, it's time to invest in portable loading docks.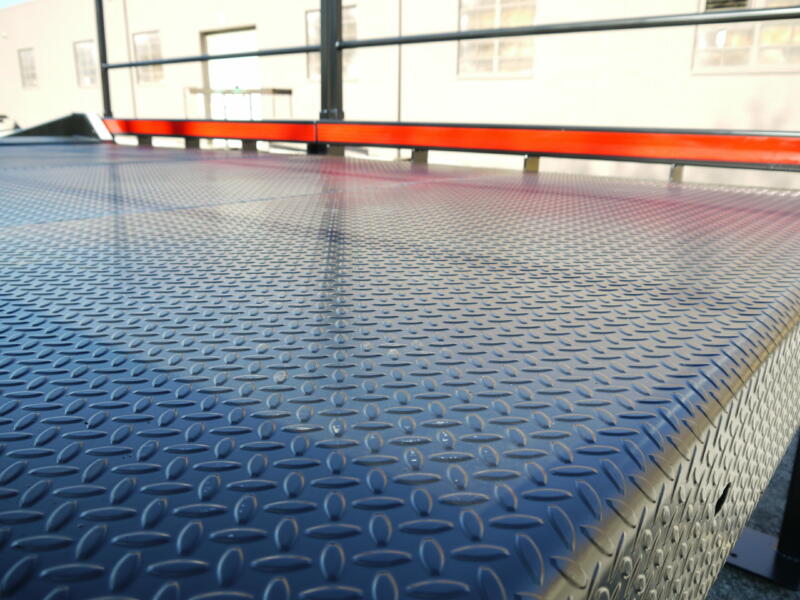 Why Choose Copperloy For Portable Loading Docks?
So why exactly should you invest in portable loading docks? When you choose Copperloy for your material handling equipment, you'll get products that are American-made and long lasting. 
Each of our portable loading docks comes with steel tread plate decking, steel legs, lift sleeves, and two movable curb sections. The platform curbs are a great way to ensure safety and stability by preventing accidental runoff. Plus, our hollow section design and box frame construction also eliminate the stress of heavy loads. Our steel tread plate decking is made from serrated steel that's built to withstand wear from heavy loads. In addition, our decking also comes with bearing bars that are designed to offer extra durability. These bars are spaced out to resist any debris build up, and ensure the portable loading docks work in all types of weather.
Not only are our portable loading docs engineered for safety and longevity, but they also work great with the addition of other equipment. If you need a larger platform for loading, you can simply combine two Copperloy portable loading docks to create more space. If you need to improve functionality, you can install a Copperloy edge of dock leveler on either side of the platform to make the job as seamless as possible for your team.
All of Copperloy's loading equipment is engineered to last. If you have questions about our portable loading docks, or any of our equipment, we encourage you to reach out to our team today. Let us help you run a smooth business with our loading equipment!